It's all happening in the West – startlab Galway recently welcomed its second batch of entrepreneurs. Mike Harlick gives a rundown of the fresh-faced crew.
BriteBiz comes to the table with pedigree. Unable to find a decent product to run its business it created its own. Now being used within the events, tech and hospitality industries, the firm joined startlab to grow. BriteBiz is a business administration and management platform. It helps businesses grow at pace by simplifying business administration.
BriteBiz was the first company in Ireland to roll out stripe managed services and will soon roll out digital direct debits. [I told you it had pedigree.]
Transport seems to be changing like never before, well apart from public buses. The bus sector is ripe for disruption but CitySwifter doesn't want to disrupt, it wants to empower bus companies to adapt and grow. It will enable coaches to match customer demand by helping bus operators dynamically alter routes and schedules.
CitySwifter believes dynamic routes will supplement fixed bus corridors.
I'm a techie, and we are different (you all know a techie and understand what I mean). HappyTech wants to help technology teams deal with the stresses and strains of their working life. It has focussed on techies to provide targeted advice and support.
HappyTech is a mobile wellbeing app for techies.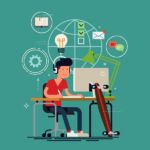 Missing Minutes
Time recording is a horrible and painful activity for even the most organised people. It can take too long, and timesheets are often inaccurate. Missing Minutes aims to revolutionise time recording by providing a simple mobile time recording, analysis and reporting tool.
I enjoy browsing toy shops but buying toys for others can be a problem. It would be great if somehow I could become awesome Uncle Mike who buys the best toys for his nephew and nieces. ToyPing will help us all become toy buying heroes via a toy recommendation and selection app.
ToyPing also has a secret weapon, "machine learning".
I create excel models by scribbling down what I want to do on paper. I then turn that into a spreadsheet model with the help of Google searches [how do I ….]. OpenBox Model Maker simplifies this process by providing users with the ability to create graphical models that are then turned into working spreadsheets. [Sorry Google, looks like I don't need you for my excel based questions anymore].
OpenBox creates complex excel models from diagrams.
For more information visit startlab Galway.