Every year the Compass Leadership Summit held by Google in Dublin provides a platform for women to inspire other women. Google vice-president Liz Cunningham says it is about authenticity, not success stories.
The label 'Digital Capital of Europe' is sometimes thrown Dublin's way and when you consider the scale of Google's operations in Dublin alone, among others, it is easy to see why. The internet giant's operations in Dublin have grown from a handful of people in a small office in Dublin 2 in 2003 to more than 9,000 people in the city's docklands, including 1,000 engineers headquartered in the historic Boland's Mill.
Recently promoted from head of Finance for EMEA to a fully-fledged Google vice-president, former KPMG accountant Liz Cunningham describes the Dublin operation – which is one of Google's most diverse locations with workers from 100 nations – as a near replica of the internet giant's HQ in Mountain View, Silicon Valley.
"Rather than being the platform that had all the answers, we wanted to be the platform that brought women together so that they could learn from each other and build those important connections"
Now 13 and a half years with the business, she describes Google's growth in Dublin as simply phenomenal when you consider the plethora of responsibilities from sales to finance, HR, legal, engineering and also a couple of data centres thrown in. "Dublin is really the beating heart of Google International." Bridging the US and Asian timezones, she notes that the days can be a bit long, however.
A platform for discovery and empowerment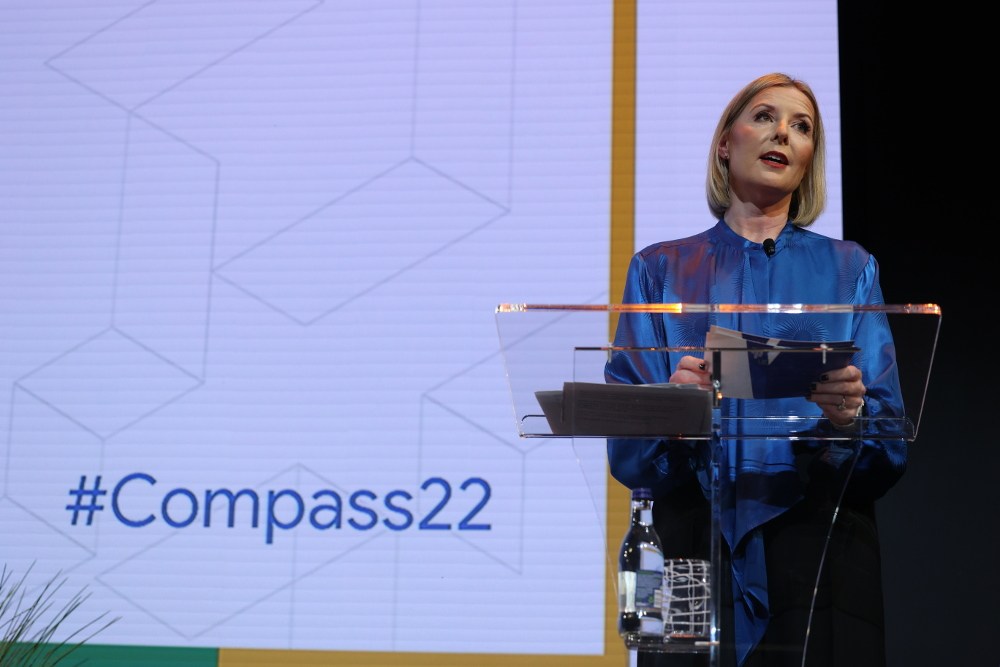 Google vice-president Liz Cunningham
But, as proud as Cunningham is of the growth of Google, one thing that is close to her heart is the success of the Compass Leadership Summit that takes place at the Google Foundry on Barrow Street each year. This event brings together women from all walks of life who are successful in different ways. For example this year's line-up recently in November featured Google's chief health officer Dr Karen DeSalvo as well as Dr Máirín Ryan from HIQA, human rights activist Dr Sindy Joyce, trans rights activist Aoife Martin and writer Chandrika Narayanan who spoke before a full house.
It all began as a challenge from her boss at the time Fionnuala Meehan. "It was one of those things that you suggest to your boss and hope they'll say 'no, that's a daft idea.' We were getting approached for all kinds of sponsorships and partnerships, and the ask gave me pause and I thought 'could we do something ourselves?' It was actually more than that, it was about a sense of responsibility. If you look at our mission statement, we're about bringing people and information together and that was really at the heart of Compass from day one.
"And so in 2017 we decided to create a community that we could facilitate that would really enable Irish women to come together and connect with each other, to really inspire each other, so that they can build connections that they can then develop and flourish outside the room, reach their full potential and contribute to society. It was important that we would be enabler of those conversations. Rather than being the platform that had all the answers, we wanted to be the platform that brought women together so that they could learn from each other and build those important connections.
"We talk about scaffolding and infrastructure – but what we mean is those networks of women around you that you can really be inspired by learning from and be compasses, not just on the night, but for the community."
Success isn't easily quantified, instead Cunningham views ongoing coaching relationships that began and continue since the first event in 2017 because people who attended made a connection.
"I also wanted it to be an event for women of all parts of society. Not a business event, because there are lots of those, but something broader than that where they can hear and listen to stories, and make interesting connections that go beyond the evening itself. A friend of mine texted me afterwards to tell me: 'I'm literally awake the whole night, emailing my team with different ideas I heard about on the night'."
The purpose of the Compass event, she says, is to inspire women. "You may feel personally blocked. Or you may also be a woman in the audience who is quite senior and is aware of somebody more junior in your organisation and you ask yourself, 'am I doing enough for the women around me? Am I doing enough for myself? What do I need?'"
Crucially, the event is for women who were inspired to take an action, who developed more confidence in themselves. "And that for me is the success of the event, the real magic of the event, frankly."
The recent event was hosted by entrepreneur and broadcaster Sonya Lennon and the format consisted of a series of TED-style talks. "Everybody spoke from the heart, they really spoke about their experiences. That's what the event was all about, from the MC's own story to the chief medical officer of Google to Máirín Ryan and Sindy Joyce, they all told these profoundly personal stories. Sindy, for example, talked about being the first member of the travelling community to receive a PhD. And she was like 'why is it that I am the first person?' It's about giving women the voice and the license to ask these questions. Not just women leaders, but male leaders too. It's about making sure we are all stepping up and asking those questions."
Looking ahead to 2023, Cunningham said she is emboldened to continue developing the Compass platform. "I think the isolation of Covid has given women a lot of pause to think 'now what do I need?' There is a real need for connection and of course I would love to be able to demonstrate how connections made in 2017 flourished into real coaching relationships.
"But ultimately it's about create a platform to say, 'here's my story.' Women want to hear the real story, the real struggles."