The first in a series of Delta Partners roadshows reveal how the relationship between a start-up and investor is about more than just the money.
Last week at the Tyndall Institute in Cork Delta Partners held its first in a series of roadshows focused on highlighting local businesses it has invested in as well as shedding light on how venture capital works.
Aptly entitled 'Friends or Foes' the evening consisted of two halves: a focus on early stage investing and a spotlight on a recent investment and local firm LegitFit for more than €1m; and a focus on later stage investments and exits and the successful outcome for Cork's Sensl which emerged from the Tyndall Institute and which was bought in 2018 by ON Semiconductor for an undisclosed sum.
"Having local funding is invaluable. But it is also about having an investor that has the staying power to stick with you during the real problems and not just walk away from it was crucial"
Delta has a strong track record with more than 120 investee companies to date and has realised €1.8bn from companies such as Clavis, Neuravi and SensL, to name a few.
Bank of Ireland and Enterprise Ireland are cornerstone investors in a new fund targeting €70m led by Delta Partners. The fund is also supported by Fexco and several family offices.
It plans to invest in 30 of Ireland's most innovative and exciting start-ups over the next three to four years and it has already invested in six businesses – of which 3 have been announced so far: VisionR, Gigable and LegitFit,
"We're going to be focused on ensuring that we get right across the island and will make sure that we're leaving no stone unturned as we make investments," said recently appointed Delta partner Amy Neale.
Tyndall's commercial director Peter Smyth revealed how the electronics research institute has grown to 650 people engaged in €45m worth of research every year. He revealed how the Tyndall Institute is expanding to a new facility that is under construction on the other side of the River Lee and that it has also established a growing research operation in Dublin. "We expect to be growing nationally in the future as well."
Smyth said that prior to taking his current role with Tyndall he launched three start-ups between 2003 and 2014. "So I have all the scars associated with raising venture capital for semiconductors in particular."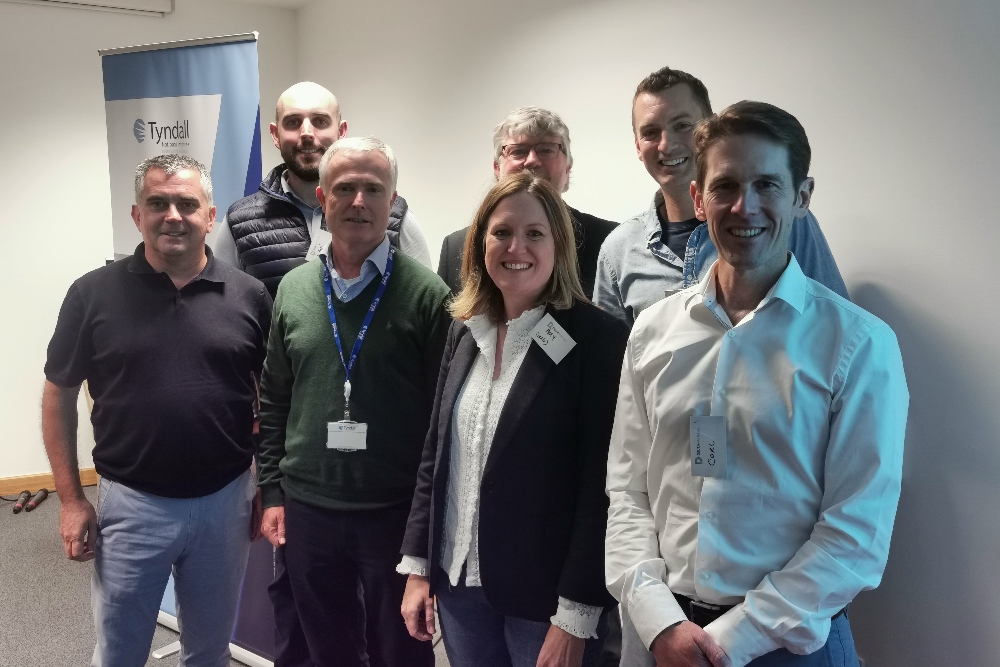 From left: Paul Swift, Bank of Ireland head of Tech, Media and Telecoms; LegitFit co-founder and CEO Ryan O'Neill; Dermot Berkery, Delta Partners; Amy Neale, Delta Partners; Peter Smyth, commercial director, Tyndall Institute; Richard Barnwell, Delta Partners; and Carl Jackson, founder and former CEO, SensL
Richard Barnwell, who also recently joined Delta as a partner, has significant hands-on experience as an entrepreneur, having built Digit Games, best known for its game Star Trek Fleet Commander, and previously an investee of Delta Partners which subsequently sold to US games company Scopely.
He shed light on Delta's modus operandi for the coming years.
"We're looking to invest in the best 30 to 40 companies on the island of Ireland that is all at the seed stage. And what we are saying at the seed stage, we effectively mean anything between €100,000, €200,000 right up to €1.5m or €2m, depending on the company and stage. But the earlier the better. If you'd like the right beginning just getting started, come talk to one of us. The uniqueness you may have seen is that we only have partners, you will only be talking to like myself, Amy, Dermot and Maurice, and we do that on purpose. We want to go fast, get going and help build some good companies."
Early stage and seed investing
Already Delta has invested in three companies, including Vision R, Gigable and most recently Cork's own LegitFit, a leading provider of management software for gyms and fitness studios. Since launching in 2019, LegitFit has attracted customers across 15 countries and achieved 5-star ratings across all review sites.
LegitFit co-founder and CEO Ryan O'Neill emphasised how the company's technology is meeting a need for a fast-growing space. "The most interesting thing that we've seen is that half the people that sign up with us haven't been using software before. So I think there's still a lot of room for growth in this market. We're solving two different problems here. One is, for those who weren't using systems, they're losing about €10,000 per year because of admin time, and cancellations. And then on the other side, what we're finding is that people who are using legacy solutions are only using about 20% of the product, and they're not really getting the real value for it, or the customer service behind it. So I think, yeah, it's definitely an interesting space to be in."
O'Neill, who grow up in a retail family, said that business is definitely I the blood. He embarked on an entrepreneurial path after realising after a few years in the pharmaceutical world it wasn't for him.
His advice for fellow early-stage founders is to build their network and knock on as many potential investors' doors as possible.
"I think the best piece of advice I got was about like building your network, at the very start of your journey, even when you're not looking for money. I had a MailChimp or HubSpot list going, where I was keeping people in the loop. Because the last thing I'm going to do is turn up to someone and 'hey, I need money'. So we were kind of creating that story, creating that narrative, getting help where we're needed, then like, when I think it actually came to it, it's just about, like, obviously, leveraging the network.
"Reach out to people, ask for help, start early and get as many introductions as you can, even if you're not raising money."
Barnwell said that there are many factors that go into deciding whether or not to invest in a business at an early stage. The technology or product may be compelling, but ultimately it is down to the people, the chemistry, the diligence of the founders and the likelihood that the investor and investee are going to be working together for a very long time. So like a marriage, they have to hope it will work.
"The thing to remember is we're investing very early. So the companies we invest in will very rarely have the traction or have the product at scale, have even figured out what their plan is going to be. So we were asking different questions in the early stage. But again, it's not what people seem to think it is; that they turn up with a deck and go the total addressable market is $19bn. You don't know what your market is yet, because you're still very early. And the chances are, you're going to pivot and change and all the way through.
"So we're looking for teams that are able to do that. I think the word we use is optionality, which is effectively what you think of building today may change. So we're trying to figure out actually, what is it you're putting the time into? And will that adjust over the coming seven to 10 years? So what we really do leverage is our feelings around the team and the people. And do we believe that those individuals, maybe with a bit of support, will grow the business."
Barnwell said that all founders are different, some are introverted and others are gregarious and outgoing. Ultimately it boils down to whether if they put money into a business, can these people pull it off or change direction if necessary.
"With Ryan, there were two lasting impressions from our initial meetings that then kind of became more ingrained over time and then we were speaking for months until the investment was done as you'd expect, but one is we call it hustle culture, that they are doing everything they can to make something happen."
Another quality is transparency, Barnwell said. "They are clear about what they are doing really well and are open and honest about what they are concerned about. Those small traits allow you to build a much better relationship with the founding team. And it kind of allows you to believe that they're going to be team you can work with for the next 10 years. And that's the key thing, of course, because in our heads, we know, that for the next 10 years of our lives, we're going to have to have a great working relationship."
Later stage and exits
The second half of the evening focused on the subject of later stage investments and hopefully successful exits for founders and investors.
Veteran investor Dermot Berkery from Delta Partners was joined by Carl Jackson the founder of one of Cork's most successful technology companies SensL Technologies Ltd., which was later acquired by Nasdaq-listed Fortune 500 company ON Semiconductor.
Jackson said that SensL was founded in 2003 on the back of research that originated at Tyndall. He said that that Delta was its first investor with a seed funding of €75,000. Enterprise Ireland also invested in the business.
The company had developed an optical sensor using silicon wafers that had applications in medicine. However, when the technology was pivoted in the direction of LiDAR, a vital component in self-driving vehicles, SensL's moment had come.
Jackson said Cork was the ideal place to build the business and leveraged its relationship with UCC to attract talent. "ON Semiconductor said we had the best rate of employees staying on after acquisition that they'd ever seen."
Berkery said that the present environment for later stage funding is challenging and that we can expect to see a lot more activity in seed investment thanks to new funds like those of Delta as well as the Government's €90m fund for seed investment.
By the time SensL was acquired by ON Semiconductor, Delta's investment in SensL had grown from the initial €75,000 to €5m over the 14 years.
"We must have sat through 200 board meetings over that time."
When it comes to investing in a business for that length of time the metaphor of marriage reared again. "What you want from the investee is someone that is straight and honest and they're looking for the same from you. If there's a problem, let's agree on the solutions and go fix them. I'm not saying that you become friends with the entrepreneurs over the years, but it's definitely more than friendliness. You are going to be in the trenches together, things will get tough along the way. And at the end of the day we all hope we behaved decently when the bad times happened."
Jackson said that from an investee perspective, there is no messing around. "You have to have your team together, you have to have the market and you have to have the technology. And ultimately for us it was about getting to a point of profitability so that we could ultimately drive a trade sale.
"Everyone on a start-up should be prepared to make changes over time, people leave and you need to bring new people in. But the biggest thing we really did well was we tried to make sure we had the best team possible. You need people who have skills that you don't and you need someone who can take care of the things when you are having a bad day. For us it was a milestone to get that solid executive team in place."
Referring to Barnwell's point on optionality, Jackson said that every business starts off with an idea but there are no guarantees the same idea will remain. "For us it wasn't necessarily the best idea, but we had a good team that were able to see that and come up with better ideas that leveraged what we already had and go after a larger market. It's important to understand the market you are going after and be crystal clear about it."
A solid team that understood the situation and following a north star of achieving profitability enabled SensL to invest in LiDAR which Jackson says was ultimately what drove the acquisition of the business by ON Semiconductor.
Jackson said the real test for SensL and Delta's relationship came during the financial crash of 2008. Being able to have an open and honest conversation about what was happening was crucial. "We were able to come up with a solution that worked for everybody, but it was certainly not an easy time."
Berkery said no funding relationship was ever plain sailing. "It's easy to write that first cheque into a company. But when it's failing and there are no sales and there's no pathway to sales, writing that next cheque is an incredibly hard decision."
Sticking with SensL during one of its darkest hours paid off handsomely for Delta. But not all investments turn out that way.
As Jackson said, finding the right investor is about more than just the money. "Having local funding is invaluable. But it is also about having an investor that has the staying power to stick with you during the real problems and not just walk away from it was crucial."