Fast-growing Irish tech firm VisionR wants help bricks and mortar retailers compete just as effectively offline with the online giants.
Formerly known as Glimpse, VisionR recently received €1.5m in backing and aims to help bricks and mortar retailers personalise the customer journey. The company has also secured a partnership with Spar International that will see its technology rolled out across the retail giant's 13,500 stores in 48 countries.
The new funding came from the new Bank of Ireland-backed Delta Partners Fund along with further backing from Movidius co-founder Seán Mitchell. Existing investors include Enterprise Ireland and the new funding round will bring to €2m the total raised by the young Dublin company so far.
"VisionR delivers the same level of shopper insights your store would get if it was online"
"Bricks-and-mortar retailers worldwide are suffering from a self-described data gap, they do not have access to the same levels of reliable shopper data as e-commerce websites," explained co-founder Shane O'Sullivan.
"E-commerce sites understand everything about who their shoppers are and how they shop, allowing them to optimise their online stores to maximise profits. Bricks-and-mortar retailers need a frictionless and reliable solution for collecting mass shopper insights to optimise from their offline stores."
Co-founder Oran Mulvey estimates the retail analytics market is currently worth $3.5bn globally and is expected to triple over the next eight years.
"Retailers are investing more in finding out how shoppers behave in-store and interact with their products. The shopping experience is going to be a focus in getting customers to shop offline"
How VisionR changes the game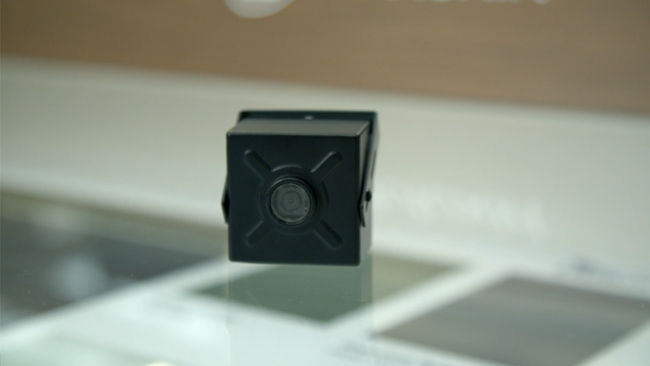 The VisionR Scout sensor
VisionR is a Phygital (physical-digital) SaaS Solution for bricks-and-mortar retailers that transforms real-world shoppers into online actionable data.
"VisionR delivers the same level of shopper insights your store would get if it was online," explained O'Sullivan.
"VisionR uses a frictionless IoT (internet of things) device called the Scout, it only requires power and can get a store online in as little as 30 minutes. The Scout breaks down shoppers using video analytics into; footfall, shopper profile (age and gender), shopping groups, product & aisle engagement, shop duration, and movement in-store.
"The Scout then ties in with a retailer's point-of-sale system to get a complete picture of your shopper profile, how they behaved while in-side, and ultimately, what led to a purchase."
School pals become start-up founders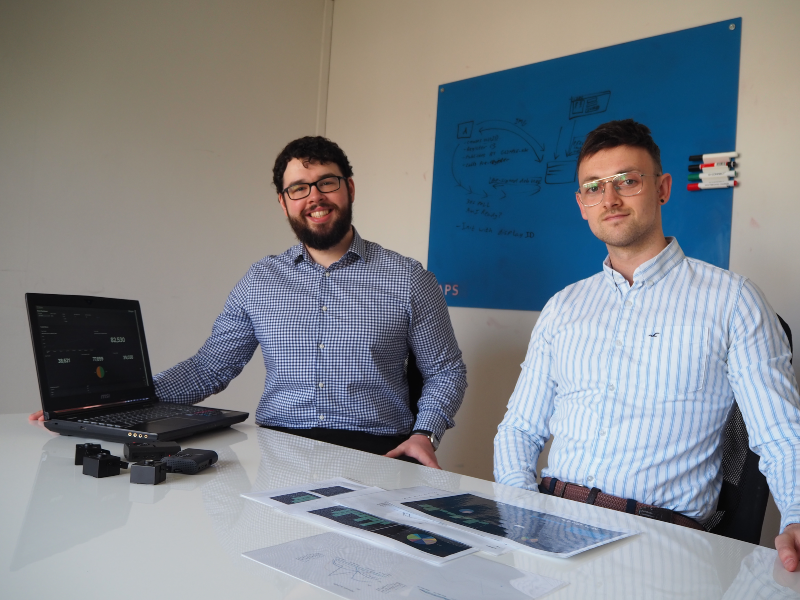 Oran Mulvey and Shane O'Sullivan
VisionR's founders are Shane O'Sullivan and Oran Mulvey. Both attended school together in The King's Hospital before going their separate ways to work in big tech and marketing, respectively. Shane was president of the Maynooth Entrepreneur society while in university and set up a business before, while Oran comes from a successful retail business background and holds a 1st Class Honours in Marketing from Smurfit Business School.
Shane and Oran decided that they would prefer to work for themselves and incorporated in 2017, setting up VisionR under a slightly different premise – measuring digital signage for advertisers.
Through the advice of mentors and market demand, VisionR shifted its focus to measuring shoppers for high street retailers. Shane and Oran completed an initial raise to get the concept of VisionR off the ground which was €550,000 via Enterprises Ireland HPSU. More recently completing a round of €1.5m led by the new Delta Partners Fund, backed by Bank of Ireland and Enterprise Ireland as cornerstone investors as well as backing from Fexco and several family offices.
Irish start-ups come of age
"Ireland has been on the world stage in recent years when it comes to the start-up ecosystem, thanks to Irish unicorns such as Stripe and Wayflyer," said Mulvey.
"The reason we are seeing such innovation coming out of the Irish market is due to Ireland's culture and attitude toward entrepreneurship.
"Since VisionR's incorporation in 2017, we have taken part of Ireland's Best Young Entrepreneur, EI's New Frontier's Programme, EI's High Potential Start-up Scheme, and many more supports.
"Without the support, advice, and nurturing of institutions like Enterprise Ireland to name just one, it would be a far more difficult task for business owners to materialise their ideas, support their growth, and bring their companies into the global marketplace. Other fantastic supports for new entrepreneurs also include DBIC, the NDRC, and Dog Patch Labs."
He said that the seed plus round of €1.5m will support the company's growth both in terms of the team's growth but also product sales in Ireland, the UK and Europe.
"Our goal is to continue to establish VisionR and our product in new markets, building our value. Within the next 18 months, our aim is to raise our Series A with a target on the US. The US offers a high volume of data driven customers in a market that values shopper analytics above all in retail."
The young company has had to learn fast and according to O'Sullivan it is important to always focus on the problem the business is trying to solve but also glean customer feedback as much as possible.
"Some of the biggest learnings we have made over the last several years come from our mistakes, the most important thing to remember as a founder is that everyone usually runs into many of the same issues and its more about how you react to problems:
Make sure your concept is a problem solving solution, sometimes when it seems you have identified a gap in the market, you haven't. It is best to talk to your would-be customers for this solution, as you might be trying to provide a solution that your potential customers are not willing to invest within either as it isn't a big a problem as you might have thought or there isn't market willingness.
Don't overlook your team culture and vision, while sometimes everyone is so wrapped up within their role it is hard to think about the bigger picture. It is always a worthwhile exercise to make sure everyone is aware of the drive, vision, and end goal of the business at all times, as it will make sure day-to-day decisions are in line with your company's mission.
Don't grow too fast, it sounds like an unusual thing to say when talking about a start-up but if you outgrow, your capabilities in the early days your product will suffer, as well as your customer relationships, and your team's morale.
In terms of advice for fellow founders, O'Sullivan urges entrepreneurs to take advantage of the great start-up supports that Ireland has to offer including Enterprise Ireland, New Frontiers, the NDRC, DBIC, and Dog Patch Labs, just to name a few.
"Also reach out to other business leaders, throughout our early growth we spoke to hundreds of business leaders, you'd be surprised how willing other entrepreneurs and angels are willing to lend a hand.
"Lastly, when it comes time to raise capital make sure you take the money that is right for you. There can be an eagerness to raise as quickly as possible and go back to building your business but you should aim for angels, syndicate, and VCs that have the right experience, connections, and chemistry that will help you scale up your business," O'Sullivan said.
Main image at top: VisionR co-founders Oran Mulvey and Shane O'Sullivan