27 community projects across Ireland awarded grants by Bank of Ireland Begin Together Arts Fund.
Bank of Ireland and Business to Arts have revealed the projects that will receive financial support amounting to €300,000 from the Begin Together Arts Fund.
Since 2020, the all-island Begin Together Arts Fund has allocated €1m in arts funding to support artists and arts projects in communities across the island of Ireland.
"The arts and community projects like these each play a role in enhancing lives and connecting people"
More than €300,000 is being awarded in the third round of funding for projects taking place between October 2022 and December 2023.
Business to Arts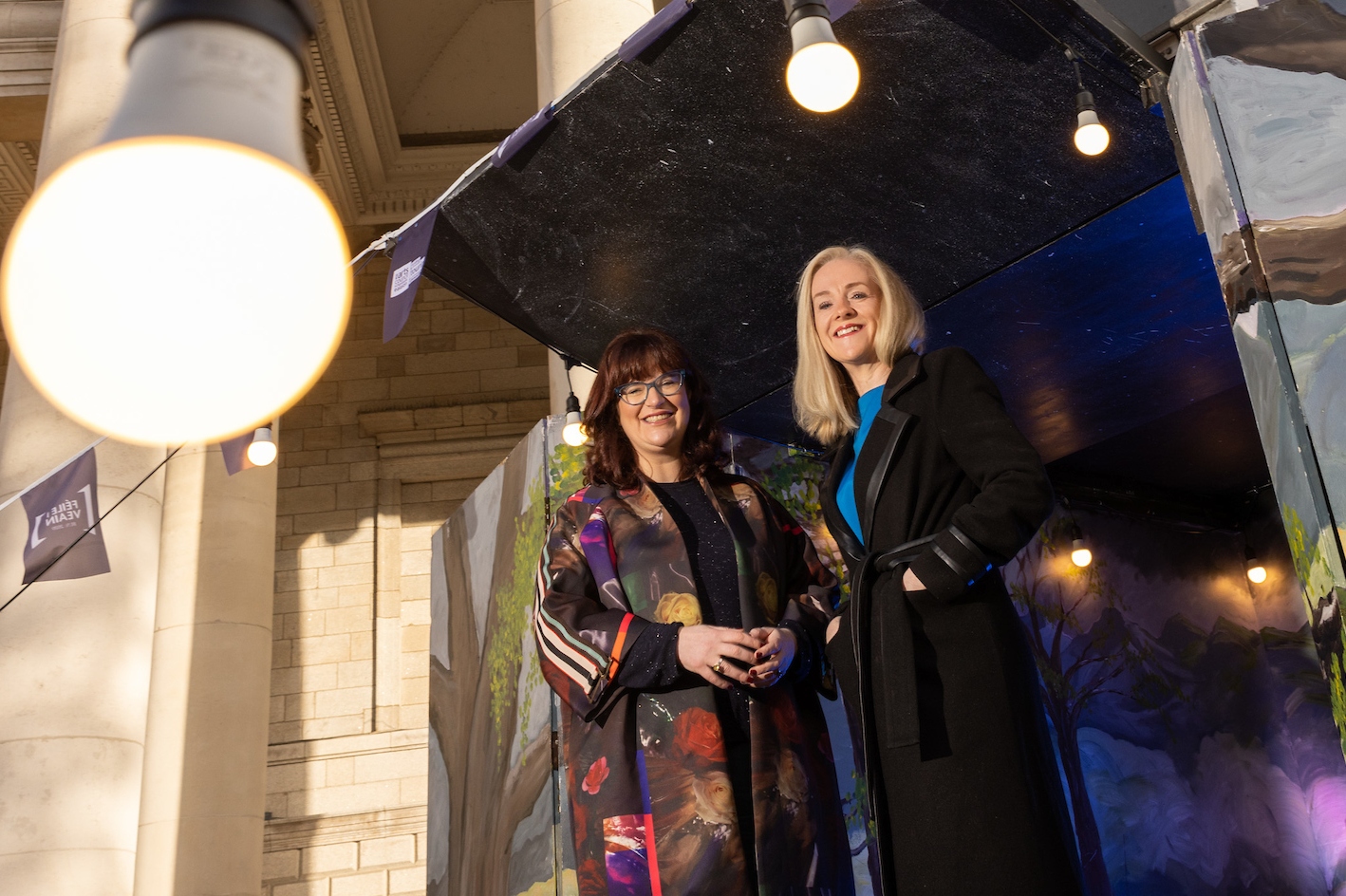 Louise O'Reilly, CEO, Business to Arts, and Laura Lynch, Group CMO, Bank of Ireland
For this round of the Begin Together Arts Fund, in partnership with Business to Arts, the projects supported aimed to inspire and uplift their local communities. Arts Fund grant recipients will receive up to €15,000 to support the creation of new works in music, theatre, dance, traditional arts, and the visual arts, and the aim is for the projects to benefit a wide range of audiences.
"The arts and community projects like these each play a role in enhancing lives and connecting people, and so represent an important part of Bank of Ireland's support for communities across Ireland through our Begin Together initiative," said Laura Lynch, group chief marketing officer at Bank of Ireland.
Festival in a Van, a mobile live arts event venue that tours concerts, performances and plays nationwide is one of the groups to receive funding under the Begin Together Arts Fund.
"While Festival in a Van was originally set up to create performance opportunities during Covid, The Begin Together Arts Fund has enabled us to imagine beyond," said Festival in a Van Director Gemma Tipton.
"Through the fund, we have been able to dream up and, crucially to realise projects with very brilliant artists. From King Lear in a Van going to schools during Lockdown, to Cormac Begley visiting Men's Sheds for memorable music sessions, it is a wonderful opportunity to turn ideas into reality. Now as the vehicle for WeAreGriot to create a new performance work to go to Direct Provision Centres, The Begin Together Arts Fund has allowed us to create art where it didn't exist before, and to bring it to places it wouldn't have been seen before."
Among the projects to receive support are:
Behind the Mask, will see Gaiety School of Acting bring the Manifesto Method of Theatre Creation to the young people at Ozanam House, allowing them to express their inner emotions and creativity now that masks are no longer worn.
Ballina 2023, will create an arts programme that is of, by and for Ballina's Traveller Community. Ballina 2023, along with lead artist Alice Dixon, will give a voice to the community and will mark 300 years since the founding of the town.
Festival in a Van and WeAreGriot will involve three Nigerian-Irish poets creating and performing spoken word pieces specifically developed for those living in Direct Provision. This project will forefront difficult conversations which confront existing inequities in Irish society.
In Flight | On Landing, a collaboration between Photo Museum Ireland and artist Varvara Shavrova will offer participatory, haptic-focussed workshops to members of the Ukrainian refugee community.
Strong Women Science ISL and Visual Vernacular, will see a version of award-winning StrongWomen Science (SWS) interpreted for deaf audiences go on tour as well as the creation of an interactive hands-on circus science show for Deaf children and families.
Coming Out, a large arts installation with audio/visual elements creating an interactive experience where participants can travel through 12 rainbow painted closets to 'come out of the closet' on the other side.
Ceannairc Beag Bideach – Tiny Mutiny, an artist, physical theatre performer, Gaeilgoir singer, and music and sound artist collective will bring together two ensembles of children to create a vision for a child-centred cultural space in Galway.
A full list of 2022 grantees is available here: http://www.bankofireland.com/begintogether
"Bank of Ireland is demonstrating an authentic engagement with their local communities through the Begin Together Arts Fund, by supporting a diverse range of artistic projects that seek to improve wellbeing," said Louise O'Reilly, chief executive of Business to Arts.
"The response of the arts community itself has been overwhelmingly positive, knowing that a national institution has their back during difficult times."
Main image at top: Samuel Yakura from WeAreGriot, a collective of Nigerian-Irish poets and storytellers who will perform as part of the Festival in a Van programme in 2023