Speaking with ThinkBusiness ahead of Startup Grind in Limerick next week, Provizio CEO Barry Lunn talks about his vision to put safer, driving technology in every new car worldwide by 2025.
When most entrepreneurs have an epiphany, it usually comes about in a fairly innocuous way. But for Barry Lunn, CEO and co-founder of Provizio, it took an actual car crash.
Driving back from Dublin to Limerick in poor conditions he got caught in an accident. "I was able to keep the vehicle on the road because I had done one of those advanced driving courses. Eight cars got written off that day on one stretch of road. And so I went home that evening and I didn't have a 'I need to spend more time with my family' epiphany. I was more like 'hang on a minute, I think I have the answer to this!' It was like being at home during Covid-19 and suddenly figuring out you had the cure. You just couldn't really sit on it."
"Augmenting the human driver without being intrusive is the next generation of safety"
His epiphany – informed by years in the aerospace industry creating radars to ensure aircraft didn't crash – led to the creation of Provizio which is aiming to make autonomous accident-prevention technology in cars as ubiquitous as seat belts.
Build it and they will arrive alive
Lunn, who sold his previous business Arralis an aircraft radar technology firm, for a reported $50m in 2017, set about assembling a dream team of experts in robotics, artificial intelligence (AI) and vision-and-radar sensor development.
The product is a five-dimensional sensory vision system that will augment drivers' capabilities and prevent accidents in real-time and beyond line of sight.
Provizio has raised $6.2m in funding from a range of investors including Movidius founders Seán Mitchell and David Moloney, automotive entrepreneur Bobby Hambrick as well as the European Innovation Council and Act Venture Capital.
An estimated 1.35m people are killed every year in road traffic accidents with more than 20m injured, according to the World Health Organisation, costing more than $2trn in the US alone.
94% of these crashes are caused by human error. Lunn wants to fix this by creating a device that can be installed in most cars for a unit cost of less than $100.
Lunn will be speaking at Startup Grind in Limerick next week (18 May) alongside Wassim Derguech, COO and co-founder of Future Mobility Campus Ireland (FMCI), in Shannon, Kieran Campbell from Polestar and Julie Garland from Avtrain.
The more perceptive future of driving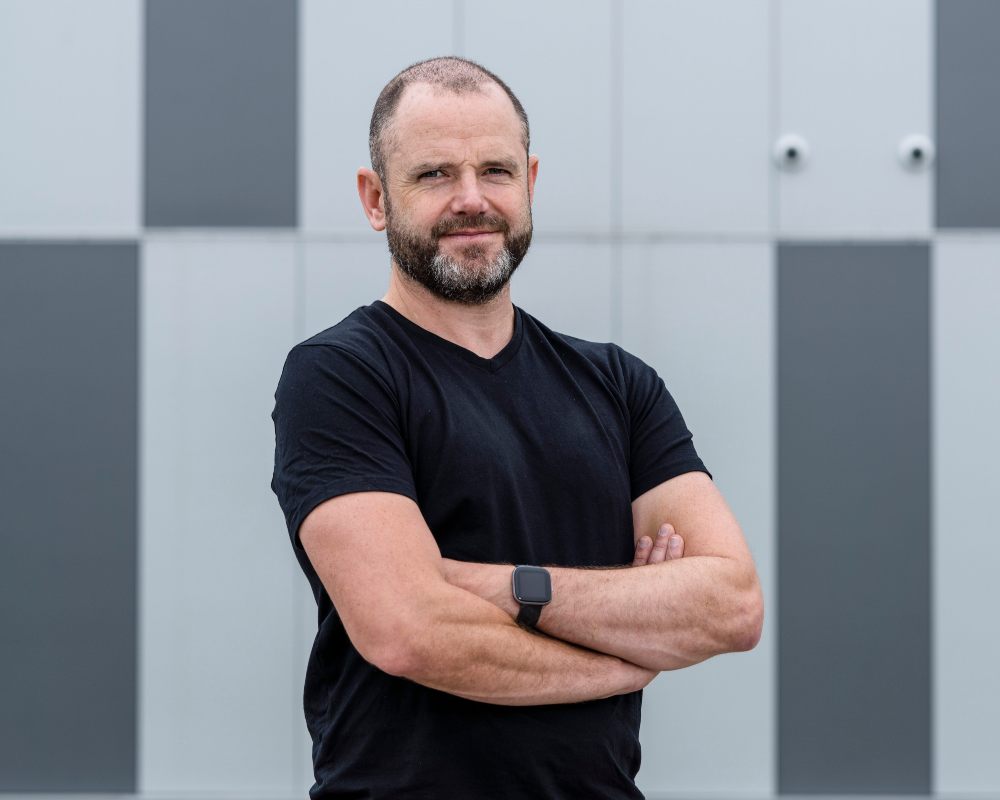 "I would never advise someone that entrepreneurship is a life for them. I would see it more as a mental health issue"
Speaking with ThinkBusiness, Lunn reasons that current four-dimensional autonomous vehicle technologies such as LIDAR are costly, clunky, and have their limitations. "How do we get that level of perception into an everyday vehicle?"
What Lunn and his colleagues have created is a five-dimensional perception system called 5D Perception that can continually see, track and interpret vehicular behaviour and identify roadway elements and more even during bad weather conditions.
The company unveiled the technology at the influential Consumer Electronics Show in Las Vegas earlier this year on a specially equipped Land Rover and Lunn revealed his ambition to bring the technology to mass production by 2025.
As I spoke to Lunn he gestured towards a Land Rover behind him and asked me to see if I could see the technology. I couldn't. "And that's the point, people don't want all of this technology hanging off their cars. It needs to be invisible. Another thing is current LIDAR technology needs to be constantly cleaned to work properly. So it's inefficient in its present form."
Lunn believes the technology created in Limerick by Provizio could one day sit in every car in the world. "In my previous work in the aerospace industry we were building radars that were not even close to this level of performance and they were selling for $100,000 apiece. Our goal at Provizio is to deliver better perception than those sensors for $100 a piece by 2025. That's the path we are on.
"Our tier 1 OEM (original equipment manufacturer) customers are super comfortable with this, we've done the math and we're getting there. We want to add 360-degree perception to vehicles."
From his time in the aerospace sector, Lunn always felt that the highly expensive radar and LIDAR systems were not as capable as they should be and he wanted to improve on this.
His own crash was a wake-up call that more needs to be done by harnessing technology to make vehicles safer.
"People talk a lot about autonomous vehicles. They get excited or upset by idea of the steering wheel turning by itself. But what we are doing here is solving a real-world problem that kills 1.35m people every year. In terms of cost that's like between 2.5% and 5% of Ireland's GDP and that's true all over the world when you role in insurance, emergency services and more.
The technology being created by Provizio is certainly a step in the direction of autonomous vehicles but it could also be viewed as a way of augmenting or enhancing how drivers drive.
"The more I looked at it from that perspective I realised we need to ensure that cars can understand the environment around them better than any human could. Currently, we're sharing the road with a bunch of dumb metal that moves at fast speeds. I was convinced that we need to make the vehicles smarter with 5D perception and I wrote down my thoughts.
"I went out and spoke to the smartest people I ever worked with and I hoped they'd tell me I was stupid. I asked 'can we build this?' And unfortunately, they came back and said 'yeah, and can we join you?' So before I knew it I had a founding team and we just went and started building."
Mid-west holds keys to a new industry
Limerick and its neighbouring Shannon region with its port and airport have historically been a transport hub. But with new motorway infrastructure and access to cities, suburbia and rural roadways, it is also the perfect testbed for future autonomous vehicles. Car giant Jaguar Land Rover has a software development operation at Shannon not to mention nearby operations of Intel, Analog Devices, Uber and General Motors to name a few. And then there's the Future Mobility Campus at Shannon, a $5.5m investment in the future of transport. The facility focuses on technology research and development spanning ground and air uses. Projects involving unmanned drones, electric vertical take-off and landing aircraft (eVTOL), Advanced Air Mobility (AAM), autonomous driving, micro-mobility, smart cities, and V2X vehicle communication systems are accommodated.
Not only that but across Ireland a variety of entrepreneurs and businesses are driving the future of transport agenda from Bobby Healy's Manna revolutionising drone delivery from north Dublin, Valeo in Galway making vision systems to Taoglas in Wexford making next-generation antennae.
As new vehicles from car makers from ORA and BYD to Polestar start hitting Irish roads, I put it to Lunn that Ireland is at a nexus point for delivering the future of transport.
"I have been working with the Future Mobility Campus since before it was built and we worked with Jaguar Land Rover to use their facilities to build our vehicles. They say multinationals and start-ups can't co-exist, well actually they can and it can be mutually beneficial.
"The Future Mobility Campus creates a kind of DMZ for start-ups and multinationals to learn to work together.
"The region is incredible for testing future transport concepts because if you need a city environment you have Limerick, if you need a suburban environment you have Shannon and then you have the motorways and the neighbouring counties for various driving scenarios. And, or course, you can have all sorts of weather here From a regulatory perspective there's also less red tape than in the US to evaluate these technologies."
It is more than luck, it is a mindset
Asked about his thoughts on entrepreneurship, Lunn believes he has largely been lucky so far.
"I certainly wouldn't be one of these people that would encourage entrepreneurship. I do a bit of mentorship and help the ecosystem where I can and I engage in a bit of seed investing. But I would never advise someone that entrepreneurship is a life for them. I would see it more as a mental health issue. I mean anybody who does this has to have serious mental health issues. I don't mean it in a flippant way. It's not about money, because every entrepreneur I know keeps going again and again, it's not about status, it's just a compulsion to build."
Limerick and Shannon, he believes are perfect locations from which to build a global business. "Our market isn't local, it's Germany, the US, Japan, India, everywhere. There is nothing stopping anyone building a company targeting the world from here. There is no reason why you can't build and scale a company and lead it from Ireland."
In terms of technology, Lunn believes the past decade has been formative but the real gloves are now coming off as artificial intelligence begins to go more mainstream.
As this happens, technology will be everywhere and embedded in everything. And that Apple vehicle won't seem so far-fetched any more. "You can be damned sure that when an Apple car comes to market there will be no visible sensors. That's because Apple does beauty. And once that happens, everything will change."
"I think the changes being brought by AI right now are going to be really exciting. And when I think of driving, augmenting the human driver without being intrusive is the next generation of safety."
The next Startup Grind Limerick will take place on 18 May 6pm at the Future Mobility Campus Ireland in Shannon. The guest speakers will be Provizio founder Barry Lunn, Julie Garland from Avtrain, Kieran Campbell from Polestar and Wassim Derguech, COO and co-founder of Future Mobility Campus Ireland (FMCI). These industry leaders will share their insights on the latest trends, challenges, and opportunities in autonomous driving.