Speaking with ThinkBusiness ahead of Startup Grind in Limerick next week, Manna Drone Delivery CEO Bobby Healy envisions Ireland being the epicentre of the drone-driven industrial and commercial revolution.
It sounds like something out of The Jetsons but believe it or not there are a lot of people in Balbriggan, north County Dublin, already accustomed to having their coffee delivered by drone. If Bobby Healy, founder and CEO of drone delivery business Manna Aero, has his way such experiences could be commonplace all over the world within five years as drones deliver everything from food to prescription drugs to make-up, fashion and car parts within minutes after the tap of a screen.
If Henry Ford masterminded the car revolution, Healy is masterminding the consumer future where convenience will arrive on more than a wing and a prayer. This will be a world where e-commerce and aerial vehicles combine to eradicate inefficient and environmentally harmful road delivery to a more graceful method right from the sky. If this is going to be the fifth industrial age, then Ireland will be front and centre.
"We can do anything, we can be anything. Anything they can do in Silicon Valley we can do here too with the right attitude and the right businesses"
Healy, who will be the fireside interviewee at next week's revived Startup Grind in Limerick, has already demonstrated that drone deliveries work, delivering everything from Camile Thai noodles to Samsung smartphones in various parts of Ireland, including to the Aran Islands from the Irish mainland.
A dream takes flight
Healy, the former CTO of CarTrawler, is something of an enigma in entrepreneurial circles. A software developer who admits if he had time he'd rather be making video games, he is a natural born entrepreneur, who eschews any innate reluctance for a get s*** done attitude. Manna Aero is his fifth start-up. He had tough lessons in start-up life around the turn of the century when his games business Doodlebug went bust. This was followed by success with Eland Technologies which was sold to global aviation giant SITA in 2003 for an undisclosed sum. His no-nonsense approach to software development and leadership could be considered instrumental to the success of one of Ireland's most valuable companies, CarTrawler.
"The thing is that this really works. We've already delivered to 38% of houses in Balbriggan. We know that people are using this regularly, they love the product and they're willing to pay for it"
He sums up his leadership ethos thus: "Our business is full of people who take ownership of problems. Every problem is possible to solve. But ownership of the problem is key. If you see a problem and you don't know whose problem it is, then it's your f****** problem."
Manna, he explains, is a business that is skating to where the puck is going to go – a world where drone-deliveries will be commonplace. The winners will be those who have masterminded the construction of rugged vehicles that can safely, accurately and energy efficiently deliver goods thousands if not millions of times a day. In five years' time, he believes, it will be natural for a student to order a McDonalds in California at a tap of a smartphone screen and it will be outside her door in a few minutes, or a woman in New York can have her Starbucks delivered to her porch via drone. Or a plumber in London can summon a drone to deliver a pipe fitting fresh from a 3D printer in minutes. The potential applications are endless.
To get a sense of the scale of the opportunity, the MI-DRONE alliance between Manna, NUI Galway and Connemara manufacturer ÉireComposites to build light but durable aircraft is envisaging it can create composite aircraft that can expand globally to serve 1bn people with last mile delivery and displace 560,000 cars and vans with drones.
"I've always felt it was very obvious to me. A drone is a printed circuit board with a battery and propellers with a flight controller that relies on sensors and gyros. The Eureka moment was 10 years ago when people invented processors that were fast enough and light enough as well as cheap enough batteries."
If there was a Eureka moment for Healy himself it was in his back garden one evening. "I was flying a drone around and wondered, 'what if I could get one of these to deliver a bag of chips rather than waiting on a driver to find my houses?' I looked at the numbers and thought 'well if the bag of chips is €2 and the cost of the van coming to my house is €4 … what would the world look like if the chips could be delivered by air in three minutes and there's no driver cost?' So that was the start of it."
Flying into tomorrow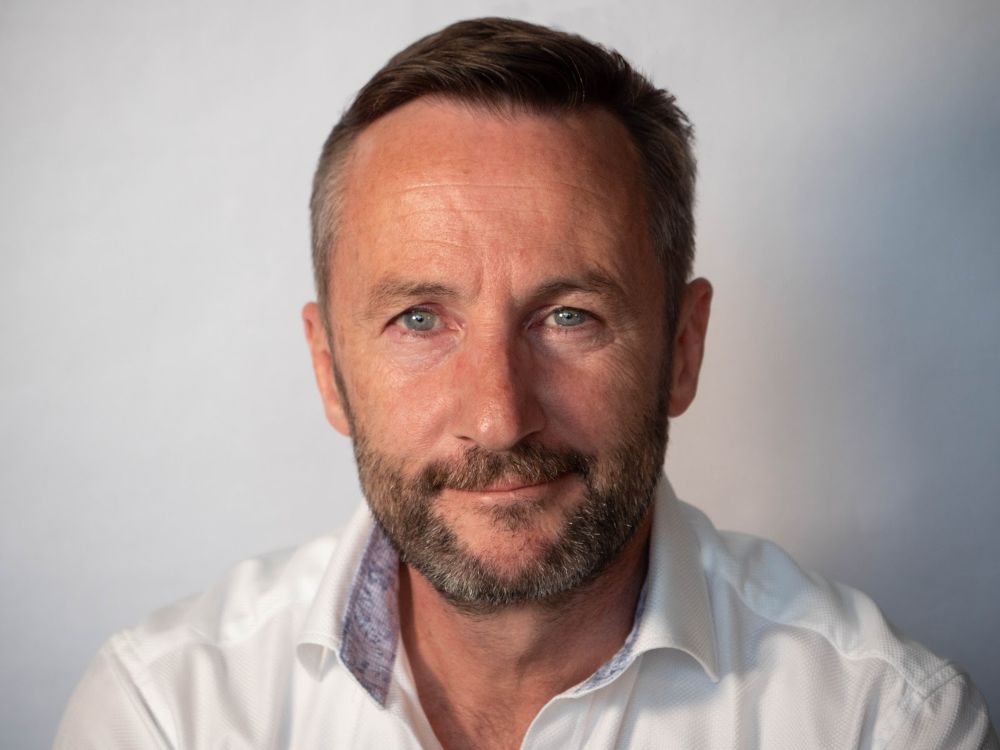 Bobby Healy, CEO of Manna Drone Delivery
In Balbriggan, he says, Manna's drones currently do up to 250 deliveries a day, with coffee being the most popular item.
Last year Manna raised €25m to fuel its expansion and the business already employs 120 people. The business is hard at work proving the technology works but crucially tackling the inevitable regulatory hurdles in order to scale in multiple markets, including Europe and the US.
"We are hard at work building an aircraft that can fly a million times a day without failure and one that can be regulated, just like an Airbus or Boeing aircraft. That level of safety, that critical reliability, is not quick to build. There's a lot of work to be done to prove the technology but also the social acceptance of drones flying about delivering goods. At present the biggest part of our work is invisible, focusing on the design, reliability and regulation of the aircraft."
The scaling of Manna will only begin when all the necessary technological and regulatory hurdles are overcome. Projects are currently underway in the east coast of the US. "It's going to take another year and a half to really scale up. The reason for that is the aircraft still needs a lot of intervention and observation and we need to also make it cheaper to produce.
"The US is our number one target market and the consumer base there loves convenience. But from a regulatory perspective the US is years behind Europe. Europe is full of regulation, and that's a good thing, but it is at the point where it is ready for this kind of platform now. We have gotten our Europe-wide licence." The hardest part is managing expectations. "It's a bit like building a rocket that will get you to Mars soon, and once you do you'll be printing money."
But in the meantime there is the necessary regulatory hurdles to be overcome.
"We want our drone to be like the original Volkswagen Beetle – it just keeps working and there are low maintenance costs. The key is to fly into a world where you have almost zero maintenance aircraft that can do more than 100,000 flights between maintenance intervals. Fewer maintenance costs mean more profits. But ultimately we're going to be flying over communities. We're building smart, electronic helicopters but we have the safety overheads of both airlines and aircraft manufacturers. We have to document every rivet and screw – everything an aircraft manufacturer has to do, we have to do it too. So we're behaving like a long-standing aircraft engineering business wrapped up in a start-up."
It's all a bit strange but it's also quite complicated – everything from batteries to gyroscopes have to be analysed, tested and made to function safely. "It's no wonder that cars take 10 years to go from design to hitting roads – if you manufacture 50,000 of them and then there's a flaw discovered and there's a recall, you have a big problem. For car companies, the fear is the recall, not customer satisfaction."
The biggest challenge in all of this for an entrepreneur of Healy's calibre is convincing investors to back this blue sky vision, because if everything is done right and goes to plan, it could skyrocket. "Investors quite rightly want to see your path to profitability. But for a number of years your revenue curve is going to be a flat line. We're quite similar to SpaceX and Tesla, with no revenue for years and huge costs."
But when the penny drops, Manna could be in the right place at the right time. "The thing is that this really works. We've already delivered to 38% of houses in Balbriggan. We know that people are using this regularly, they love the product and they're willing to pay for it. And it's great being able to show that to investors. Our cost per delivery is going really well and we can prove that it is actually cheaper than using a road-based delivery system."
Air-based delivery could be very much of its time. Healy estimates that fully autonomous road vehicles are still 10 years away and that people-carrying drones or eVTOLs are still in development and could be years from commercialisation.
"eVTOLs are not viable physically but billions of dollars of investment have gone into them. But smaller drones that deliver McDonalds or Starbucks will be the ones that will work because of the battery equation, the energy density equation and the cargo … it all works. We'll be publishing data this year that will show that we're cheaper than using a guy in a car or a bike. And the customers love it.
"We're in a very good position, albeit in a tough financial market, but I think we'll do well."
If Manna's technology, timing and execution go to plan, Healy is confident he can build a business of scale.
"I gave a talk at the Irish Aviation Authority recently and I said I want to build the biggest company Ireland has ever seen. People will say I can't do that, that we don't have the talent or the access to capital. Well we do. There's 5m people on this island and it's big enough. We can do anything, we can be anything. Anything they can do in Silicon Valley we can do here too with the right attitude and the right businesses.
"Name one country where the president of the country will visit a small start-up or a country whose transport minister and aviation regulator wants you to succeed. We have all the instruments of Government that a business like us needs, Enterprise Ireland have been really helpful. We have a lot of things that no one else has. Okay our venture capital funds are small but we have access to the US, the UK and Europe. I've already built two successful businesses here. And I've built the largest, most complex drone delivery in the world so far in Balbriggan."