ÉireComposites, Manna and NUI Galway join forces to manufacture the drone airframes of the future that will serve 1bn people globally with last mile delivery.
ÉireComposites, an innovative design, manufacturing and testing company based in Co. Galway, has forged a partnership with Manna and NUI Galway that will see it design and develop an aerospace grade carbon fibre airframe for Manna.
Alongside NUI Galway (NUIG) the two companies also announced that they received €2.44 million for the MI-DRONE project. The funding comes from the Department of Enterprise, Trade and Employment under its latest round of the Disruptive Technologies Innovation Fund (DTIF).
"The goal of this project is to fast forward the evolution of drone delivery"
The MI-DRONE project helps to address consumer demand for fast, reliable, last-mile delivery using a drone with delivery times being reduced to three minutes.
Along with this, the project also addresses sustainability with emissions decreasing by 80pc as a direct result of drones replacing approximately 2,800 cars/vans on Irish roads.
High-volume manufacturing of drones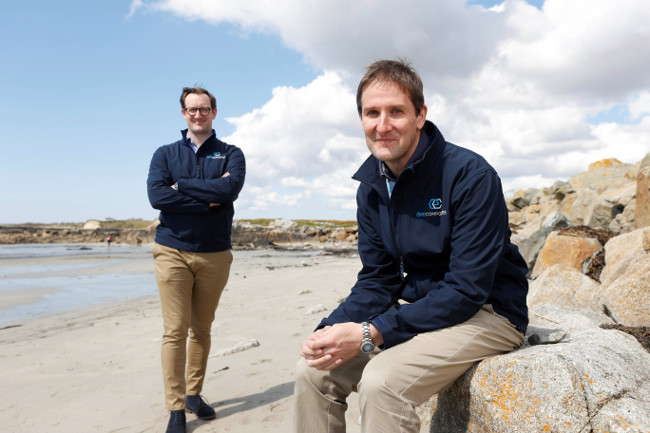 Mark McKeigue and Tomás Flanagan from ÉireComposites
ÉireComposites role within the venture is to coordinate the project and lead light-weighting of the airframe through the development of structural components from carbon fibre.
Working alongside NUIG, ÉireComposites will develop additive manufacturing and automation technologies for high-volume manufacturing of drones, and for structural testing of the same. It is envisioned that this process of manufacturing will lead to a reduction of the cost per drone by 36pc between 2024 and 2026.
"We are delighted with the announcement that the MI-DRONE project is to receive substantial funding to help make this idea become a reality," said Tomás Flanagan, ÉireComposites' CEO. "We are pleased to be working alongside a top innovative business, such as Manna, on this proposal and to continue our working relationship with NUIG.
"We are excited to be playing a leading role in the improvement of drone technology. The goal of this project is to fast forward the evolution of drone delivery and we believe this consortium brings with it the best in terms of leadership, vision and manufacturing to make this a reality and to align Ireland as a world leader in both drone delivery technology and manufacturing."
In order to effectively scale the business, the production of a large number of aircraft over a short time period is essential. Therefore, a range of advanced manufacturing processes, which includes automated manufacturing, such as automated tape placement, pre-programmed kitting of plies and induction welding, will be developed to allow for high volume production of the drone airframe.
"Having such an advanced materials player in Ireland was a fantastic opportunity for us to partner with a world leader for our aircraft given their experience at the cutting edge of aerospace and renewables tech," said Bobby Healy, CEO and founder of Manna.
The results of the project will lead to a significant reduction in delivery charges for customers. Beyond Ireland, the consortium believes that the MI-DRONE project can expand globally to serve 1bn people with last mile delivery and displace 560,000 cars and vans with drones.
"MI-Drone is a perfect example of how NUI Galway, through the SFI MaREI and I-Form research centres, can support industry's desire to innovate and grow via our research expertise and resources in design, simulation, materials, manufacturing and testing," said Dr Noel Harrison from NUI Galway.
His colleague Dr William Finnegan added: "NUIG's Civil and Mechanical Engineering programmes are targeted to meet future industry needs stemming from such exciting collaborations with ÉireComposites and Manna in this truly innovative, sustainable and disruptive project."
By John Kennedy (john.kennedy3@boi.com)
Published: 14 July 2021