Young Dublin business Unify Ordering was born in the chaos of restaurant kitchens and has grown into a bustling buyer-supplier marketplace that takes the friction out of the buyer and supplier relationship.
Unify Ordering was born out of Barry McNerney's own experience in the restaurant industry as owner of Lotts & Co., Paulie's Pizza, and Junior's Deli and Café and those of his founders who also worked in hospitality as well as tech.
The business is shaking up the hospitality sector by replacing an antiquated and fragmented ordering process for buyers and suppliers on one mobile-friendly platform.
"They showed it to me with a view to possibly using it in our restaurants and I said 'I'm not interested in just using it, I'm interested in investing in it'"
Unify Ordering has more than 2,000 suppliers and restaurant customers on its ordering platform.
CEO and co-founder Barry McNerney explained to ThinkBusiness how the company is enabling suppliers to serve buyers in a timely manner.
Making deals for meals
The Unify Ordering connects people in the food and drinks industry, making their lives easier, giving them control and information, reducing paperwork. It saves time and money, giving restaurateurs more time to focus on the things they love and are passionate about.
McNerney should know. He is also the owner of three Dublin establishments – Juniors Deli & Cafe, Paulie's Pizza and Lotts & Co – and know just how haywire the traditional ordering method for supplies for restaurants can be.
"In restaurants it used to be all about pen and paper, making calls over the phone or back and forth over email and leaving messages in a phone's mailbox. And when orders come in, the dockets are normally placed on a spike. There's absolutely no traceability or records in terms of the system of how goods are ordered.
"What Unify does is it enables restaurants to gather all of this information in one place in a digital format. Restaurant owners can organise it so that the whole team can collaborate on the orders via their smartphones.
"We digitise suppliers' product brochures and put this in the hands of their customers who can access and order on a 24/7 basis. For larger buyers we integrate into their ERP (enterprise resource planning) systems and it completely automates the whole process.
"It's a huge win for the buyer and a huge win for the supplier both in terms of reduces costs and better control. What Unify Ordering has created is a network of buyers of suppliers and we think we can absolutely revolutionise how the industry operates in terms of how they buy and supply – and they can communicate the purchase of products all the way through to how they are paid for and delivered."
McNerney said the platform is made available for free to restaurants and suppliers to sign up to. Revenue is derived when suppliers sign up for extra capabilities such as communicating special offers to restaurateurs.
Live across Ireland, McNerney is targeting the UK restaurant and supply market which he estimates is worth €3bn a year, before moving on to target mainland Europe.
Digitisalising the restaurant business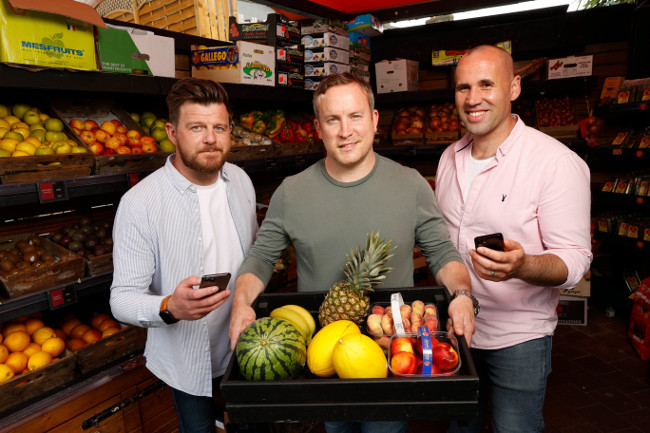 Unify Ordering co-founders Louis Williams, Barry McNerney and Paul Lawless
He said that most restaurants today have a sophisticated point of sale system for managing customers but behind the scenes in the kitchens and in storage the entire system relies on pen, paper and phone calls.
But thanks to Covid-19 and the rise and rise of dark kitchens and delivery services like Deliveroo and Just-Eat, kitchens need to be on top of things, right down to the quantities of beef and slices of cheese required for a burger order.
"We have enjoyed strong growth and particularly before the pandemic. When the pandemic hit we were hugely fearful that our target market was going to get wiped out. But, if anything the opposite has happened. It was a manual industry but with the disruption of the pandemic and now with obvious massive staff shortages across the industry, processes that were reliant on people have had to be automated. Also, because of circumstances, margins have to be tighter.
"These changed circumstances have been a huge advantage for us at Unify because businesses in the restaurant world need to be more digitised and we can give them more clarity and a better ability to control and manager their costs. That's what we do."
McNerney is a former equities trader from Dublin who decided to go into business with his brother, a chef, and established the Juniors Deli & Café chain as well as Lotts & Co. and Paulie's Pizza.
In 2017 he was approached by his co-founders of Unify Ordering Louis Williams and Paul Lawless, who was a former school pal.
"Louis managed a coffee shop in Rathmines and used to email his orders to his suppliers and it was a complete duplication of effort day in day out and he needed traceability. He asked Paul, a developer with 20 years' experience, would he put together a little app that would allow his staff to make orders when he wasn't there. All of a sudden they had this collaboration tool that simplified everything for the buyer and the supplier. They looked around and realised no one else had done this. It was the missing link in the restaurant/café business – they had the cash registers, the rostering systems but the purchasing system – a fundamental pillar of the business – was still being done with pen, paper, emails, texts and calls.
"They showed it to me with a view to possibly using it in our restaurants and I said 'I'm not interested in just using it, I'm interested in investing in it.'
"They built the MVP (minimum viable product) and then we started using it and sending orders and soon we had suppliers getting in touch asking what system we're using, because for them the chaos of traditional ordering from restaurants was much worse. We took on some angel investment in 2018 and hired our first staff member. Since then we've been learning the ropes and becoming experts in our industry.
"After we launched our MVP with one supplier and 40 buyers we've grown it nearly 3,000 buyers buying from 300 suppliers this month alone. We do on average up to €15m in orders a month. Our business strategy is to monetise the supplier side and build a network that connects buyers with suppliers.
"Our next phase will see us target UK cities like Bristol, Manchester and Glasgow because they have a large number of owner-operated restaurants, which is a sweet spot for us."
Unify Ordering, an Enterprise Ireland High Potential Start-up (HPSU) has the advantage that its owners are selling the platform to people who like them are practitioners in the hospitality business.
"The business is proving to be quite scalable and the growth model is quite viral insofar as when a supplier invites their customers to use it, the customer then starts using the supplier directory and so it has grown into quite an effective marketplace," McNerney concluded.