Scale Ireland's Autumn gathering proved the stakes are high for Ireland's entrepreneurs. The bad news: funding remains a major a barrier to growth. The good news: there has possibly never been a better time to start a business.
You can imagine how just everyone is in Finance Minister Michael McGrath's ear right now as the Budget for 2024 approaches. But you can't fault the determination of Scale Ireland CEO Martina Fitzgerald who has managed to get his time for two key events this year.
Yesterday (13 September) Minister McGrath sat among entrepreneurs and investors who continuously re-emphasised how fostering an innovation-led economy and empowering indigenous firms ought to be a Government priority.
"I believe we can do more and do better to foster a culture of entrepreneurship and support businesses that want to scale up in Ireland"
It spoke to the potential of Irish entrepreneurs how Scale Ireland's Autumn gathering took place at aircraft leasing player Avolon's Dublin headquarters. Avolon CFO Ross O'Connor revealed that the business began as a start-up in 2010 and today has grown to a global fleet of 600 aircraft with 300 more on order. "We are a truly global business with 149 customers in 65 countries around the world. We have a balance sheet with total assets of around $30bn and we are one of the top three global leasing companies in the world."
O'Connor emphasised that the principles of Irish innovation and entrepreneurship were core to the business since it started. "Through brave and driven execution Irish companies can be global leaders, they can be the best in the world."
But before we can have more global success stories, Fitzgerald summed up the challenges Irish CEOs face. Scale Ireland's State of Start-ups Survey 2023 revealed how 80% of founders found raising finance very difficult. She referred to the recent IVCA report that showed despite strong numbers, when you strip out three significant deals, funding fell by 55% year-on-year. Similarly, TechIreland.org's report indicated a 40% drop in total funding raised for the first half of 2023.
International head winds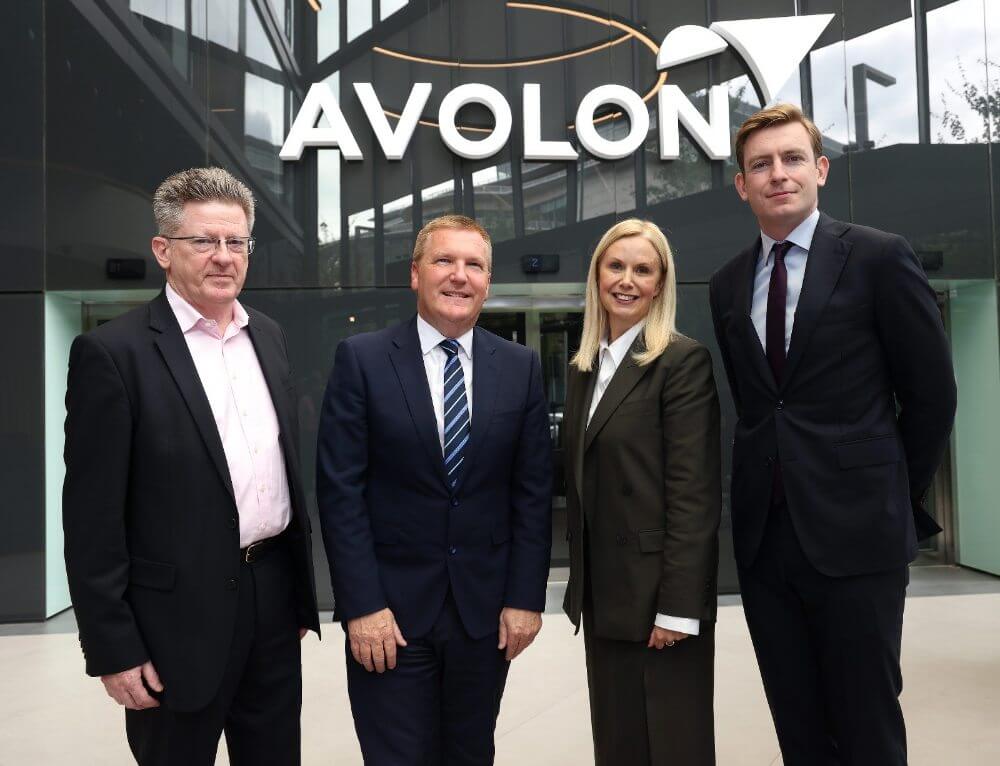 Scale Ireland chair Brian Caulfield; Finance Minister Michael McGrath, TD; Scale Ireland CEO Martina Fitzgerald; and Avolon CFO Ross O'Connor
The Finance Minister said that the increasing uncertainty in the global economy and the prospects of slow growth will frame Budget 2024, suggesting it will be a prudent rather than a giveaway Budget. Importantly for entrepreneurs and scaling firms, changes are likely to be afoot in terms of taxation.
"I do believe there will be opportunities in the Budget to make tangible improvements to the overall environment in which you all operate."
McGrath continued: "The consistent feedback that we get is that funding is now a barrier for many start-ups and businesses that want to scale up. So we have work to do to ensure that we are genuinely fostering an innovation environment in Ireland and that involves looking at all of the levers that we have at our disposal, and tax is part of that. It's not the only lever, we have to look at all of the different funding instruments that we have in place across the public sector and how we can leverage the potential for further funding and capital that will be made available in the private sector as well."
As well as looking at areas like EIIS and CGT, the Minister said issues around the current R&D tax scheme are also being examined by his officials.
"I believe we can do more and do better to foster a culture of entrepreneurship and support businesses that want to scale up in Ireland."
McGrath said that he will be announcing measures in the Budget that will make a tangible difference to the environment in which innovative and entrepreneurial firms operate.
"A key message that I consistently hear is about the need for simplification, that there is too much red tape, bureaucracy and accessing the schemes that are there has proven to be really difficult and unnecessarily cumbersome."
He added: "I have been engaged with the Revenue Commissioners and my own team to ensure that simplification of our taxation system is the theme of the Budget."
No more digital donuts
Among the panellists yesterday were Workvivo co-founder Joe Lennon, Boundless founder Dee Coakley and Criona Turley of Capella.
Lennon along with Workvivo co-founder John Goulding, sold the Cork-based business to video conferencing giant Zoom earlier this year for an undisclosed sum. He said that prior to the acquisition the company had been performing strongly against the prevailing choppy winds affecting other tech businesses and had previously raised $20m. On the offer by Zoom, he said: "It was not expected. But everything really added up for us in terms of making the decision to actually go down that path in terms of future growth potential." He said the deal made sense for the founders, employees and investors. "Everybody connected with the business was positive with the result."
Boundless CEO Dee Coakley said that the global employment platform business has been growing aggressively with 83% of revenues coming from international businesses spread across 27 countries. Having had exposure to various tax systems, Coakley pointed out that Ireland is actually one of the most straightforward countries when it comes to registering a new entity for taxation.
"We see a big opportunity for us to move up-market now. We're winning a lot of customer deals from competitors now so there's a big opportunity for us to go aggressively after that market." This will mean focusing more on inbound sales and demand gen.
Karina Turley of Capella, a business that helps businesses to look after hybrid workplaces, said the business has been going from strength to strength, winning lots of business including with the Department of Social Protection which has 6,500 employees using its technology.
The female-founded business is about to take on the US market. "Our plans are around sales and scaling. We have real confidence in the product. It's very robust and there's great confidence in that."
When looking at the challenges they face, Lennon said that there is a need for a greater sense of community in the Cork start-up scene, which entrepreneurs there label the "digital donut" because many of them are clustered around the edges of the city. "There's a very small concentration of companies within the city itself. I would love to see us invest more in the community aspect of it because as you know being a founder is a very lonely place and there's a very small number of people you can speak to about the challenges you face every day."
Coakley said that a key change that is required is less red tape and complexity when applying for State supports. She said that Boundless has never applied for grants because of the complexity involved. "We simply don't have that time at the pace we are growing at. So hearing that there is going to be simplification is very welcome."
Turley said that the funding environment is every bit as difficult as the reports suggest, but not impossible. "I think where companies have a robust plan and proposition that is married with metrics and a strong team, I do think there are opportunities there."
A tough 18 months ahead
The second panel featuring John Flynn from Act Venture Capital, angel investor and adviser Louise Phelan and Barry Brennan, venture partner with Elkstone, shed light on the structural and funding issues impacting the sector.
Act currently has a fund worth €140m, has 120 businesses currently invested in and has seen some 80 exits with a collective enterprise value of €4.6bn.
Flynn didn't mince his words when he came to the State of global investment. He said the global funding industry is in a down cycle with at least another 18 months to go. "It's going to be what I would describe as a bottom up recovery. I don't think we're going to see the recovery coming from late stage companies, I think the recovery is going to come from seed and Series A companies."
The 2020s, he said, have so far been an awful decade with pandemics, war and inflation. To describe the current environment as volatile, he said, would be an understatement. He said that M&A activity is likely to grow and for once Europe is actually ahead of the US when it comes to recovery.
The silver lining is good businesses may thrive. "So it is a great time to start a company, if you are starting company with an efficiency mindset. Less capital means you're tighter. And when the companied have scaled, they're much better companies."
Louise Phelan, former head of PayPal in Ireland and who sits on the boards of Ryanair and Kingspan, urged that Ireland needs to grow its angel investor community. "There's not enough of us giving entrepreneurs money. And I think there's an opportunity that needs to be looked at around a cap of €1m on investments."
Barry Brennan, from Elkstone, which has built up a fund of €100m for seed funding, said that the funding environment at seed level is beginning to transform in Ireland but said the country is trailing the UK in terms of tax that enable investors in growing firms to get a better return.
He agreed with Phelan's point also about building a stronger angel community. "There are a lot of UK investors in Irish companies but we should be developing our own angel investment community and recycling that capital back into our ecosystem."
Brennan urged that Ireland is now competing with ecosystems like Estonia and Israel and needs to compete with agility.
As Budget 2024 draws closer, it remains to be seen what Minister McGrath has in store for the Irish innovation sector. But with a tough economic outlook for the next 18 months, even a suggestion of less red tape has to be welcomed as a potential silver lining for Irish entrepreneurs.