Podcast Ep 82: Scale Ireland CEO Martina Fitzgerald talks to ThinkBusiness about the need to back scaling Irish tech firms.
If the examples of Stripe, LetsGetChecked, Workhuman, Intercom and Fenergo haven't taught us anything about the potential of Irish-led technology companies, then perhaps nothing will.
Payments revolutionary Stripe, which was founded in San Francisco by Irish brothers John and Patrick Collison, is known in investor circles as a "dragon" because it is worth $95bn and is creating more than 1,000 jobs in Dublin alone. The others are known as "unicorns" because they are all worth more than $1bn apiece and have ambitions to go a lot further. Already they have created thousands of jobs between them locally and globally.
"Every week we talk to a founder who has lost an important staff member because they can't afford to compete with a bigger company or a different jurisdiction that has more attractive share options schemes"
In almost every corner of Ireland there are companies just like them rising fast. Look at Fidelma McGuirk's Payslip which is creating 150 new jobs from Mayo. Look at Teamwork and Workvivo in Cork. Look at Scurri in Wexford. Look at NearForm in Waterford. Look at Novah Leah in Louth. Look at Manna.Aero in Dublin and Galway.
Enterprising priorities
Across Ireland there are 2,000 indigenous tech start-up and scale-up companies that between them employ 47,000 people and more can be achieved, advises Martina Fitzgerald, CEO of Scale Ireland.
Scale Ireland, the independent not-for-profit organisation which represents and advocates on behalf of tech start-up and scale-up companies last year appointed Martina Fitzgerald as its new CEO. Fitzgerald has two decades senior communications experience working as a national journalist including as political correspondent with RTÉ, is a best-selling author and was more recently a visiting fellow at Columbia University in New York. She is a member of the board of Dochas and the National Screening Advisory Committee.
Speaking with ThinkBusiness following a recent webinar that included Finance Minister Pascal Donohoe, TD, and a number of entrepreneurs and investors, Fitzgerald said that Ireland is on the precipice of an enormous opportunity to see indigenous Irish tech companies become real drivers of economic change and opportunity in Ireland.
EIIS needs a rethink
But the sector is held back by crucial issues including antiquated investment instruments, a talent war that is making it difficult to retain staff and an inability to fight back with benefits such as share options. Other frustrations include the need for more realistic R&D tax credits and the need to encourage and support women entrepreneurs to flourish.
Despite the abundant opportunities for Irish tech start-ups and scale-ups from bodies, the sector feels that the odds are stacked against them when it comes to investment and retaining talent.
In a recent Budget 2022 submission, the Alliance for an Innovation Driven Recovering that includes Scale Ireland, the Irish Venture Capital Association, the Halo Business Angels Network, TechIreland and Euronext lobbied for the reform of the Employment Investment Incentive Scheme (EIIS) as a vehicle to improve the availability of risk finance for SMEs. The alliance also called for the reform of share options, making R&D tax credits more useful for SMEs and a sustainability agenda for early stage companies to align with the UN's sustainable development goals.
Fitzpatrick pointed to the substantial 42pc fall in investment in Irish companies in the range of €1m to €5m indicated by the Irish Venture Capital Association. "Early stage companies are really struggling to get that funding compared to the more advanced companies. The EIIS is an incentive to attract private investment into early-stage start-ups and others. There's a problem first of all that most investments that are taking place in those schemes are taking place in asset-backed portfolios and property and not in the higher risk, higher potential start-ups."
She said that more than 70pc of investment in EIIS schemes is in asset-backed rather than the high-risk ventures for which it is intended. "One of the issues is to reduce the risk. It's riskier to invest in one of these kinds of ventures because of the high attrition rate. Many of them don't succeed, but they have potential. So what we have suggested is that there should be some loss relief on investments. Not just to incentivise people going in, but also if they make a loss share some of the burden of that loss and that would make it more attractive to invest in these types of investments."
Fitzgerald also pointed out that the EIIS was set up many years ago when the funds industry is not what it is today.
She pointed out that early stage firms are not pursuing EIIS, hitherto known as the "friends and family round" as a vehicle because of implications for founders' personal finances if the risk doesn't pay off. At the Scale Ireland webinar Sohini De, founder of digital health software as a service (SaaS) company Empeal, said she did not pursue EIIS because of the risk of potentially "punitive" tax implications down the road.
"So it's risky to get involved and it shouldn't be," Fitzgerald said.
Commenting on the collaboration between the various member organisation comprising the Alliance for Innovation Driven Recovery, she asked: "How many sectors do you see all of the key players coming together to put forward solutions?"
War for talent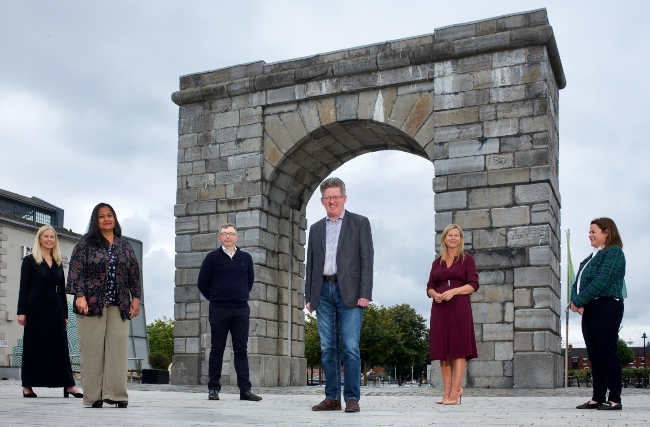 From left: Martina Fitzgerald, CEO of Scale Ireland; Sohini De, Founder & CEO of Empeal; Alan Merriman, founder and executive chairman at Elkstone; Brian Caulfield, chair of Scale Ireland; Eileen O'Mara, Go-to-Market Lead of EMEA at Stripe; and Elaine Coughlan, co-founder and managing partner of Atlantic Bridge. Image: Photocall Ireland
"The best advertisement for this sector – the start-ups, the founders – are those with the vision to take the risks, who are growing their companies and are solving problems"
Another hot issue for the indigenous tech sector is staff retention, a critical factor in the war for talent whose flames have only been fanned by the Covid-19 pandemic. Indigenous companies struggle to compete against larger tech multinationals who can offer better pay and perks.
The issue, I point out, is not about comparing A with B, but enabling start-ups – who in turn can offer the adventure of the entrepreneurial path – to compete on their own terms. Conversely, a strong FDI sector and a strong entrepreneurial sector go hand in hand in cultivating talent and innovation.
Indeed, one of the most exciting new FDI companies in Ireland is Stripe, which embodies the promise of how Irish-led tech companies can go global in their own right.
"I do think there is an important conversation taking place about foreign direct investment and the changing landscape. But separate to that and irrespective of that, there has to be equal importance given to the indigenous tech start-up sector. We need to start giving priority to it and supports to it because this equally has huge potential in terms of employment. In terms of exports, most start-ups are globally focused from day one."
Across Europe countries such as France, Germany and the UK are directly supporting their start-up ecosystems. Scale Ireland recently joined an initiative supported by 27 national EU start-up organisations that aims to see a tenfold increase in unicorn companies.
The vision, Fitzgerald says, is to make Europe a global powerhouse for start-ups. "And you can see there's a reason why everybody is doing this. The Covid crisis has been a wake-up call. They've seen the benefit these kinds of companies bring, their resilience and not just in terms of economic value, but societal," she said pointing to the Covid app for Ireland that was developed by Waterford company NearForm and embraced across the world.
Crucially, even established and fast-scaling Irish companies are struggling to compete in the war for talent and staff retention. "Every week we talk to a founder who has lost an important staff member because they can't afford to compete with a bigger company or a different jurisdiction that has more attractive share options schemes.
"When you think about it, the State should be encouraging shared ownership of companies, some of which are going to do really well and why shouldn't those who have contributed to that success story share in that? And I think there should be a very evident and workable scheme here."
Fitzgerald said the existing KEEP Scheme is not living up to its true potential or for what it was designed "to help SMEs attract and retain talent in a highly competitive labour market."
Since the first year of the scheme in 2018 only 87 key employees in Irish companies have been granted shares.
"It's a huge issue that has to be resolved. And it makes sense to do so because ultimately you are keeping a greater proportion of the equity in Irish hands. And also, you have greater certainty as to who owns a proportion of it. There are many benefits and it's a no-brainer."
The pressing issue of R&D tax credits also needs to be examined as Fitzgerald warns that early stage companies could be missing out on a window of opportunity unless they can gain the benefit of the credits in the first year of application rather than three years later. "It makes sense given the dynamics of the sector. When you get down to brass tacks, that would be a game changer.
"We just want to see more and more indigenous and small start-ups and SMEs availing of tax credits that are fit-for-purpose and that they can navigate without spending so much on advice, financial and legal."
She reiterated that it is not about multinationals versus SMEs. "Many of those bigger companies still invest in the smaller companies. So, it really is a mutually beneficial environment."
Another anomaly that Fitzgerald wants to address is the low number of women-led tech companies being funded.
In March this year the number of women-led companies landing investment surpassed €100m for the first time, but this is just 10pc of average of €1bn that is invested in emerging Irish businesses every year.
No stranger to such anomalies having studied female participation in Irish politics, Fitzgerald said that a rising tide of women-led entrepreneurship needs better visibility. "We make it part and parcel of all of our events that female founders get recognition for what they do and become role models."
Behind the scenes she said Scale Ireland works hard in its own quiet way to ensure women founders are constantly introduced to investors and potential collaboration partners such as universities.
She also believes emerging tech companies and scaling SMEs also need to play a greater role in the sustainability agenda and key to this is helping them to gather key performance indicators (KPI) on achieving carbon neutrality. "There is a body of work to be done to educate and then to support, as well as to support other start-ups that have sustainable solutions and who are going to be problem-solvers and grow."
In conclusion, with a myriad of companies proving what indigenous companies are capable of, Fitzgerald believes the importance of supporting scaling tech companies should be abundantly obvious to policymakers.
"The best advertisement for this sector – the start-ups, the founders – are those with the vision to take the risks, who are growing their companies and are solving problems in areas like logistics, enterprise, medtech, cleantech, agritech. You don't have to travel very far to see why you should support the sector. All you have to do is hear from the founders themselves."
She has a point. John Purdy grew Ergo from a business in a shed to a €100m business. Manna's Bobby Healy wants to make Ireland a global location for drone delivery and manufacturing. And founders like Peter Coppinger from Teamwork are restless and ambitious and they want to keep scaling globally. They are the evidence. You just need to listen.