Dublin business Smarketing Cloud brings all marketing and sales together in one place to help teams with limited budgets make a big impact.
Frustrated with using 6-to-15 siloed tools, not having clear visibility into what's driving sales and the ever-expanding dispersion of online communication channels, Wexford native Joseph Cosgrave founded Dublin-headquartered Smarketing Cloud with the intention of building a next-generation marketing platform.
"Companies are wasting money on advertising that doesn't deliver, they're paying for old and outdated software that's expensive and doesn't work," laments Cosgrave. "Their sales and marketing teams and processes are not aligned or working towards a shared goal.
"I would say that having agility in people, processes, and technology is a big success factor for the next generation of successful companies"
"Teams are working across multiple siloed tools and platforms with no smart master platform. Remote work has made online demand and revenue generation harder for businesses with remote teams and our all-in-one sales and marketing cloud will solve many of these issues."
Cosgrave and his team are zoning in on a marketing clod market that is expected to be worth $11.8bn by 2023.
"We see ourselves as a strong candidate to compete in the global arena as we continue to expand our business."
How to hack growth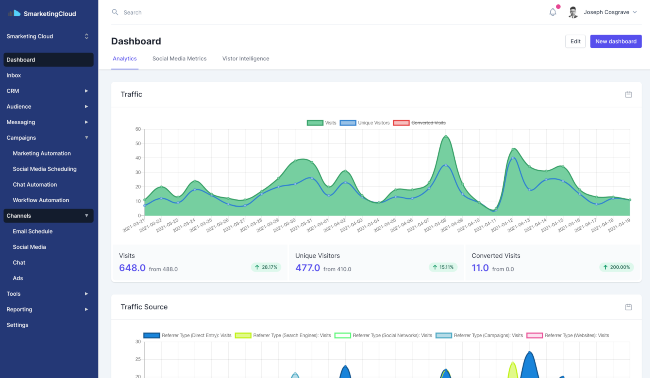 "Our proprietary marketing cloud helps remote marketing and sales teams to better align and orchestrate revenue-generating programmes that drive demand and sales for their business"
He said the core focus is helping companies with small budgets achieve big things.
"We do this by empowering companies to easily connect, collect, organise, and activate their digital data in one place. This then allows business leaders to discover strategic insights that can be used to build scalable multi-channel sales and marketing programs that reach, influence, and engage the audiences that matter most via the medium that matters most.
"Our proprietary marketing cloud helps remote marketing and sales teams to better align and orchestrate revenue-generating programmes that drive demand and sales for their business."
The platform brings all of a brand team's data, channels and campaigns together in one place. Capabilities include marketing CRM, audience data and segmentation, brand messaging library, omnichannel communications, brand inbox, workflow automation, a customer journey builder, a brand broadcast and social media suite, cross-platform analytics, full-funnel attribution and insights and reporting.
As a marketing technologist with experience in both SME and enterprise roles, Cosgrave wanted to create a fit-for-purpose cloud solution to allow remote sales and marketing teams to work more effectively in a cross-functional capacity, so Smarketing Cloud was built for marketers by marketers.
"For companies with limited talent resources, we also offer a managed service model where we give companies direct access to our sales and marketing experts and build out effective demand and revenue-generating campaigns that scale as the company grows. This gives companies the advantage of an in-house sale or marketing department but without the large overheads," Cosgrave explained.
Where innovative minds meet
Cosgrave believes Ireland is a good place to build businesses from. "I think Ireland is a great country with innovative minds, bold ideas, and ambitious entrepreneurs. I believe that Ireland is one of the greatest places in the world to build a company right now, there is so much access to talent, financial supports from the government funds, venture capitalists, and banks, and there are now so many great mentors to bounce ideas off.
"It's a great time to be a start-up and entrepreneur in Ireland right now, I can't wait to see the innovation that has risen out of the ashes of the pandemic."
The company is focused on organic growth targets after which it will raise seed and Series A funding.
Cosgrave admits his biggest challenge as a founder has been focusing on the right tasks and not trying to do too many things at once. "It's hard for me to think about the day-to-day activities that need to be taken as I'm naturally a big picture thinker, but it's a discipline that I have had to practice daily and over the last nine months I have narrowed my focus and applied discipline daily to achieve the small steps, these actions have now compounded and have added up to big steps, this has really paid off for me."
He believes it is fundamental to gain customer feedback and insights. "I would say that it's important to test your idea in a way that gives your real market feedback as quickly as possible, talking to customers is a great way to learn, pivot and ultimately get to product-market fit. If you're planning on dedicating yourself to a company, you better make sure you're solving a problem that people care about, otherwise everything will be much, much harder."
The company proved this by recently scrapping the entire original product and then rebuilt it from the ground up.
"We realised that we needed a platform that could do a few core things really well and the rest needed to be modular so that we can easily change according to market needs.
"I would say that having agility in people, processes, and technology is a big success factor for the next generation of successful companies."
By John Kennedy (john.kennedy3@boi.com)
Published: 17 May 2021