Founded by three Irish friends during the pandemic, Riley is disrupting period care with eco-friendly products and healthy supplements. It now ships to 34 countries worldwide.
Frustrated with the lack of healthy options in the market three friends Fiona Parfrey, Lauren Duggan and Aine Kilkenny decided that a different approach was needed.
"We're on a mission to start a new era for female health, a crucial era for humankind that has been underserved since the dawn of time," said Parfrey.
"We're proud that our products are better for our bodies and better for our planet"
"Our first step was disrupting period care, creating accessibility to high quality eco-friendly products wherever and whenever they're needed. More recently we launched a female health supplement; a probiotic for vaginal health and gut health.
"And we're also opening up the conversation and breaking down stigma, because female health shouldn't be a mystery. The global female health market is valued at $38.1bn but first we are focused on serving people in Europe and right now we ship across 34 countries."
Superior period care
Riley's core product is superior period care, Parfrey explained. "We create high quality tampons and pads made with 100% organic cotton, and nothing else. That means there's no added bleach, rayons, pesticides or other harmful chemicals used during manufacturing. We're proud that our products are better for our bodies and better for our planet.
"We serve our community in a number of ways; delivered right to their doors on a subscription service so they are never caught off guard when needed, or they can find our products in offices buildings, restaurants, bars, gyms, universities – you name it.
"We believe period products should be treated like toilet paper and be readily available whenever needed, and we're delighted to partner with amazing Irish businesses who believe in our mission to provide period care in their facilities."
Powered by passion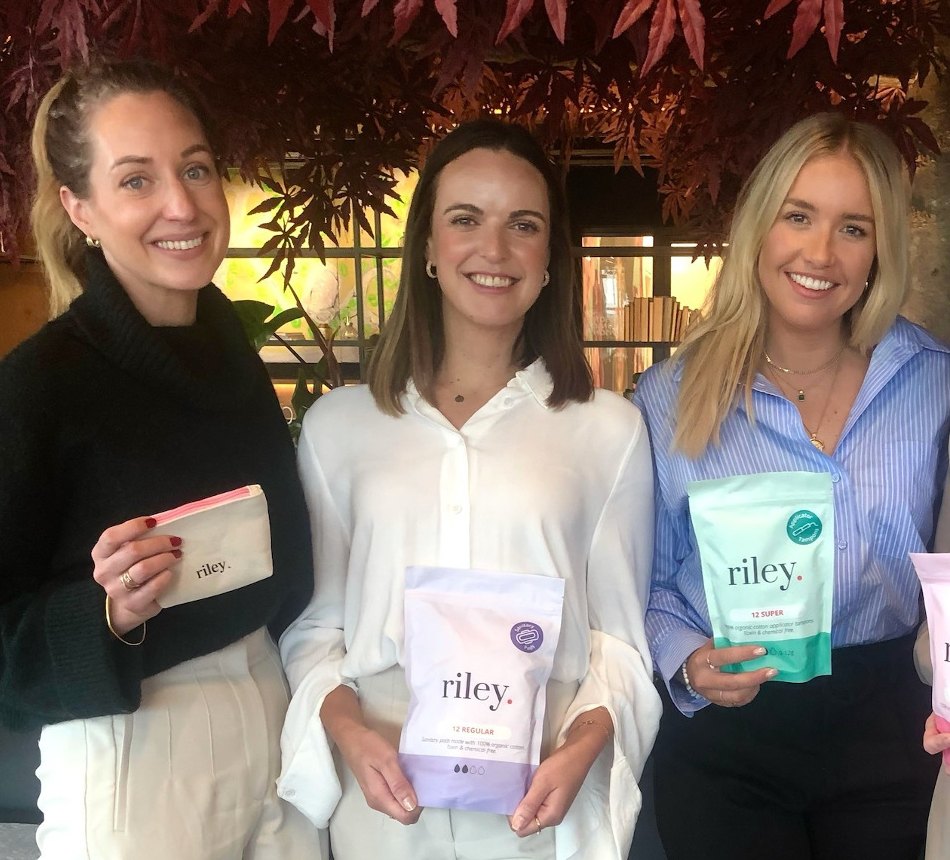 Riley co-founders Lauren Duggan, Aine Kilkenny and Fiona Parfrey
Riley was founded by Parfrey, Duggan and Kilkenny in the midst of the pandemic. They were frustrated with the lack of healthy options on the market and knew there had to be a better way.
"We got together and started working on Riley in our spare time while balancing our full-time jobs. Four months later we launched to market and recognised from the get-go that we were compelled to give our passion a proper go. So I exited my previous business, where I was working as a sole founder, Lauren quit her job in London and moved back to Ireland, and Aine also handed in her notice from her corporate job. And, less than two years later and now a team of six full-time staff, we've never looked back!"
Amazing mentors
Parfrey said that the support in Ireland for entrepreneurs is second to none.
"There are so many incredible networks and peer groups to get involved with, and we jumped on the opportunity to do so. We've been lucky enough to get amazing mentors through these networks and learn from other admirable entrepreneurs.
"We've been a participant in Going for Growth, The Entrepreneur Experience run by Cork BIC, the NDRC Pre-Accelerator, and most recently we got accepted on Endeavour Ireland's Scale-up programme which we are so excited about!"
She said that Riley is currently in the process of raising €2m in funding which will be used for market expansion, to further grow out the Riley team and for R&D.
Like all founders, they discovered lessons in abundance. "Mistakes will always happen and when they do we try to do two things; firstly learn from the mistake, and secondly identify a way we can avoid making that same mistake again. The biggest lesson we've learned is things will never go to plan but you can always find a way.
"One of our company values is 'everything is figureoutable' and we live by this every day, working together as a team to solve problems and move forward. Having resilience has probably been the most vital part of entrepreneurship for us so far."
Stay focused
To remain agile the business makes use of all the available web technologies. "We're essentially an online business so tech is a huge part of how we run Riley. We use Shopify to run our e-commerce store, Slack to communicate effectively as a team, Xero for managing finances, Hubspot for CRM, Recharge for subscription management. That being said, we love meeting our clients and partners face-to-face as we really see value in building relationships the 'old school' way."
Her advice to fellow founders is to keep their eye on the prize. "It's something we're always trying to get better at, but I would say 'stay focused'. It's easy to get distracted by competition and wanting to do too many things at once.
"Keeping an eye on competitors is important but getting too obsessed with them will mean you're not focused on your own business enough. Be obsessed with your customers over your competitors!
"Wanting to execute all of your great ideas at once will often mean you're not executing the most important one to a level of excellence. Prioritise, test and learn, and believe in yourself!