One to watch: Irish start-up Weeve helps people to learn new languages by weaving them into popular books.
"Our brains are extremely adept at understanding context in simple narrative scenarios," explains Weeve co-founder and CEO Evan McGloughlin.
"We all learned our first language in this way and it is how people become true bilingual speakers. Introducing foreign words within the context of a sentence allows our brain to form a contextual representation of that foreign word without needing to translate it, all while reading interesting stories they would have read anyway.
"Our AI technology matches users to the perfect series of books based on their own individualised learning goals"
"Our Weeve application acts as a reader or audio player for weeves. Weeves are condensed 15-30 minutes summaries of the best-selling non-fiction titles. Our AI technology matches users to the perfect series of books based on their own individualised learning goals. From economics and startups to sex and relationships and everything in between, all while seamlessly acquiring a language of their choice.
"Our users also have complete dynamic control over the level of translation in their story meaning for the first time ever they will always be perfectly matched to their level of fluency, on a granular scale of 1-100%. Users will also be able to track the words they have read, set personalised reading/learning goals and use our app to ensure they are progressing in the most efficient, painless and enjoyable way possible.
"We also sell some of our copyright-free titles as paperback books on our website, as a profitable and automated sidearm to the business," McGloughlin said.
Why Weeve is of its time
Mcgloughlin said that traditional methods of learning a new language are ineffective, inefficient and boring.
"Today's methods centre around gamification, memorisation and exercises which are painstakingly boring, leading to low levels of acquisition. In 2020, the language learning market was valued at approximately $6.4bn. Recent trends mean that this market is set to grow, predicted to reach $25.7bn by 2027.
"We aim to target a unique pocket of this market, Spanish natives with English as a second language, a group who desperately feel the pain of not being able to acquire the language that will define so much of their economic and social potential reach in life."
Walking the talk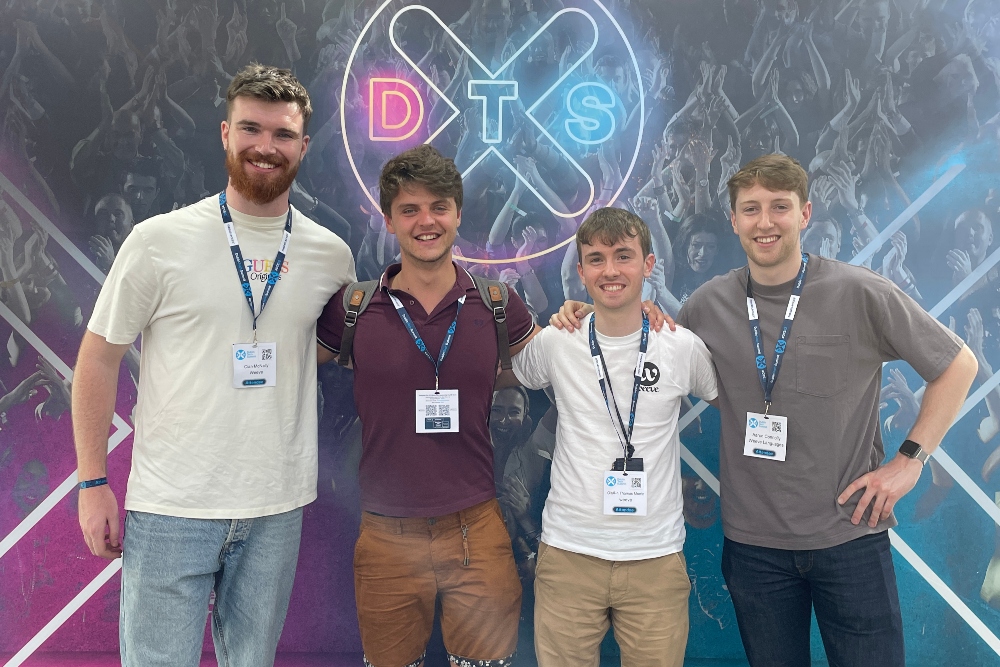 The Weeve team: Cian McNally, Evan McGloughlin, Oisín Morrin and Aaron Connolly
"Avoid glory metrics like competitions and social media followers; anything that isn't actual customers tearing down your door to use your product is fool's gold"
CEO Evan McGloughlin (CEO) has a degree in neuroscience from Trinity College Dublin and is a Blackstone scholar who is passionate about education and innovating on learning techniques.
Cian McNally. He Head of Product has a degree in psychology from Trinity College Dublin. He is a passionate polyglot, speaks 4 languages and is obsessed with improving the methods of language learning. He conducted thesis research centred around the efficacy of the diglot-weave technique in learning languages.
CTO Oisín Morrin is also a polyglot, speaking fluent German, Japanese, Irish and Scots Gaelic. With a degree in computer science and linguistics from Trinity College Dublin the all-Ireland scholar and has a wealth of experience in translation technology, including translation services for Microsoft, edtech research and app development for Irish language learning.
"We became entrepreneurs not because we were destined to do so but because we fumbled our way to a problem we felt and ended up devising a solution we were incredibly passionate about spreading," McGloughlin said.
Closing the gap
Weeve is heavily involved with the burgeoning start-up ecosystem within Ireland.
"There are a number of good early stage supports from getting an idea to prototype and minimal viable product (MVP). The largest issue I felt was an absence of early stage capital to support the stage from MVP to selling product.
"This gap has actually just been brilliantly filled by Enterprise Irelands Pre-seed Start Fund. I think this perfectly closes the gap and I am excited to see how early stage startups can leverage this great resource."
The business is currently in the process of raising its own pre-seed/seed round. "We are planning to raise €1m. We have been pitching to a number of venture capitalists and angels and received interest from both. A team of investment bankers from Bank of America/Morgan Stanley look like they will lead the round. We have another €200,000 in soft commits and lots of other interests currently in negotiation."
To stay agile the team uses brainstorming software like Figjam to organise product development cycles into weekly sprints. "This allows us to focus our efforts for the week and eliminate distraction."
Don't scale too early
Despite the academic brilliance driving Weeve, McGloughlin admits the start-up has probably made every mistake founders can make.
"Primarily our mistakes in the early days were centred around not talking to customers enough and scaling too early. Our products were selling and we were winning competitions which gave us the very false illusion that we had a great product.
"We should have focused on our early adopters and talked to our first 25 customers as much as possible while iterating on one product before scaling. We made the serious mistake of scaling too early with a mediocre product resulting in a lack of repeat customers and hence eventually the sales halted.
"The most important lesson I learnt is to not scale too early. For us scaling was about ego and prestige. It felt cool to be publishing books and to say we had loads of translators all over the world. In actuality, we were building a mediocre product to a large average audience. We should have built an exceptional product for a very small audience. Once that is achieved is when you consider scaling."
His advice for other founders? "Focus on your early customers, narrow your focus and do not scale until your product is ready. You only need 10/20 early customers to drive the development of your product. Iterate fast within a narrow, closed loop, attempting to solve one problem really, really well.
"Establish two or three key performance indicators (KPIs) that will inform your progress within this system and only attempt to scale once you have surpassed them. Avoid glory metrics like competitions and social media followers; anything that isn't actual customers tearing down your door to use your product is fool's gold."