Podcast Ep 106: Powercut Clothing co-founder Craig Mulhall has a global vision for the brand.
Last summer an article we published about a young Irish business called Powercut that reported a 700% increase in turnover to €2.5m caught the eye of Dunnes Store CEO Margaret Heffernan. Now the brand behind popular athleisure clothing is beginning to appear at Dunnes Stores premises across Ireland. As well as being a strong e-commerce vendor it also has a physical presence at various Kilkenny Stores.
This is just the start of a global journey for Powercut Clothing, a business founded in 2019 by entrepreneurs Brónagh McKay and Craig Mulhall that will soon see the Ballycoolin-headquartered business take on the US e-commerce market with next-day delivery.
Built on a passion for design and a keen interest in premium brands, for the first 18 months Craig and Brónagh worked 8am-6pm in their day jobs and then turned their attention to Powercut until 2am, as the brand flourished and developed into the successful athleisure company it is today.
Power moves
The first quarter of last year saw a 4,069pc increase in sales versus same period in 2020. Powercutclothing.com also received a 2,553pc increase in online visitors during the same period.
Expanding at a rapid rate Powercut last year secured a new 3,500 sq ft premises located in Dublin 15 which has become Powercut HQ. It includes a large warehouse space that has capacity to store more than 1,000 variants of clothing to expand the brand's presence across Ireland, the UK and the US.
The athleisure brand also has a Design Lab that allows it to showcase current collections and new styles to retail partners, while also focusing on improving materials and design focused on further sustainability.
When Powercut launched, the brand originally started with only nine product variants. It now has more than 1,000 product variants, including a mix of the brand's usual leggings and bra combos, new outerwear, specified products for running, and a plethora of premium casual wear.
Speaking with ThinkBusiness, Mulhall said that the decision to start Powercut came on the heels of Brónagh exhausted after returning from a nightmare business trip but inspired by seeing athleisure brands take off in Australia where she lived for a time. "She was like: 'Craig, what are we doing? Why are we doing all of this work for other people?'"
Style council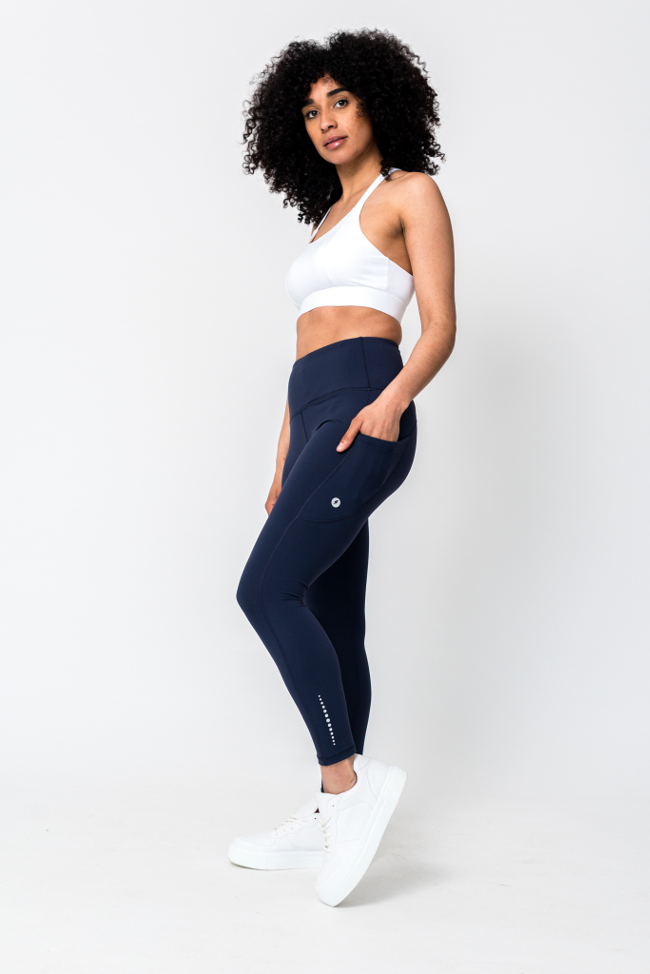 Realising that the athleisure market was in its infancy at the time – this was pre-Covid pandemic – the couple who had a taste for fashion and design decided to strike out and Powercut was born.
"We're a young couple and we thought 'maybe we can go after this market' and within 16 to 18 months we developed our very first product for sale. There was no one else really targeting this market in Ireland and for us it was 'we can do this, we have the drive.'"
Mulhall said the journey so far has been a combination of hard work with just the right amount of luck. "Margaret Heffernan shared that article about us on LinkedIn. The trigger point for her was 'here's an Irish designer and a family', the very demographic, and she contacted us about a potential partnership with Dunnes Stores where we'd open concession stores to showcase what we do. It was pretty amazing, and it rolled from there."
Powercut is now in five Dunnes Stores premises with potentially more to follow. "It's fantastic. We get to showcase and allow people to see what we're doing because we're an online brand so they get the feel for the product. We're all about fabric and materials. And that's the joy for us at the moment, we're soaking it up. We'd love to expand throughout the Dunnes real estate which I would love to say will be on the cards in time.
"Globally, we have massive aspirations. We have a great partnership with FedEx and in the coming weeks we are going to be launching next-day delivery to the United States and Europe.
"We're really going to go after that market on a global scale and offer people a fantastic service, such as next-day delivery for a customer in California."
Just do it
So how does a young couple with a young child go from working in their careers to suddenly becoming entrepreneurs, and successful ones at that. I ask Mulhall how the magic happens.
"We are creative and loose in a way. That's the best way to describe it. We'll come up with an idea and an inspiration – we love looking at other brands such as a leather bag manufacturer doing something different with a zipper – and that's the kind of thing we take inspiration from.
"We take things and tear them apart. We have a Design Lab with a small room dedicated to that process. We have a product manager and a lead designer with a lot of performance athleisure experience and we chop and change ideas.
"We work with fantastic suppliers in the Far East and develop the products. It could take four or five different goes by the time the product comes back. We audit our standards in the factories to make sure the production is up to scratch."
Powercut is effectively masterminding its own global supply chain and works with global delivery players like FedEx as well as local delivery partners like DPD for next-day delivery. "If you place an order on our website by 2pm we will make sure that you have it the next day. We have a team at our HQ dedicated to that process."
Mulhall's maxim is that with the right amount of focus and passion anything is possible. And with the internet, any supplier can be found.
"With Powercut the two most important things are brand vision and product. It's up to me to ensure we have a clear message from day one and a clear objective. Then it's down to the product and let the product do the talking. Get it out there; you have free tools like Instagram, Facebook and Twitter. You have all of these tools at your disposal, just get your message out there and that's what we do."
Mulhall believes he was already on a good trajectory within his career before becoming an entrepreneur and it was while working for a Norwegian baby goods brand that he honed his skills and knowledge around creating a premium brand and how to communicate that brand.
"I brought the business structure, Brónagh has a tech background and we somehow smashed it all together, pulling in other talent pools to make it work. Shopify, for example, is a fantastic place for any business to get off the ground. For less than $9 a month you can set up your website and get moving, taking orders and have a fulfilment system. All of these tools were available to us that wouldn't have been there 10 or 20 years ago."
Crucially, he believes the success of Powercut is down Brónagh and their belief in what they were doing. "She was like: 'Great, we can do this together.'"
Perfect fit
As well as hard work and luck, timing was another factor in Powercut's success so far. The global pandemic that struck in March 202 changed everything in terms of how people lived and work and athleisure effectively became the new business suit.
"Athleisure was already on an upward trend before the pandemic. I'm a big fan of Tinker Hatfield, the designer behind various Nike shoes like the Air Jordans, a phenomenal designer and a visionary. You also see brands like Lululemon Athletica really growing and getting a foothold as well as brands like Peloton who emerged from the tech space.
"It was already getting into the psyche at home. But at the start of the pandemic it was about comfort and people were wearing oversized jumpers.
"Now people are looking at functional, well-fitting pieces like leggings and you're seeing that trend really start to explode."
In effect, people who wear athleisure don't wish to look like slouches, they wish to look well put together with fitted garments that make them look well.
An example of this is the Powercut tek/pak range of athleisure garments for men and woman, with the emphasis on looking fit and neat. "The key to this was identifying the right technical material with the right blend of cottons and we developed a really beautiful set of colours that allowed people to look really tailored."
For Mulhall, the next year is about global expansion but also creating new specific lines of clothing. "We want to really hammer home what our product offering is and how premium we are as a brand. We're also developing different tracksuits more related to specific sports like tennis as well as specific running products as well as more products for men. We want to make sure that when someone clicks on our website they get a feel for who we are. We want to develop a product offering that will be ready to launch in April or May that will really home us in as the specialist athleisure brand in the country, there's a reason why people have switched over to Powercut."
He said that Powercut aims to be at the top of the Irish market first while organically growing its global reach via the internet. "It's not going to just spread across counties, it's going to spread across borders. And that's the first goal."
The next steps involve growing the staff from 20 today to potentially 100 people.
"We'd love to see this team get bigger. We've just taken on another warehouse and we're expanding our footprint within Dublin. We're not thinking too far ahead but we do have a plan. We're enjoying the process and how organic it has been," he concluded.
"Bank of Ireland have been a huge support to us and helped us get to where we are. As well as Dunnes Stores we also have a relationship with Kilkenny Stores and we're focused on supporting our online customers as well."