With the first cohort emerging from the NDRC at Dogpatch Labs, Paddy Walsh talks about how Ireland can build a world class, nationwide entrepreneurial ecosystem.
"We definitely see ourselves as operating on an international level. The opportunity for us is to be one of the best accelerators in Europe," Dogpatch CEO Paddy Walsh says with the characteristic certainty and zeal that saw him take an empty furniture shop at CHQ in the IFSC district and turn it into the heart of entrepreneurial activity in Dublin city centre.
With the looming closure of the Liberties' Digital Hub next year and with Dogpatch and partner hubs across Ireland earlier this year winning the €17m contract to run the NDRC, expect a lot of the centre of gravity of Dublin's tech entrepreneurial buzz to shift in the direction of Dogpatch in the coming months and years.
"Over the next five years we aim to see at least 60 companies come through this accelerator and hundreds more come through the various pre-accelerators, which is a really interesting position to be in"
Walsh dismisses such an assertion, however, emphasising that he and his colleagues are hellbent on creating an all-island ecosystem; an ecosystem that will eventually set world standards.
"We have this brilliant entrepreneurial talent all over this country. The idea that you have to move to Dublin is something that shouldn't even be an idea in the same way it was a decade ago. Just like there was this idea you had to go to Silicon Valley or London or Berlin.
"What we wanted to do was create a scenario where you actually don't need to go to a different country to do an accelerator. You can stay right here in Ireland or anywhere else and access all the mentors and tools you need."
Nodes on a network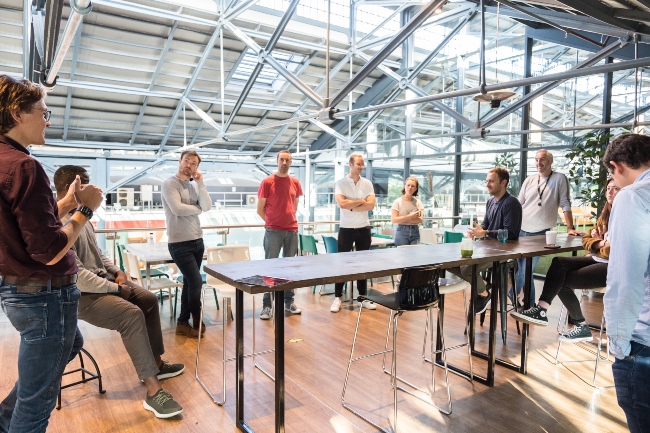 Walsh says he sees Dogpatch as one node on a nationwide NDRC network of regional hubs that includes Portershed Galway, Republic of Work Cork and RDI Hub Kerry. In Belfast Ignite provides international support and knowledge sharing with the network.
With a main NDRC accelerator taking place every six months that invests €100,000 per start-up, separate regional pre-accelerators will also form part of the hub and spoke model.
The structure is bolstered by the participation of more than 40 accomplished Irish entrepreneurs as mentors including Ray Nolan from Hostelworld, Bobby Healy from Manna, Peter Coppinger from Teamwork, Colm Long from Tines, as well as entrepreneur-in-residence Jules Coleman who sold her business Hassle.com for €32m. Between them, these 40+ entrepreneurs built and exited companies with a combined worth of more than €5bn.
This week Dogpatch in Dublin played host to the first demo day for the first cohort after six months that already demonstrated a local and global flavour. The start-ups include alumni of Stripe, Intercom and Zalando, with Swedish and UK-based start-ups in addition to Irish origin companies.
Several start-ups revealed significant growth metrics and announcements as they took to the stage – notably Vidu which revealed angel investment from three co-founders of Irish unicorn Intercom, Dataships which announced a $3m seed funding round, and Guardara which announced its technology was used to detect a 'zero day' vulnerability in an open-source project. Robotify, led by a 23-year old CEO, announced a landmark new customer – Apple co-founder Steve Wozniak. Applications are already open for the next NDRC Accelerator at Dogpatch Labs starting in January and can be submitted at https://www.ndrc.ie/accelerator.
Walsh sees the hub and spoke model creating a kind of feeder system, with the regional pre-accelerators whipping young firms from all over Ireland into shape to being "sales-ready" with the overall six-monthly main accelerator getting local and global entrepreneurs "investor ready."
An ardent student of ecosystems that have worked such as Silicon Valley or the life sciences concentration around Cambridge Massachusetts , Walsh has continually built out the Dogpatch footprint around the CHQ. He has done so by capitalising on its proximity to bus and rail networks to make it a focal point for a dizzying array of workshops, founder weekends, masterclasses and office hours events – all with the motivation to share knowledge and know-how. And through the pandemic a digital studio became the fulcrum for various events and classes.
"Over the next five years we aim to see at least 60 companies come through this accelerator and hundreds more come through the various pre-accelerators, which is a really interesting position to be in."
The enlightened age of Irish entrepreneurship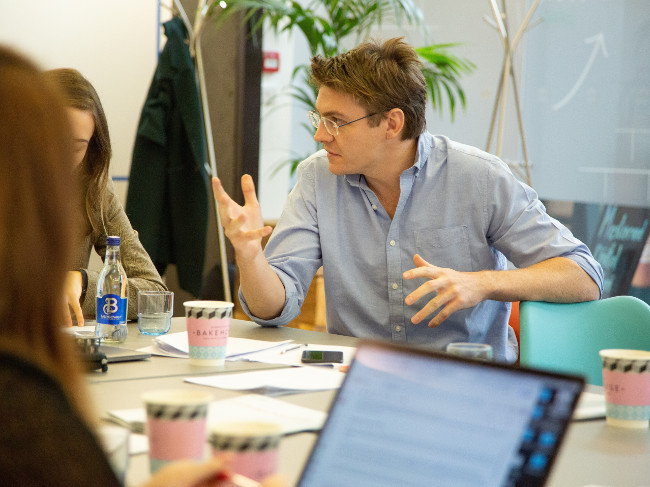 "The first phase of any ecosystem is that it is Government-backed. I see ourselves as very much part of the next phase which is privately-led but Government backed"
A key feature of the new NDRC is that it is one of the first European accelerators to adopt the SAFE instrument to invest in companies. Developed by Y Combinator – one of the world's top accelerators – a SAFE provides flexible, simple and transparent terms with lower legal costs. Terms include an uncapped valuation with a 20pc discount.
Walsh said that adapting the instrument for European businesses wasn't an easy process but was an important step. "We wanted to create a more founder-friendly instrument and we've now open-sourced it so any one can come to our website and use it. And on top of that we run legal masterclasses for companies raising funding."
All of this, the strategic hub and spoke model along with knowledge-sharing, Walsh says is part of the process of moving entrepreneurship in Ireland from the Bronze Age to a new Golden Age for start-ups. If it works, it could be actually a kind of Renaissance or Enlightened Age where there is true diversity between indigenous companies and multinational companies and both are mutually-reinforcing.
"The emphasis is on the quality of the programme. On board is one of the founders of Techstars in Europe John Bradford who is lead advisor for the accelerator."
Success, Walsh says, would look like founders from all over Europe wishing to join the accelerator in the same way globally entrepreneurs vie to get accepted to the prestigious Y Combinator in San Francisco.
A kind of 'I-Combinator', I quip, but Walsh is deadly serious. "It's about how do we get more founders thinking about coming here and setting up and being part of the ecosystem. That's definitely is the ambition. And that's why we are setting a high bar for ourselves."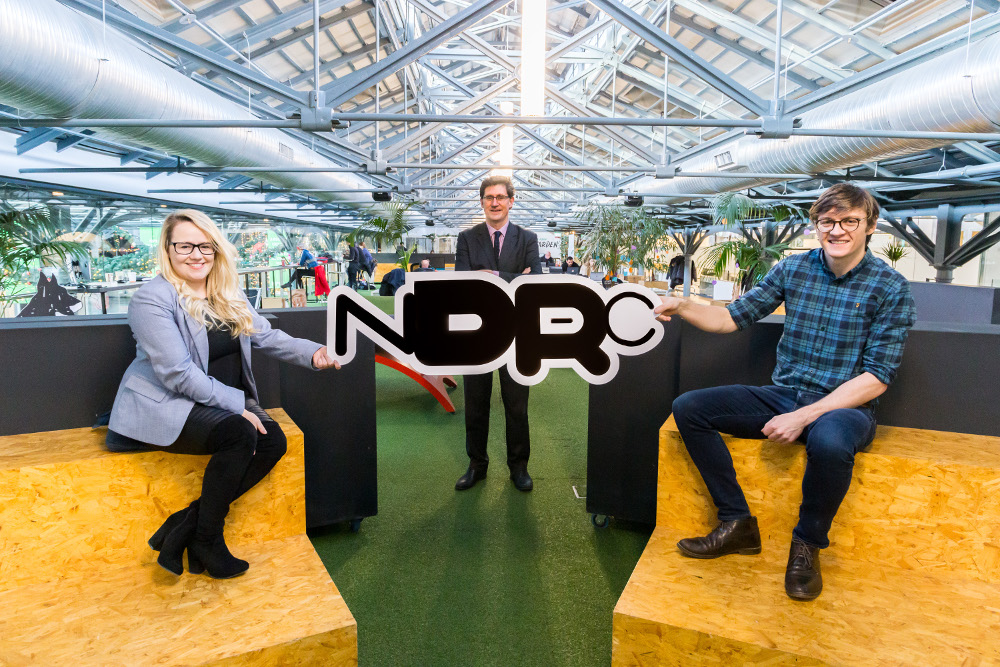 Pictured on the day a nationwide consortium won a competition to run the next phase of NDRC were (from left): Aideen Leacy, Financial Controller and Board Secretary at Dogpatch Labs; Eamon Ryan, TD, Minister for the Environment, Climate and Communications; and Patrick Walsh, CEO, Dogpatch Labs
Established in 2005, the NDRC – or National Digital Research Centre – rose out of the ashes of the former MIT MediaLab Europe that was originally a key part of the creation of the Digital Hub or District in Dublin's Liberties. The baton was passed to Dogpatch and its regional partners this year after an exacting competition process.
Walsh sees the current leadership of the NDRC as custodians on a mission to firmly establish Ireland's start-up ecosystem credentials and draws a correlation between how the Silicon Valley ecosystem emerged through US government funding of engineers following World War 2.
"The first phase of any ecosystem is that it is Government-backed. I see ourselves as very much part of the next phase which is privately-led but Government backed."
Another factor of the next phase Walsh envisions is that the ecosystem becomes decentralised, and hence the involvement of partner hubs in Cork, Galway, Belfast and Kerry.
"Just like any ecosystem, like any rainforest, you need to have lots of different plants and trees. So, it's not just about one tree, you need diversity. And that's what makes for a better community."