The contract to manage the NDRC has been awarded to a nationwide network of innovation hubs across Ireland. What will this mean for Irish entrepreneurs and business founders?
A network of innovation hubs led by Dogpatch Labs and including Portershed Galway, Republic of Work Cork and RDI Hub Kerry as well as the Ignite Ormeau Baths in Belfast has won the contract to manage the National Digital Research Centre (NDRC).
The previous NDRC based out of the Digital Hub in Dublin is being wound down and is being replaced by a new network of innovation hubs with a focus on enabling entrepreneurs from every corner of Ireland to thrive.
"Being well connected throughout our regions as well as internationally means that we can share knowledge and grow together as a country"
Established in 2006, the NDRC is a Government initiative to invest in very young digital enterprises and start-ups. Notable NDRC alumni include Irish biotech company Nuritas (which has raised almost €55m from investors including U2 rockers Bono and The Edge), Soundwave (a music discovery service backed by Mark Cuban and bought by Spotify in 2016), Boxever (which has raised $19m to fund their AI marketing cloud software), and Silvercloud Health (a digital health platform, used by over 300 organisations, that raised €14.7m in 2020) .
Following a competitive process, Dogpatch Labs, supported by its partner hubs in Cork, Kerry and Galway has been awarded the €17m contract to manage the service for the next five years. Ignite, which is the UK's most active regional accelerator, also supported the bid and will provide international support and knowledge sharing with the network through its Ormeau Baths hub in Belfast.
Island of innovation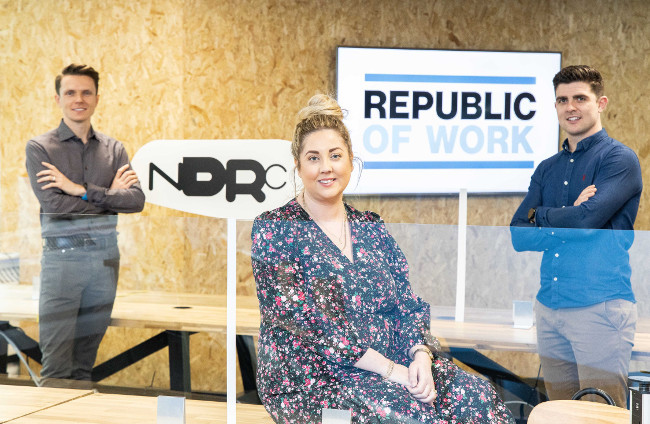 Barry Doyle, Director, Yvonne O'Donovan, Office Manager, and Frank Brennan, General Manager, Republic of Work, pictured at the Republic of Work offices in South Mall, Cork. Image: Michael O'Sullivan /OSM PHOTO
The awarding of the contract coincides with the launch of the Irish Tech Hub Network which connects best-in-class hubs across Ireland who have significant potential to catalyse innovation in their regions: Ludgate (Skibbereen); Republic of Work (Cork); RDI Hub (Kerry); Portershed (Galway); Ormeau Baths (Belfast); and Dogpatch Labs (Dublin).
By facilitating the sharing of knowledge and resources across the network and by enhancing global connectivity, the network's vision is to make Ireland a true island of innovation. This includes an annual 'ecosystem builders summit' to further develop the capabilities of each hub to drive innovation across the country.
"The next phase of the NDRC connects ecosystems across the country, with each regional hub representing a local centre of entrepreneurial excellence to support people in getting their ideas off the ground," said Eamon Ryan TD, Minister for the Environment, Climate and Communications.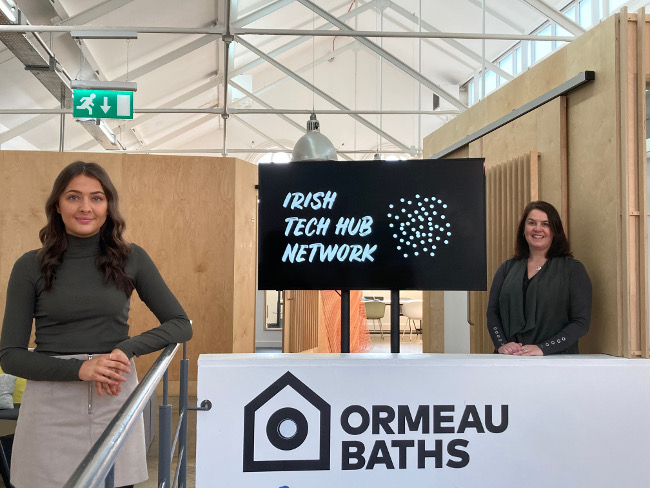 Claire Dowds, General Manager and Jenna Parker, Community Manager, Ormeau Baths
"Being well connected throughout our regions as well as internationally means that we can share knowledge and grow together as a country. The digital revolution is all about trying, failing and innovating, and I'm pleased that Dogpatch Labs and its regional partners will collaborate to help the next generation of entrepreneurs get started."
Hub and spoke strategy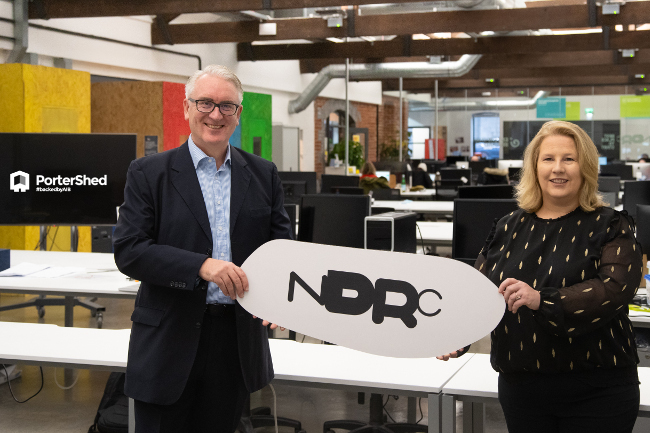 Maurice O'Gorman, Chairperson and Mary Rodgers, CEO, Portershed
"It's a partnership. It's about breaking down the barriers. We had been collaborating informally with a passion for putting founders first"
Dogpatch Labs, which led the tender, is located in the CHQ Building at the centre of Dublin's Digital Docklands. It has become the heart of the Dublin tech community in recent years hosting mentorship sessions with the likes of Intercom's Des Traynor, Nuritas' Nora Khaldi, Pointy's Mark Cummins, Voxpro's Linda Kiely, serial entrepreneur Pat Phelan and many others.
Speaking with ThinkBusiness, the CEO of Dogpatch Labs Patrick Walsh explained that while the Dogpatch Labs will form the nucleus of the net NDRC, the reality is that it will be a nationwide affair.
"NDRC doesn't just sit in one location anymore, it actually has a home now in every province."
The new NDRC programmes will take place in Cork, Dublin, Galway and Kerry, with applications opening in Q1 2021.
The newly designed national accelerator programme will be open to globally ambitious early ventures and national and international entrepreneurs. Successful startups will receive €100,000 investment with founder friendly terms, workspace in Dublin's Digital Docklands, and a mentor-led programme delivered by international and national industry experts. New features include global trips, access to an international VC and corporate network, and a unique three- month programme to accelerate the growth, scaling and fund raising for start-ups after the accelerator.
Non-equity pre-accelerator programmes will be delivered to a broad range of early stage companies and entrepreneurs across the Republic of Ireland, providing support at each stage of growth and acting as a pipeline to the accelerator programme.
The network will also offer training services to stakeholders working in the start-up space, teaching them how to support young digital venture teams with significant scale potential.
A rising tide lifts all boats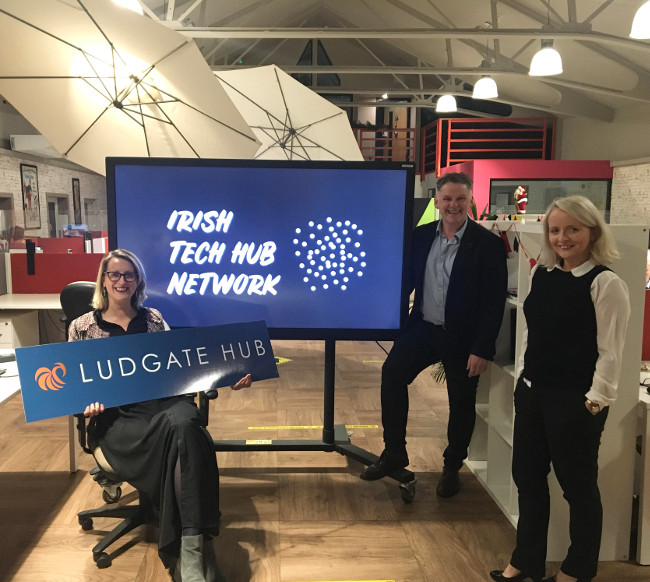 Grainne O Keeffe CEO, Daragh Whooley, Business Expansion Lead, Elma Connolly Hub Manager, Ludgate Hub
Walsh said that ultimately the aim is to support entrepreneurs in every corner of Ireland, making each hub a "centre of excellence" for its region.
"Think of it as a hub and spoke network, a more decentralised version of the NDRC, with the hubs performing as gateways acting for their entire region interacting with hubs within those regions."
Considered one of Ireland's top regional start-up innovation hubs Portershed Galway consists of a mix of entrepreneurs, start-ups, growth companies, educational institutions, the Galway Chamber, state agencies, to name a few.
The CEO of Portershed Mary Rodgers told ThinkBusiness.ie that as well as identifying and accelerating growth companies, a crucial role of the nationwide network will be to signpost and direct founders to the correct resources and supports that exist in Ireland.
She said that there will be many avenues for entrepreneurs to interact and engage ahead of formal accelerators and funding, such as hackathons, pre-accelerator programmes and more. "We can also signpost them to other relevant programmes such as New Frontiers or recommend they go for Competitive Start Funding (CSF). We intend to work with all of the agencies to ensure that innovators in our regions can access the right supports to get their ideas off the ground, get that next level of support or indeed become ready to take part in the national accelerator we will provide."
Rodgers said that while Ireland offers plenty of supports for start-ups, it is often a byzantine web to navigate and that as well as being a national start-up accelerator, the new NDRC aims to provide cohesion and direction for innovators everywhere.
"We've mapped the entire ecosystem to make sure that we'll be pinpointing the right supports or signposting people in the right direction in their region," said Rodgers.
Walsh added that the new NDRC will be about bringing the entire ecosystem for entrepreneurs into a cohesive form. "The start-up ecosystem is not just start-ups, it is mentors, solicitors, corporates, accelerators, angel investors, venture capital investors, universities. When you pull that all together that is what a start-up ecosystem is.
"As well as the accelerator, through masterclasses and key events we want to raise the standard to the best international practices.
The model Walsh said is open source in spirit. "It's going to be really collaborative. We don't mind where success comes from. The whole openness and connectedness is going to be really valuable."
The tender, he explained, was gradually formed over the past two years as various hub founders coalesced around a shared view that a national focus was needed. "It's a partnership. It's about breaking down the barriers. We had been collaborating informally with a passion for putting founders first and this new NDRC National Start-up Accelerator will resolve a lot of the problems that we've been trying to solve."
In conclusion Walsh said that the new NDRC structure will result in new jobs being created at the various hubs. The hubs will leverage each other's capabilities and keep costs focused on supporting entrepreneurs. "A lot of our existing cost structure is right. We don't really need a dedicated financing to run an accelerator. That's how we've managed to really drive down the overheads and make sure that more money is going into the pockets of entrepreneurs."
Main image at top (from left): Aideen Leacy, Financial Controller and Board Secretary at Dogpatch Labs; Eamon Ryan, TD, Minister for the Environment, Climate and Communications; and Patrick Walsh, CEO, Dogpatch Labs
By John Kennedy (john.kennedy3@boi.com)
Published: 16 December 2020