Ireland's retail recovery is happening at different paces for different segments and locations, notes Bank of Ireland head of Retail Sector Owen Clifford.
The latest Central Statistics Office (CSO) figures on Irish retail sales for August reveal a mixed picture for the sector, with some segments increasing sales while others that flourished during the pandemic like supermarkets showing decreases.
Crucially, it reveals that online while still a fraction of overall volumes at under 5pc of overall sales, is growing in importance.
"We have excellent retailers in Ireland, and I am confident they will rise to the challenge in the years ahead"
The CSO figures show that retail sales increased by 3.5pc in August 2021 when compared to July 2021 on a seasonally adjusted basis. On an annual basis, retail volumes were 6.0pc higher than in August 2020. Retail sales for August 2021 were 14.8pc higher when compared to two years earlier pre-Covid-19.
"In August 2021, the largest monthly volume increases in sales were recorded in Books, Newspapers & Stationery (+48.7pc), Bars (+31.9pc) and Department Stores (+20.2pc)," said Stephanie Kelleher, statistician with the CSO. "The sectors which experienced decreases in the month were Non-Specialised Stores (incl. Supermarkets) (-3.7pc) and Pharmaceuticals, Medical & Cosmetic Articles (-2.3pc). "
Kelleher said that compared to August 2019, pre-Covid-19, most sectors have higher sales than two years ago.
"The highest increases were seen in Motor Trades (+26.9pc), Electrical Goods (+23.6pc) and Department Stores (+19.2pc). Two sectors had a volume of sales in August 2021 lower than August 2019 levels, Bars (-27.6pc) and Books, Newspapers & Stationery (-13.4pc)."
"The proportion of retail sales transacted online (from Irish registered companies) was 4.9pc in August 2021, similar to July 2021 (4.8pc) and August of last year (4.5pc)," Kelleher said.
The changing shape of Irish retail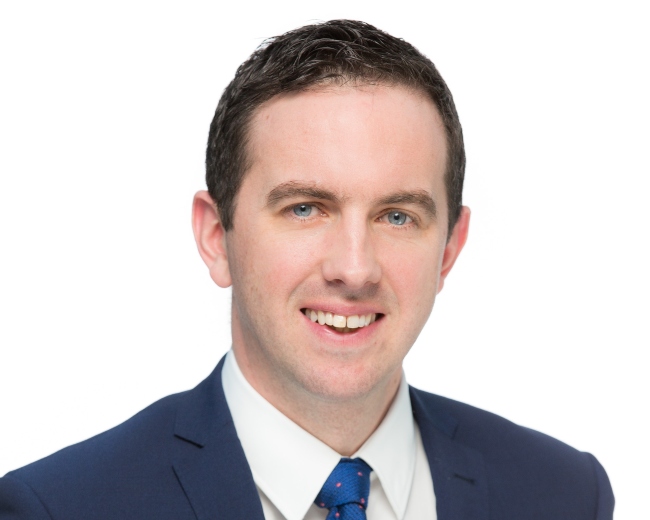 Bank of Ireland head of Retail Sector Owen Clifford
"Irish retailers with no online or delivery channel will struggle in a competitive landscape"
Bank of Ireland head of Retail Sector Owen Clifford said that behind the figures, the shape of retail as we know it is changing, perhaps forever.
"2020/2021 will undoubtedly be seen as formative years in modern 21st century retail. Covid-19 has acted as both a disruptor and an accelerant of change in a sector that has had to adapt both structurally and technologically. The roll-out of the vaccine and pent up demand has been a catalyst for increased consumer spending (as evidenced by the CSO data for July and August). Whilst the recent sales statistics are a source of optimism for retailers nationwide – they also recognise that there will be a number of twists and turns in the months ahead.
"From speaking with our retail customers nationwide, it is evident that we are witnessing a multi-layered recovery and performance within the sector. Retailers operating within the grocery, sports, home improvement sub-sectors continue to perform strongly when compared with pre-pandemic levels.
"Retailers within the news agency and fashion sub-sectors are operating in a much more challenging environment. As the hospitality sector re-opens, retailers recognise that discretionary spend is being spread across a wider base and that they need to differentiate themselves in the marketplace to capture their share of same."
Clifford said that recovery is also slower in city centres linked to increased numbers working from home, lack of sporting events/business conferences and reduced tourist numbers. "It presents a challenge for Government to balance the re-invigoration of our city centres with a stated goal for regional development. The past 18 months have seen a renaissance of our regional towns and suburbs. Retailers are actively tracking footfall/changing consumer behaviour and utilising this data in deciding where to invest in their store network."
Clifford pointed out that retailers are also worried that their recovery will be stifled by current difficulties in accessing product and staff.
"The supply-chain issues/input inflation currently being experienced by some non-food Irish retailers is linked to production disruption/post lock-down demand on Chinese/Asian suppliers/manufacturers as opposed to a Brexit knock on effect. A number of retailers who adopted a 'wait and see' approach hoping that shipping costs would revert to more normalised levels will struggle to secure appropriate levels of certain products for the busy Christmas season.
"This will not be industry wide but will certainly impact on the range available by some retailers in Q4 2021/Q1 20222."
Digital skills
Staff shortages following in the wake of the Covid-19 pandemic that are also affecting hospitality sector will continue to be felt by retailers and Clifford said the emphasis needs to be on retention.
"The staffing issue has re-emphasised the importance of a structured employee development plan which supports the retention of key people within a retail business.
"From speaking with retailers in recent months – they recognise that the two key investment areas in the months ahead will be in technology and their people. The skillset required for a sustainable retail business is constantly evolving – personnel adept in online, social media marketing, supply-chain efficiencies and data analytics will be vital in the years ahead."
Indeed, the digital journey that saw swathes of the consumer population embrace e-commerce during lockdown will continue.
"Irish retailers with no online or delivery channel will struggle in a competitive landscape," Clifford warned. "Irish shoppers have high standards and retailers need to invest in their stores, people and technology to remain sustainable. We have excellent retailers in Ireland, and I am confident they will rise to the challenge in the years ahead."