Eoin Welsh, creative director at Connelly Partners Dublin, shares his life and business lessons.
Tell us about your background, what journey did you take to arrive at where you are?
I kind of fell into advertising. I got my first break at Young & Rubicam as a junior writer, and left as a creative group head. Between then and my current role as creative director of Connelly Partners Dublin, I worked at Ogilvy, FCB Johannesburg, as a freelancer and even co-founded an agency.
"I believe that there are wonderful things to be achieved in this business. The magic may be a little harder to find these days, but you've just got to keep searching"
I have worked with clients of all shapes and sizes – from global brands like Gaviscon, Dettol, Tetrapak, and Mini Cooper, to smaller, adventurous brands such as Medal Paints.
When I first started, it was just a job, a way to earn a living. It was only once I was in it that I began to see the magical things that could be done, which then transformed into a career and a calling.
Why are you doing what you are doing? What need are you meeting? What's your USP?
I believe that there are wonderful things to be achieved in this business. The magic may be a little harder to find these days, but you've just got to keep searching.
If I have a USP, it's that great ideas still fill me with the sense of wide-eyed wonder, so I've never lost my passion to chase them.
What are your growth plans?
My growth plan – which is the same for the Dublin and global leadership team – is to help lead Connelly Partners Dublin to be the most successful independent creative agency in Ireland, grow the business into the UK, and all while supporting Connelly Partners' clients globally with the team across the world.
What are your key skills and qualities that set you apart?
I believe in fairness and respect above all. Every contribution from every colleague deserves proper consideration. An astonishing amount of great work has come from the most unlikely places.
"Always take the work seriously, but never take yourself too seriously"
I also see every creative idea put forward as a teaching and learning opportunity at the very least. So, I'd like to think that a key skill is spotting diamonds in the rough.
Another is perpetual learning – no matter what position I find myself in, I always keep my mind open to what I can learn. And in an industry where change is happening all the time, that's a useful skill to have!
What (or whom) has helped you most along the way? Who was your greatest mentor/inspiration?
I've worked with so many creative people that have inspired and amazed me, and I've learned something from them all. And not all of them were bosses and mentors. I've had creative people work for me who have humbled me with their talent and work ethic.
I was born in Ireland, but raised in South Africa so had to undertake two years of compulsory conscription in the army upon graduation as per South African rules at the time. A friend in the army said copywriting was easy money so that's why I opted for that. So, if I had to pick someone, I would pick them, as they were the reason I ultimately started in the advertising industry.
What was the greatest piece of business advice you ever received?
Always take the work seriously, but never take yourself too seriously.
What circumstances/qualities/events can mark the difference between success or failure in life or business?
Positivity is a huge factor in business success. As hard as it may sometimes seem, try and see the opportunity in everything.
Passion is another – love what you do and appreciate what you're capable of doing.
Empathy – advertising brings together such a diverse set of people, talent and skills that you have to be able to put aside preconceptions and understand what role each person plays in the success of your business.
What was the most challenging aspect of either starting or growing the business?
Coming to a new country and learning to understand and respect new and different ways of doing things. I worked in South Africa for three decades before making my way back to Dublin, where I was born.
How did you navigate your business through the pandemic and what lessons did you learn?
More than anything, the pandemic forced us into ways of working that many would have rejected out of hand previously. Because we had no choice, we made it work – and realised there were other ways of doing things.
Connelly Partners' culture is rooted in organic experiences and gaining new perspectives to support creativity and collaboration. Connelly Partners was an early adopter of the hybrid model, balancing remote and in-person work. The agency's launched exciting initiatives like CP Abroad for staff to live and work from any of our three offices globally (Dublin, Boston, Vancouver) each year.
This new programme builds on the flexibility gained through the past two years while also supporting in-person connection across the agency globally. This kind of new opportunity has been game-changing.
How has digital transformation been a factor in your scaling journey and do you believe Irish firms are utilising digital technologies sufficiently?
I do. There's an excitement and energy in Ireland around what digital technologies can help us achieve. For me, ideas are still king, but digital has created myriad new opportunities to bring those ideas into the world in fresh and unexpected ways.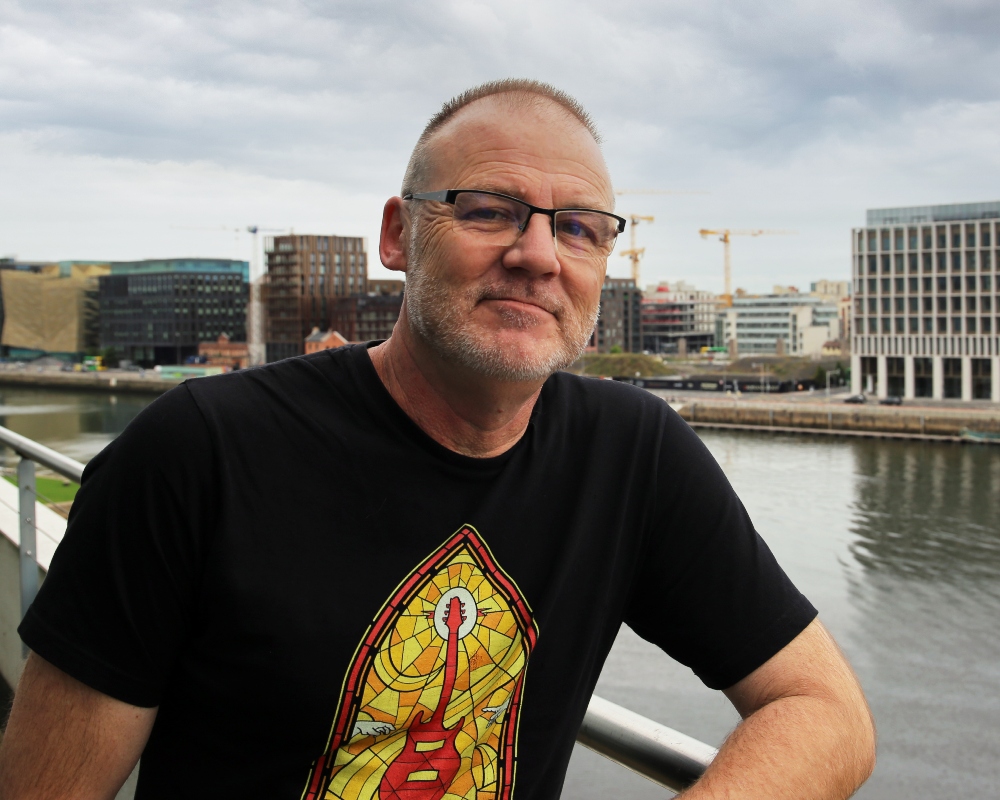 "Ours is a demanding and often harsh industry to forge a career in. If you don't love it, you're going to really hate it!"
If you were to do it all over again, what would you do differently?
I'd be more patient and slower to anger. I'd talk less and listen more. And I'd definitely drink less coffee!
Who inspires you in business today?
David Droga – a predictable answer, I know, but he's the epitome of the contemporary creative leader. Uncompromising in his desire to create simple, beautiful, engaging work, he also comes across as "just a bloke" – no "rock star" affectations. I assumed that the name "Droga 5" had some fantastical story behind it, until I heard him speak and discovered the actual inspiration – he was the fifth of 5 Droga kids, and it's the label his mom put on his undies. Bless him. And her.
John Hegarty – I was astonished and influenced by John Hegarty and his agency's work well before I knew anything about the man himself. I went to a talk he gave where he said something 'll never forget – "just because you sit on a beanbag, doesn't make you a creative".
Sheryl Sandberg – The temptation is to laud her as a powerful female business icon, rising to prominence in a male-dominated world, but I think that would be doing her a disservice (although it's true). I'm inspired by Sheryl Sandberg because she's an inspiring business person.
What advice/guidance do you give new hires and how do you nurture talent in your organisation?
Be positive, pe passionate, be in love with your work and be happy more than unhappy – or be somewhere else.
Ours is a demanding and often harsh industry to forge a career in. If you don't love it, you're going to really hate it! Regarding nurturing talent – my job is to create a space in which talent can flourish and the roadblocks are removed. It's also to teach the skill of separating not just the good from the bad, but the great from the good.
More than anything, it's about developing self-confidence and self-belief in young creatives
What business books do you read or would recommend?
What technologies/tools do you use personally to keep you on track?
What social media platforms do you prefer and why?
LinkedIn – full of interesting articles, views and insights
Instagram – a very useful window into trends, attitudes and what's leading the way culture-wise
YouTube – the go-to resource for chasing down great work and great visual inspiration
What are your thoughts on where technology overall is heading and how it will apply to business generally and your business particularly?
Tech has changed our lives, and will continue to do so. It's opened up myriad new possibilities for what to create and how to create it. It's also democratised much of the production process – I can now bring concepts to life on my laptop (at least roughly!) For me, though, the trick is to remember that tech provides tools for humans to use as a means to an end – it's not an end in itself.
Finally, if you had advice for your 21-year-old self – knowing what you know now – what would it be?
I actually have a 24-year-old daughter who's starting out in the business as a copywriter, so in a sense I can do this for real! There's a famous prayer my dad taught me as a kid, and I've now passed on to her as the best life advice I've possibly ever received: "God grant me the serenity to accept the things I cannot change, courage to change the things I can, and the wisdom to know the difference."