Motoklik has developed a unique suspension monitoring system for motorsport.
Kilkenny business Motoklik, an Enterprise Ireland High Potential Start-up (HPSU), has developed motorsport technology using AI (artificial intelligence) to improve performance and safety. The diverse team is focused on sales in mainland Europe and the United States.
"Imagine you are riding a motorbike at 80km/h over a dirt ramp sending you 6m into the air and when you land, you only have 0.3m of properly tuned suspension to decide whether you crash and get injured, or keep riding and win your race," explains founder Jens Köpke.
"It's estimated that 500,000 new off -road bikes are sold each year, making this a €200m per annum market opportunity"
"It turns out 90% of off-road motorcycle riders don't know how to tune their suspension properly, while at the same time 20% of riders are spending an average of €2,000 buying upgraded suspension to try and find a solution, but the problem of tuning the suspension properly for the current track conditions and riders style remains.
"It's estimated that 500,000 new off -road bikes are sold each year, making this a €200m per annum market opportunity."
The Motoklik team have developed a unique suspension monitoring system that is robust enough for the conditions, easier to use, and more affordable than current suspension measurement technology.
The data is presented in an easy-to-understand format in the mobile app, and can be used by the rider to decide on the correct suspension changes. The data can also be monitored remotely through the online dashboard by a qualified suspension technician, making it possible to have the best tuned suspension at every track.
Looking for a venture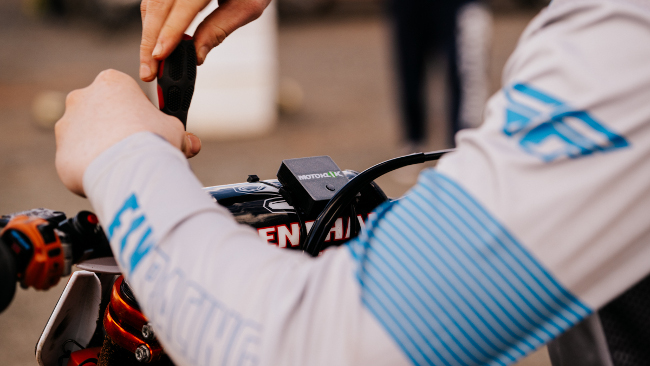 The Motoklik system being installed on a motorbike.
Jens Köpke has been riding offroad motorcycles since the age of seven, and a crash because of poorly tuned suspension in 2016 gave him the idea for a product that could help improve both the performance and safety of riders like him.
After four years of perseverance, Motoklik was launched into the European market with suspension technician partners in the Netherlands, Belgium, Germany, Finland, and Ireland. The focus is now on the UK and California.
Köpke comes from an entrepreneurial background with his Irish grandparents Paddy and Maura Cahill, founding Cahills Truck Bodies in his hometown of Graiguenamanagh, and his German grandparents Tilo and Elfriede Köpke building a successful homewares business in Germany after escaping from East Germany in 1960.
Both sets of grandparents built their businesses from nothing which continues to inspire Jens every day. His own parents Maura and Wolfgang were also self-employed firstly through C&K electrical, a motor rewinds business in the 1980s, and through Poulmounty Fishfarm in the 1990s.
"I took part in the New Frontiers programme in 2018 before successfully applying for the EI Competitive Start Fund. During that time pre-covid, there were many start-up gatherings North, South and in between.
"This was a great time of learning and networking. While it was very enjoyable to get in the car and go to these events in person, online forums have brought greater efficiency to working from home. The same amount of learning is achieved in a shorter space of time, and start up events are plentiful provided you know where to find them.
"That said, it does make it more difficult to grow a network of fellow founders, but the emphasis should be in developing customer relations which has also been made somewhat easier for overseas clients through remote working."
A funding round of €300,000 was closed in November 2020 and this has been used to bring Motoklik to market.
"The focus is on market validation and sustainability before formally opening another round, however we are always open to a discussion with potential investors," Köpke said.
Head out on the highway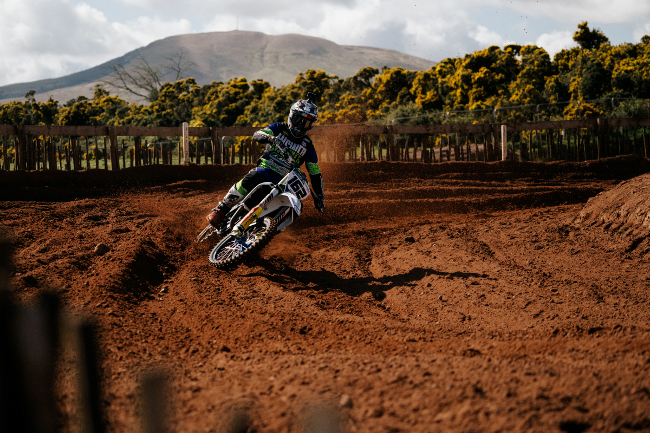 From Köpke's experience, starting a business has served up the following lessons:
Everything takes four times longer than you planned.
Cost control is key, mind the pennies.
Clearly and consistently communicate with all stakeholders.
Be open to criticism, it's an opportunity to improve.
Help others where you can, learn from others where you can't.
First sales are really hard to get.
Get out and talk to customers as soon as you can.
Try to kill your business every day, you want to be the one to do it.
Effort isn't equal to the result.
Sometimes your best just isn't enough.
There are no guarantees.
Having things going wrong is just part of the game, you get used to it.
You never stop learning.
Make time to enjoy yourself, and spend time with friends and family.
Before you get started, he urges founders to be clear about what they want to achieve. "If you're a founder with an idea and haven't started your journey yet, my advice is to conduct a sizeable amount of market research before you set out answering three main questions; what's the problem I want to solve, how is it being solved now and how is my solution uniquely better, and is there enough money to be made from my solution?
"If you're a founder trying to raise your first investment round, be as organised as you can be with a strong understanding of your solution, how your product or service sits in the market, and your financials. If you really believe in your business and have received objective feedback to support that belief, don't give up and keep trying to network your way through it.
"If you're a founder who has successfully launched your innovative product or service, are internationally trading, have a healthy cash flow, widening product and market pipeline, and growing employee numbers, I wish you a hearty congratulations and continued success, and I'm looking forward to the day we're joining your scale."
Technology is at the heart of the Motoklik journey. "From the outset, the Motoklik team was and continues to be remote working, so there was no real change when the pandemic hit, it was business as usual," Köpke explained.
"The team regularly uses Slack and Trello to communicate with each other, manage tasks, and track progress. However, in light of recent learnings, and an appetite for adopting standard operating procedures for software development and document control, Confluence and Jira are being evaluated."
Main image at top: Motoklik founder Jens Köpke