Hiiker is focused on empowering the world's walkers and hikers.
Hiiker is documenting all of the world's long-distance hiking trails for its Android, iOS, and web platforms.
With more than 100,000 downloads, Hiiker has quickly grown to become the most popular platform in the world for budding adventurers looking to explore the world on foot.
"We have developed a suite of apps that give users the tools to be confident on foot in the outdoors. We are building everything with hikers and walkers in mind"
"The growth in the number of people hiking around the world has dramatically increased in the past number of years," explained Eoin Hamilton, chief marketing officer of Hiiker.
Walking the talk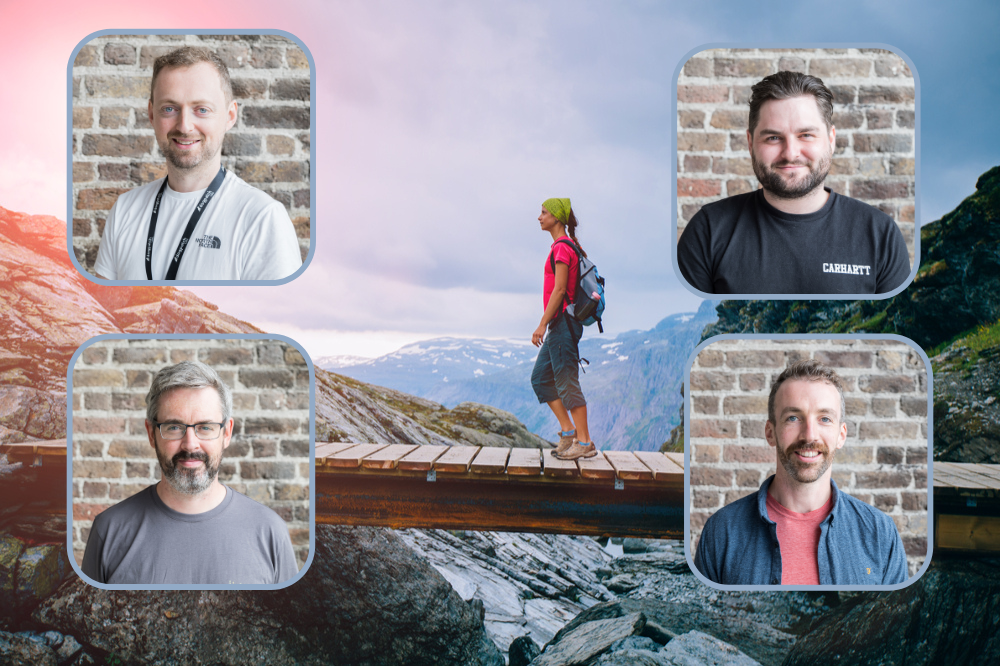 The Hiiker team (clockwise): Founder and CEO Paul Finlay; CXO Pete Britton; CMO Eoin Hamilton; and CTO Mark Finlay
"Particularly in the last two years, we have seen over 100% growth from 2019 to 2020 in some countries. The problem with current solutions such as Outdoor Active and Alltrails, they are servicing many activities such as canoeing, running and biking as well as hiking. There are other apps on the market that offer great functionality, but nothing is hiking-specific. That's where Hiiker comes in.
"We have developed a suite of apps that give users the tools to be confident on foot in the outdoors. We are building everything with hikers and walkers in mind."
Hiiker's core product is its mobile app. Available both on iOS and Android, it enables hikers of all experience levels to plan, navigate and track their hiking and walking adventures.
"With our curated content, users can choose from thousands of verified hiking trails," said Hamilton.
"Those that want to pave their own path can do so with our planner. They can choose from a range of information-rich maps to plot their own routes. And our tracker helps people stay on the path and keep their favourite hikes documented."
Putting in the hard yards
Paul Finlay is the founder and CEO of HiiKER. His experience of being a long-distance hiker in the digital age with far too many cumbersome platforms and tools to use to plan and navigate trails drove him to develop an app that would help people find all the information they need on one platform.
He previously was CEO of a national bookmaker chain and successfully led the sale of the business.
"The start-up ecosystem in Ireland is great," said Hamilton. "We have benefited from such programs as New Frontiers, Enterprise Ireland's High Potential Start-up Unit (HPSU) and the accelerator programme with NDRC. The latter being a formative experience and introducing us to levels of thought we had not considered. We do think there is a way to go for Ireland, particularly in the B2C sector as it can be challenging to find investors here in this space."
Hiiker is currently raising a seed round of €500,000. "We have raised €300,000 of this so far and are actively seeking to complete this round."
Sticking to the mission
Hamilton says that while Ireland is not short of inspiration, every start-up journey is different and therefore entrepreneurs need to keep grounded with their eyes on the prize.
"While growing and hearing great advice from so many other successful entrepreneurs and potential investors, we definitely got slightly distracted from our mission. We heard advice for certain features or business models and spent time analysing if they were a good opportunity. Ultimately, we discovered that we know our product best. We have been building this with a particular vision in mind. The lesson we learned is that you need to be bullish in what you want to achieve.
"It is important to set certain principles or pillars in place so that they can direct you when deciding on alternative ideas."
His advice to fellow entrepreneurs is to stick with it. "If you truly – hand on heart – believe that your product or service is solving a problem or helping people, your passion and drive will get you there. Listen to the advice people give you, but stay true to the foundation of your mission."
Like all agile entrepreneurs, everything Hiiker does is via the cloud. "Currently, we are a fully remote team so using communication tools like slack and Gsuite allow us to have a clear line of communication. We also use project management tools like Shortcut to plan out our development and even use it for growth hacking and marketing planning."