An enterprising team of 5th year students from Errigal College in Letterkenny showed how financial literacy added up to €15,000 in prize money for their school.
Errigal College has been a fixture of Letterkenny for more than 100 years. Today the school has more than 300 students from more than 30 nationalities and follows the Junior Cycle, Senior Cycle, LCVP and LCA curriculum.
Earlier this year four 5th year students from the school – students Jodie Moore, Lillie Kruger, Holly Baker and Mairead Pinder – were crowned Champions of the Bank of Ireland Money Smarts Challenge 2022, scooping their school €15,000 in the process.
"One of the great things about the competition is that it used relevant examples that would grab the attention of young people. The hook is making financial literacy relevant to them"
No doubt the students were delighted but no one could be prouder than their business studies teacher Evan Gorrell who decided to inspire a number of teams from 5th year to demonstrate their financial literacy.
They were up against more than 200 post-primary schools from across Ireland who entered the virtual competition.
The students had initially won the Ulster/Dublin regional final in March, scooping a €500 prize, and with determination they took on 11 other schools that were finalists in the nationwide competition.
Financial wellbeing know-how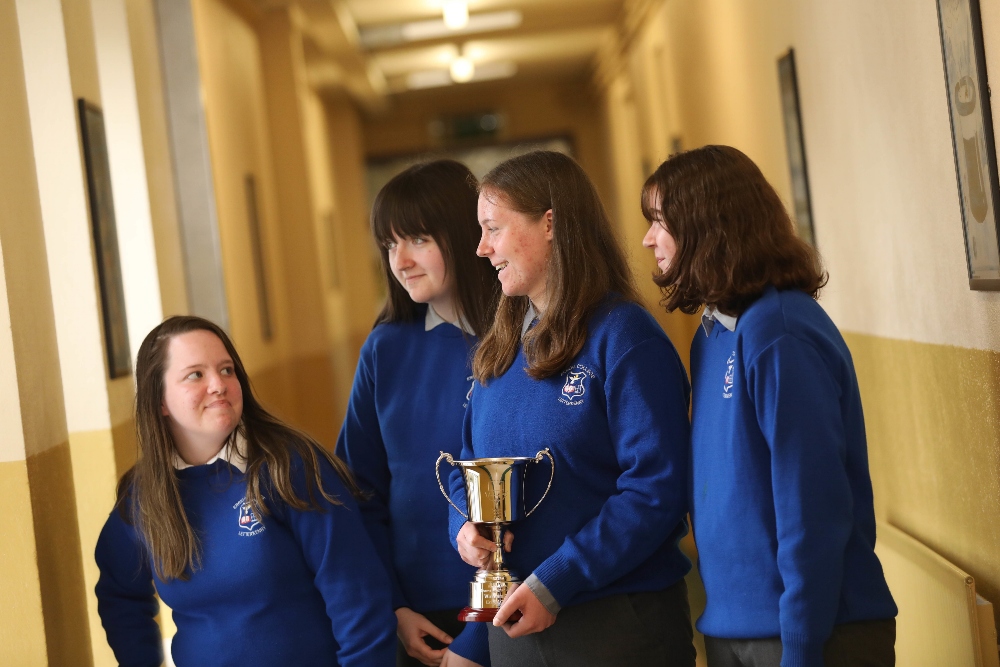 Winners: Mairead Pinder, Holly Baker, Jodie Moore and Lillie Kruger
The competition combines financial literacy with a fun challenge. It focuses on the six pillars of Financial Wellbeing, including: spending and saving; earning and income; credit and debt; investing; risk and protection; and financial decision-making.
"I hadn't previously entered students in the competition until this year and I thought it would be a good opportunity," said Gorrell, who at the time was covering maternity leave and has since been made permanent at the school.
Although he and many other business teachers teach business, he felt that what is missing from the curriculum is a practical focus on financial literacy and wellbeing. He is a member of a focus group with the National Council for Curriculum and Assessment (NCCA) and is passionate in his belief that a more practical focus on financial literacy should be included in the curriculum as well as business theory.
"I felt that when I was in school I didn't receive a real education in terms of the financial literacy side of things to understand interest rates, mortgages, exchange rates and more. Now as a teacher, I understand why: we can't cover the content that isn't there," Gorrell said, adding he hopes to see changes to the curriculum in the next year or more to incorporate practical financial literacy.
Gorrell put together four teams involving 16 students from his fifth year business studies class. "It was just by chance that these four girls – Jodie, Lillie, Holly and Mairead – came together.
"One of the great things about the competition is that it used relevant examples that would grab the attention of young people. The hook is making financial literacy relevant to them."
The students took to their work with enthusiasm and Gorrell augmented class work with after school classes with pizza or virtually over Google Classroom.
A DEIS (Delivering Equality of Opportunity in Schools) school, where the focus is on providing better opportunities for communities at risk of disadvantage and social exclusion, the nationwide win for Errigal College takes on a special meaning – that they could compete with the best anywhere and win.
"People might think of DEIS in a negative light, but winning this competition is a massively positive win for us."
As well as rewarding the winning team with a trip to Dublin to visit the European Union offices and various museums, Gorrell was able to kit out the business studies faculty at Errigal College with 10 new iPad devices as well as equipment for the school's coding department and motivational artwork for the school.
Now that they have the win under their belt, Errigal College's competitive instincts are to once again compete for the Money Smarts Challenge in 2023.
Crucially, Gorrell believes efforts like Money Smarts to educate and empower students with financial wellbeing and literacy skills for life are fundamental.
"Hopefully there will be reform in the curriculum in the coming years and we'll introduce more content like this into the curriculum. But definitely the competition is working to people's advantage in showing them what they are good at and by testing them throughout the year and succeeding at regional and national level, it gives them a great confidence boost."
Main image at top: Barry Gallagher, head of Bank of Ireland, Donegal, Sligo and Leitrim, with 5th year Business Class students Jodie Moore, Lillie Kruger, Holly Baker and Mairead Pinder, as well as Yvonne Boal, Branch Manager, Letterkenny