Bank of Ireland head of Manufacturing Sector Conor Magee says Irish manufacturing's expansion is back on the cards but warns inflation storm clouds are gathering.
Irish manufacturing indicators for the start of 2022 rebounded in January, softened in February but still remain in robust expansion territory. Bank of Ireland's Industry Pulse for February was 96.2 up from 90.4 and 86.7 in Jan. and Feb. respectively. AIB's Irish Manufacturing Purchasing Manager's index (PMI) for the manufacturing sector came in at 57.8 down from 59.4 and 58.3 in January and February respectively.
This is the lowest reading in just under a year with the previous low in March 21 of 57.1.
"Looking ahead to 2022 and beyond, it is imperative that supply chain risk management remains a top priority for Irish manufacturing to safeguard continued growth"
While still a strong figure it has been adversely impacted by continued supply chain pain and labour shortages. Anecdotal evidence suggest that at the peak of Omicron, absenteeism was running as high as 30%. To put this in context "normal" absenteeism is targeted to be less than 3%.
EU PMI data followed a similar trend, while losing momentum at 58.2 in February it still delivered a strong result driven by strong order books and signs of some stabilisation of supply chain disruption. With continued mismatch between supply and demand, inflation remains hot with no immediate good news here as the crisis in Ukraine is already escalating energy and commodity prices further. One of the worst scenarios would involve gas rationing, with the EU currently getting 40% of supplies from Russia.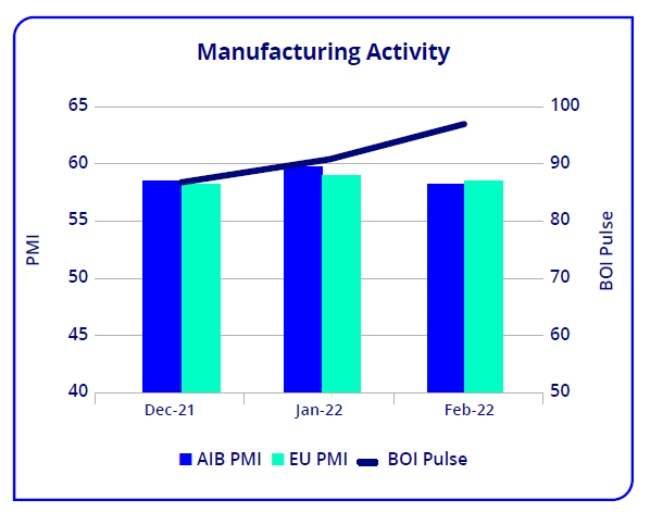 Looking back for a moment on 2021, Irish manufacturing had a bumper year with exports up year-on-year by €1.5bn to €148bn. The strong 2021 manufacturing performance despite all the headwinds are reflected in full year 2021 revenue growth from Industrial players like Kingspan (+42%), Smurfit (+18%), Caterpillar (+22%), Kerry (+8%), Medtronic (+32%).
Supply chain pain – The path to greater resilience is still evolving
2021 will be remembered as the year of massive supply chain disruption. As Covid-19 gripped the globe with rolling lockdowns starting in 2020, the fragility of just in time (JIT) supply models was fully exposed. Together with vaccine rollouts in 2021, businesses fully reopened and were confronted with huge pent up demand for their products and services.
This spike in demand against a weakened supply base riddled with Covid-19 induced bottlenecks, triggered the greatest supply chain tsunami in recent times. Irish manufacturing responded with defence measures including stock building, nearshoring of suppliers, in-house technology transfers. Over the course of these two years McKinsey conducted a survey in Q2 2020 and 2021 respectively to gauge what actually happened in terms of building supply chain resilience.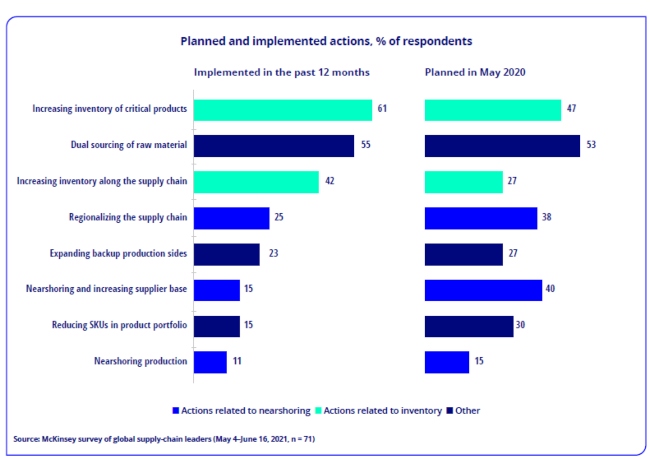 The biggest takeaway is that original plans of nearshoring or regionalisation of supply base (40%) were adjusted, at least in the short term, in favour of increasing inventory levels of critical products and within the supply chain. The picture varies by industry. 60% of Healthcare respondents said they had regionalised their supply chains in contrast to only 22% of automotive. In many cases this is due to the structural characteristics of different sectors which take longer to change but regionalisation over the next three years still remains a priority for 90% of respondents.
Looking ahead to 2022 and beyond, it is imperative that supply chain risk management remains a top priority for Irish manufacturing to safeguard continued growth. A combination of investment in digital analytics and greater visibility of every tier within the supply chain are key success factors. As these drivers play out along with additional capacity investments, reduced absenteeism and talent availability – supply chain resilience will continue to evolve with improved metrics forecast to manifest themselves in H2 2022 at the earliest.