When it comes to environmental, social governance (ESG) for manufacturing, the sector is already leading the charge says Bank of Ireland's head of Manufacturing Conor Magee.
While ESG has played a key part in manufacturing agenda for several years now, the urgency and immediate need for concrete actions is only now and somewhat belatedly gaining closer attention.
Platitudes and aspirations must without further delay be replaced by defined measurable actions which will deliver or exceed the required carbon footprint by 2030/2050.
"Irish manufacturing will rise to the challenge and embrace climate change as a once in a lifetime opportunity to transform their business models for benefits of society and future generations"
There is absolutely no need to wait for publication of Government targets. The carbon emissions data is available and the time for decisive action is long overdue.
What gets measured gets managed
Irish manufacturing will rise to the challenge and embrace climate change as a once in a lifetime opportunity to transform their business models for benefits of society and future generations.
On a per capita basis Ireland ranks number 2 within the EU27 block for carbon emissions at 15.5 Greenhouse Gases (GHG) C02 equivalent tons per head. This is due in large part to our relatively low population, high agriculture emissions and relatively low portion of renewable energy sources, when compared to some of our peers.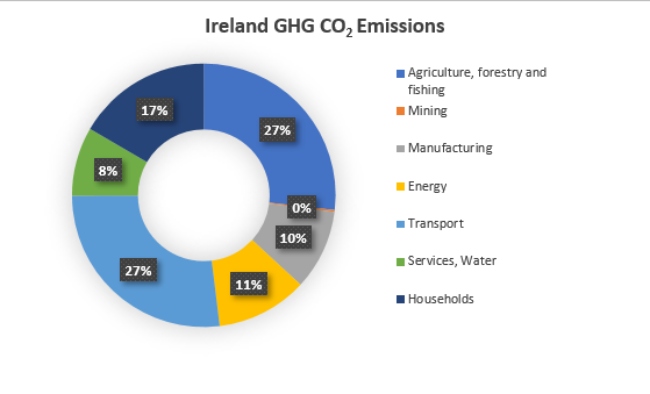 By contrast Sweden is "best in class" at 5.4 GHG per head and despite double our population, their total GHG figure is 55MT compared to ours of 76 MT. Within the 76MT Manufacturing accounts for 10pc of emissions as per graphic.
Notwithstanding this emissions portion, green manufacturing will of course play a role in reducing emissions in other areas, principally in the use of renewable Energy and carbon neutral transport options.
For energy we are ahead of 2020 40pc target with 43pc of electricity usage being renewable, but behind some of our peers already close to 70pc which is our 2030 target. The biggest portion of renewable energy sources comes from wind and at 28pc this is second highest share within the EU.
Much of the green agenda in manufacturing will be driven by supply chain strategy and targets demands placed upon firms by customers. Manufacturing must look at all its inputs, be it energy, suppliers, transport and demonstrate to its customers and stakeholders a clear and measurable roadmap to green alternatives. Every investment, supplier approval decision must be made with a futureproof and green mindset.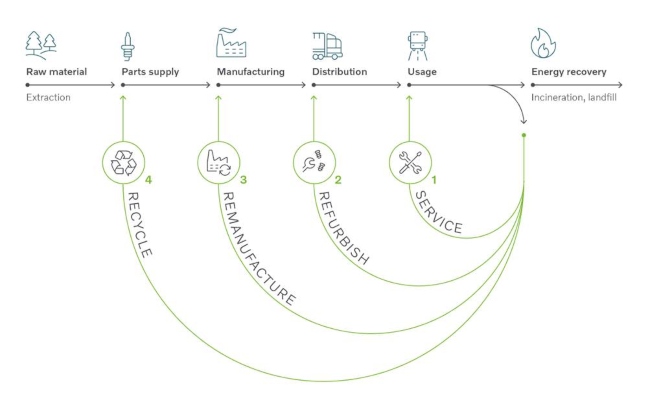 Coupled with that is transition to Circular Economy models, whereby manufacturing moves from the all too familiar take make waste cycle to a reuse, reduce, recycle. The green manufacturing journey takes this 3R model a step further to a 5R model of repair, reuse, refurbish, remanufacture, recycle achieving an optimised use of resources, extended product life and the possibility of zero waste to landfill. There is a growing recognition that circular models present new and exciting revenue streams for manufacturing, while dampening down unconstrained global consumption. Volvo group harvest used parts to avoid the energy consumption in making them new. Whirlpool have adopted enhanced recycling practices to achieve significant annual savings.
Government policy
The Irish Government approved landmark Climate Bill in March 2021 outlining our path to net zero emissions by 2050 with interim 2030 target of 51pc reduction to be enshrined in law. The next step will be the carbon budget and associated targets that will be set out in Autumn 2021.
Carbon budgeting with three, five-year economy wide budgets will be included within the programme. Greenhouse gas (GHG) ceilings for each sector will be set for each period with a focus on high emission sectors including manufacturing to demonstrate a clear roadmap to 2030/2050 targets.
In June 2021, the Irish Government approved the general scheme of the Circular Economy Bill 2021.
While there is as of yet no explicit reference to manufacturing in this first document, it is clear that the circular economy strategy will be an economic model, with policies and practices which give effect to that model, which paper defines as: "Circular economy" means an economic model, and the policies and practices which give effect to that model, in which resources are kept in use for as long as possible, the maximum value is extracted from those resources whilst in use, and products and materials are recovered and regenerated at the end of life.
Perhaps the best resource for Irish manufacturing and the circular economy agenda is CIRCULÉIRE, the national platform for circular manufacturing. 2022 funding is available for qualifying applicants and deadline is 31 October 2021.
CIRCULÉIRE's overarching objective is to source, test, finance and scale circular manufacturing systems, supply chains to deliver significant reductions in CO2 emissions across industry.
Success in reducing carbon footprints will be governed by close collaboration across different manufacturing sectors of automotive, pharma, medical devices, food and drink, packaging to capture an estimated 5pc material improvement in the Irish economy valued at €2.3bn.
Challenge and opportunity
ESG and climate change represents both a challenge and opportunity for Irish manufacturing. Enormous changes in a relatively short time frame will be needed to achieve target carbon reductions by 2030.
A circular economy and lower consumption mind set is key. We are at a tipping point and so expect to see a shift away from priority of financial performance to a hybrid of financial and binding green targets. The good news is that businesses agree.
A recent Global Commons Alliance (GCA) survey across G20 countries and 19000+ respondents found that 74pc support the idea that countries economic priorities must go beyond profit and wealth creation, to human well-being and ecological protection.
The time for collective transformational change is now.
In formulating this and associated Strategy for action, it is noted by Government that share of material recovered and fed back into the economy is the second worst in the EU at 1.6pc compared to EU average of 11.9pc and high of 28.5pc in the Netherlands. There is only upside!
Conor Magee is head of Manufacturing Sector at Bank of Ireland