On a mission to modernise Irish whiskey, young Limerick firm Foxes Bow is giving the public a chance to invest in its brand.
Emerging Irish whiskey brand from Limerick Foxes Bow has joined forces with the UK's largest crowdfunding platform Crowdcube to make whiskey investment accessible to all.
As part of an effort to democratise whiskey, Foxes Bow is aiming to allow anyone that wishes to get involved and own a piece of the company for as little as €10/£10.
"The new generation of whiskey drinkers are looking for something different from whiskey"
Created by young Limerick natives Alice Carroll and Tony Foote, Foxes Bow Whiskey is a blended Irish whiskey aged in Bourbon barrels and finished in Oloroso and Rye casks. The inclusion of rye casks in the whiskey's finish lends a floral bouquet to the whiskey's nose, while providing an interesting lingering spice to the palette. Beginning with a burst of fruity sherry flavours, followed by a wave of spice and perfectly finished with a lingering velvety vanilla sweetness.
Raising a glass to the future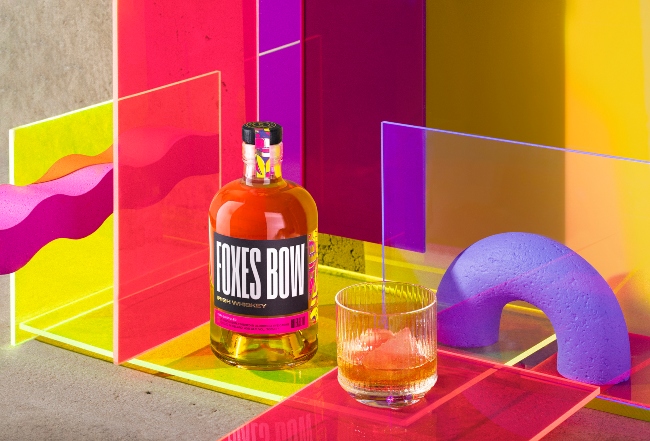 Because of their unique, contemporary approach to whiskey, Foxes Bow has attracted the interest of investors outside of just food and drink.
After strong performance in Ireland since launching in November 2021, the company is fundraising to support their national growth in Ireland and the UK as well as their export ambitions in new markets including South Africa, and initial entry into the US and Chinese Markets, along with brand development and team expansion.
Since its launch in November 2021, Foxes Bow has already shown positive momentum. It partnered with Bord Bia to conduct a consumer study that found Foxes Bow Whiskey appealed to 91% of US consumers. It was one of the top volume performers of 2021 via Irish Malts and according to the company it sold out in O'Briens four weeks in a row post-launch.
The business has recently begun exporting, with its first order shipped to Germany at the end of March with more to come.
Industry veteran Patrick O'Driscoll has also come on-board to support the team and make their ambitious plans a reality. Formerly CEO of Corby Spirit & Wines, Canada (an affiliate of Pernod-Ricard) and prior to that, former Global CEO for Malibu Rum and Kahlua, Patrick brings 35 years of industry experience working across the globe.
Jack Pierse, co-founder of Wayflyer, Ireland's latest tech unicorn, is coming on-board as one of the lead investors in the round.
"The new generation of whiskey drinkers are looking for something different from whiskey," said Alice Carroll, co-founder of Foxes Bow.
"The old-fashioned, exclusive brands aren't doing it for them. And all the rules around who's allowed to drink it and the 'right' and 'wrong' way to drink it just don't fly with them. It shouldn't be an exclusive club anymore. We want to blow the doors open and make whiskey accessible to anyone. And for us, that extends to making it accessible to invest in whiskey."
Speaking of crowdfunding in general, Tony Foote, co-founder of Foxes Bow explained: "Crowdfunding is still a relatively new concept in Ireland. People sometimes confuse it with Go-Fund-Me or the likes. But it's nothing like those platforms. It's not companies looking for a hand-out.
"Crowdfunding is a great, accessible way for anyone that wants to invest in a company in return for a piece of equity in that company. A lot of the time with investments in companies like ours, the minimum cheque size requirement is pretty big, which means it's too expensive for most people to get involved.
"By working with Crowdcube, we're able to invite people to own a piece of the company for as little as €10, so it's a lot more accessible and inclusive, which is what we're all about."
Pre-registration for the Foxes Bow Crowdcube campaign is now live at www.foxesbowwhiskey.com for early access to the campaign. Public access to the campaign will be available in early May.
Irish whiskey market is on fire
Irish whiskey continues to be the world's fastest-growing spirit with a total increase in sales of 150% over the past decade.
Irish whiskey is a $2.5bn industry and projected to grow to be worth $6.9bn by 2027.
There were 11.4m 9-litre cases of Irish whiskey sold globally in 2020. Official figures are not yet available for 2021. However, the Irish Whiskey Association assess that in excess of 13m cases were sold globally in 2021.
The Distilled Spirits Council of the United States (DISCUS) have recently reported that 5.9m cases were sold in the US in 2021, an increase of 18%.
Main image at top: Tony Foote and Alice Carroll, co-founders of Foxes Bow Irish Whiskey