Bank of Ireland head of Manufacturing Conor Magee looks back on a turbulent 2021 and looks at the headwinds and tailwinds impacting the sector in 2022.
"The 2022 outlook is positive, will be better than 2021 but still tough. The difference is that firms have learnt greater resilience to deal with the never-ending unexpected"
Excerpt:
2021 – A year of growth and turbulence
After a sluggish start on the back of the post-Christmas lockdown, and what was always going to be a sub optimal Brexit deal, 2021 was marked by a massive surge in manufacturing activity which peaked mid-year. Order intake and output performance soared, driven by high demand as economies reopened. Notwithstanding record growth and activity indicators, the year was dominated by a tsunami of headwinds, and a colourful lexicon of terminology to match.
Irish manufacturing proved its outstanding resilience against, Covid 19, Brexit, supply chain pain, container dislocation, the shortage economy, global transport disruption and double digit inflation.
Manufacturing saw its business models upended from lean to a lot less lean, from just in time (JIT) to just in case (JIC), from certain lead times to uncertainty, from stable prices to double digit inflation, from labour supply to labour shortages and from road & sea transport to expensive air freight.
Following mid-year peaks in Pulse and Purchasing Managers' Index (PMI) data, activity did ease back but remained in robust growth mode. Everyone became much more versed on the interdependency and fragility of global supply chains as new surprise bottlenecks emerged on a weekly basis. Irish Manufacturing successfully navigated the never-ending challenges through a combination great talent, stock building, in-house technology transfer, supply chain reconfiguration, acceleration of technology and embracing the green agenda.
With a mind-set akin, to Friedrich Nietzche's, Aphorism "What doesn't kill you makes you stronger" Irish manufacturing has taken away significant learning dividends from the shocks of 2021 and can emerge stronger than before the pandemic. In an unintended and very positive way Covid-19 has resulted in a greater focus and awareness on the green and digital agendas both of which are the keystone drivers of success for this decade.
The great success of manufacturing in 2021 despite the shocks cannot be overstated:
PMI data hit a record 64.1
Industrial production is up 27% YOY (+24% Modern +3.5% Traditional)
GDP is likely to come in at +15% YOY (Manufacturing contributes about a third of Irish GDP)
Government tax receipts surged to €68.4Bn of which €15.3bn came from multinationals
Net job creation in the SME sectors supported by Enterprise Ireland was a record 11911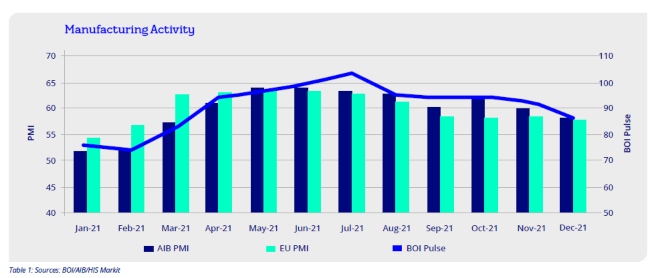 2022 growth outlook: Sentiment is positive
Despite a turbulent 2021, PWC's annual CEO 2022 survey reports a 10-year high in optimism. Key findings are:
77% predict a stronger global economy in 2022. Only 15% expect a weaker outcome
91% of Irish CEOs are upbeat about Ireland's economy in 2022
Risks and threats for 2022 are similar to global peers and include supply chain, cyber threats, health risks, macroeconomic volatility, talent shortage, inflation and climate change
Fundamentals for the Irish economy and manufacturing are strong and well positioned to deal with these headwinds
Eurochambres the association of European Chambers of Commerce and Industry published its survey EES2022 of 52,000 companies and while general optimism for 2022 prevails, the top 3 challenges remain around supply chain, energy and labour.
In summary, the 2022 outlook is positive, will be better than 2021 but still tough. The difference is that firms have learnt greater resilience to deal with the never-ending unexpected.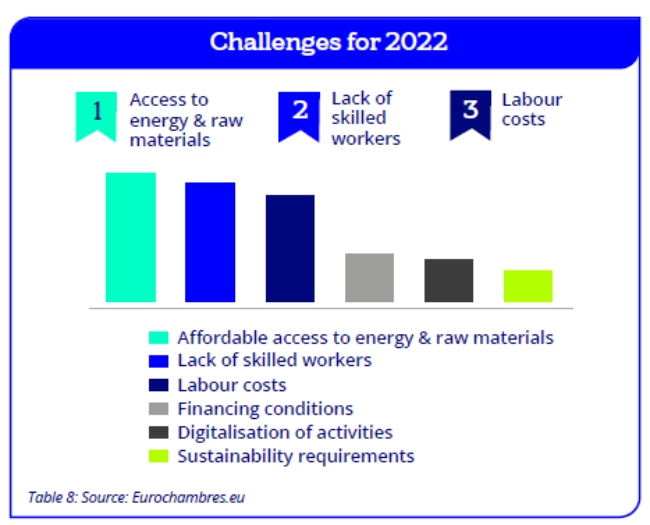 Tailwinds 2022
Strong demand, healthy order books, high output levels all support continued growth across the manufacturing landscape
2022 GDP outlook ranges from 6% to 7% with EU forecast at 4.2%
Sentiment across manufacturers continues positive and green shoots of improvement in supply chain bottlenecks are emerging.
The shocks of Covid-19 and Brexit have triggered and accelerated many positive changes, including remote working, acceleration of digital and green, supplier substitution, new customers and technology transfers. All of these positives which can be developed further in 2022
Some inflation impacts are being successfully negotiated with customers
Embrace green agenda as a positive challenge to build the business
Headwinds 2022
Supply chain pain is likely to continue through H1 2022 driven by Omicron absenteeism and annual leave associated with Chinese New Year. This will moderate in second half as added capacity comes on stream, some bottlenecks may turn to gluts and additional freight capacity comes on stream.
Inflation of manufacturing inputs will also continue in 2022. Perhaps transitionary for some commodities, many elevated input prices will be "sticky" and inputs like energy and semi-conductor chips will remain elevated.
Labour inflation and competition for talent will continue in 2022 as the immediate priority will be customer orders
Solutions such as automation and remote working talent will evolve.
Freight costs and HGV driver shortage are likely to continue until additional capacity gathers momentum
Cyber-attacks are growing in frequency and sophistication and must be integral to risk strategy
Manufacturing SMEs are likely to be very busy again in 2022 but hopefully with more bandwidth to spend on important green and digital agendas.
Full report:
Manufacturing Sector 2021 Insights/2022 Outlook
View
Print