Bank of Ireland head of Manufacturing Sector Conor Magee says the war in Ukraine will unleash an era of unpredictable volatility.
As Q1 2022 has just passed, global trade and manufacturing are facing unprecedented challenges. The appalling and unconscionable conflict in Ukraine is unleashing a humanitarian crisis like no other. Together with the necessary sanctions against Russia, we are entering an era of unpredictable volatility which is playing out across the global trade stage and will serve to upend anchors of trade and prosperity which we have enjoyed over the past decades.
Manufacturing has shown incredible resilience, in confronting and winning the recent challenges and in particular supply chain impacts of Brexit and Covid-19. Just as these were starting to recede, and green shoots of improvement started to appear, we are confronted with the horrors of a brutal invasison escalating uncertainty to new levels.
"While Irish manufacturing is once again in the eye of a tsunami of multiple headwinds, the initial 2022 positivity will be dampened but the underlying fundamentals of demand and output remain strong"
As manufacturing navigate these threats to trade security, the focus and macro narrative has shifted to the mega trends of Slowbalisation, Strategic Autonomy and Secure Energy. These three "S pillars" in turn underpin the two further Ss' of Supply chain resilience and Sustainability. Let's look at these trends individually and examine how they impact Irish Manufacturing.
Slowbalisation
Slowbalisation a term coined by the Economist and also referred to by others as De-Globalisation has been creeping up on us since as far back as 2009, with each new shock gearing up the impact. Up until the late noughties manufacturing has benefited and thrived from the globalisation of trade up to a point in 2008 where global trade in goods and services accounted for 61% of world GDP. Since then Ireland and the globe has witnessed 5 major shocks which have reversed this trend.
The global shocks felt by Ireland Inc. have been, the 1998 Global financial crisis, Brexit, Trade tariffs imposed during Trump presidency, Covid-19 and now the appalling Russia Ukraine invasion. All of these have in turn triggered manufacturing to challenge their global footprints in a bid to build greater resilience in the supply chain and mitigate the fragility of the interconnectedness of supply chains. The Ukraine crisis brings a new dimension or fault line into sharp focus, which is the level of dependency on autocracies for global trade.
Autocracies including Russia and China now account for 31% of GDP. Democracies import a third of goods from them and trade over $15bn a day with them. The most visible example right now is EU's dependency on Russian gas at about 40% of overall needs. The question now facing global manufacturing is how to confront this new shock and adjust business models to ones that do not compromise corporate ethics. While much of manufacturing can live without Russian customers, many cannot right now in the short term thrive without key Russian commodities.
Strategic Autonomy
Strategic Autonomy is defined as the ability of a state to pursue its national interests and adopt its preferred foreign policy without depending heavily on other foreign states. It is the policy of the EU commission and is perhaps most exemplified in European Chips Act, announced on 8 February 2022.
The European Chips act is about digital sovereignty to address EU semiconductor shortages which have wreaked havoc across manufacturing most notably in automotive and healthcare. The measures are designed to ensure the EU's security of supply, resilience and technological leadership in semiconductor technologies and applications and to bolster Europe's competitiveness, resilience and help achieve both the digital and green transition.
Funds of €43bn public and private are allocated with the aim of doubling of market share from 10% to 20% by 2030.
This crystallises into massive economic benefit to Ireland with Intel's recent announcement of €12bn investment in Leixlip which according to PWC analysis and following construction will add €2.75bN to Irish economy annually. To put this in context McKinsey estimate the global chip industry to grow to a whopping $1tn by 2020 dominated by automotive, wireless and computing sectors.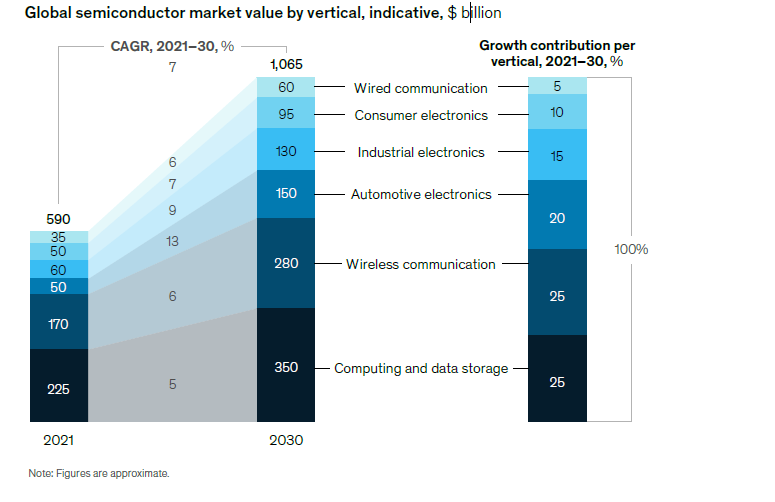 In summary Manufacturing is at the heart of EU's strategy with perhaps an overdue recognition of its importance to EU economies. This is strongly supported by organisations like Orgalim who represent Europe's technology industries comprising of 770K enterprises generating annual turnover of €2,076bn. Their extensive membership and expertise base allows active engagement with EU policymakers.
Secure Energy
Secure Energy defined by the IEA as the uninterrupted availability of energy sources at an affordable price. Nice definition but as we all know that with the new reality of threatened supplies, potential rationing, that massive inflation is unlikely to moderate in the short term.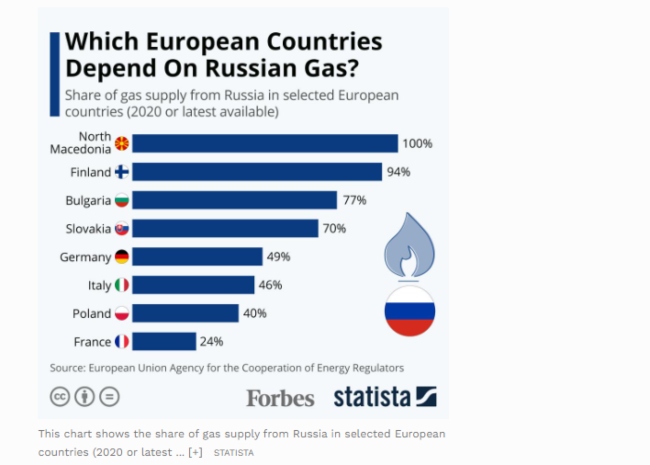 How might this impact manufacturing and Ireland in the short to medium term? Russian gas accounts for about 40% of EU needs and just under 50% of Germany's needs. Then aligning this to Ireland exports/imports profile, our trade is significantly exposed to Germany and France in the event of energy interruptions.
A similar sobering picture emerges for oil with Germany top of dependents. Irelands export value of €17bn to Germany accounts for 11% of total exports and import value of €7bn accounts for 7% of total imports. These high dependent Russian energy countries face really tough decisions between economy recession and a protracted conflict. Ireland and other economies maybe less Russian energy dependent will face the knock on effects.
Supply chain pain will get worse before it gets better again
As I optimistically wrote, end of Q4 and into Q1, signs were that supply chain pain was easing with additional capacity coming on board, ports decongesting and the demand/supply equation moving to greater equilibrium. Unfortunately, all of that has been disrupted once again, not just because of the Ukraine invasion, but also as a consequence of massive rolling zero tolerance lockdowns in China. Shanghai with a population of 25m has been literally closed for business since end of March.
Both of these shocks have upended the logistics industry beyond anything that we have seen during the pandemic. A snapshot from a Kuehne & Nagel presentation at recent "Manufacturing the Future" Conference, shows that 850 ships are waiting in front of world ports representing 19% of global fleet. Combine this with longer routes to avoid no go zones, reduced air freight capacity plus longer routes due to withdrawal of Russian aircraft, and estimates that 30% of Truck drivers are from Ukraine, then the logistics picture in the near term is grim.
The bottom line is that manufacturing must solve the complex equation of less inputs, higher stocks of critical inputs, plan for longer delivery times and more important than ever understand the deeper levels of their supply chains. No longer is it enough to identify a shortage of packaging. Manufacturing must look beyond to the paper and timber suppliers to secure that input. A case in point: chip production is dependent on neon gas for etching. 50% of global neon supply comes for Ukraine.
Keep focused on Sustainability and the Green Agenda
As with every crisis, disruption can be a trigger for longer term improvements. We started 2022 following the urgency around COP26 and the need for step changes in our eco systems to meet carbon targets. This may have dropped from daily headlines but the imperative for action has not gone away. If anything good can come out of these dark times, it is that our dependence on fossil fuels and trade with autocracies will shift in the green and ethical directions respectively.
In conclusion, while Irish manufacturing is once again in the eye of a tsunami of multiple headwinds, the initial 2022 positivity will be dampened but the underlying fundamentals of demand and output remain strong.
Personal afterword
Between 2006 and 2008, I had the great pleasure of managing a manufacturing facility in Sambir, Ukraine. I spent a lot of time working there and also in the beautiful city of Lviv, getting to know the great people and their country.
Since the invasion, I have had some contact with former colleagues.
Their bravery and strength of purpose against such unspeakable horrors is truly breath-taking. Their determination to win is unquestioned.
Let's hope and pray that this devastating war will end soon and a path to peace is soon found. Glory to Ukraine.