Podcast Ep 119: Martin Fitzgerald on how Cork business Kwayga aims to be a force for change in terms of supply and demand for food retailers and producers.
Despite the war clouds over Ukraine and the subsequent impact on food supply chains, the reality is that thanks to technology, and e-commerce in particular, the world has become a smaller place for food producers with undreamed of potential to get their products to new markets across the planet.
In the vanguard of this revolution and connecting food buyers with food suppliers from every corner of Europe is a young Cork business called Kwayga which is on a mission to match B2B buyers and suppliers in the food industry at a rate never seen before.
"It used to take buyers months and a lot of internal resources to get to a shortlist of suitable suppliers, we take that down to two minutes"
Kwayga was established by co-founders Martin Fitzgerald and Mike McGrath in 2021 and is based in Cork, Ireland. The company's matching algorithm analyses business' data to match buyers with suppliers, providing active high-quality shortlists in minutes instead of months. This is done on an ongoing basis, but also in the Kwayga Deal Centre where buyers post live requirements for suppliers to engage on.
The subscription-based platform platform solves a range of challenges that B2B buyers and suppliers face on a daily basis when finding, verifying, connecting with and communicating in any language with new perfectly matched buyers or suppliers. It also fills the gap in in-house resources and skill sets that buyers and suppliers in the food and beverage industry lack when researching new business opportunities.
Food for thought
Right now, Kwayga is focused on connecting supermarket buyers with private label suppliers and both supermarket buyers and distributors with scaling suppliers of trending products, such as products in the free-from category.
Businesses who sign up to the platform under a premium account undergo a rigorous verification process in order to authenticate their profile and get the 'verified' tick to protect the ecosystem of trust.
Currently, Kwayga operates in 37 countries and plans to become more widespread across Europe to connect the right buyer with the right supplier at the right time.
Through Kwayga's Messaging Centre with automated translation services, businesses will have no boundaries when it comes to cross border trading. This in turn will allow smaller businesses to scale and grow their business to greater heights.
Fitzgerald previously told ThinkBusiness that the addressable market within the food sector is valued at €6bn in the EU and UK, and approximately €24bn globally.
Feed the world
"We connect buyers and suppliers in the food and beverage sector, predominantly in Europe. Supermarket buying teams would use Kwayga to post their requirements into our deal centre and we match them with suppliers based on specifications from products and services to locations and more. We facilitate communications and engagement in any language between buyers and suppliers."
This, Fitzgerald explains, has helped many suppliers and buyers to gain new business opportunities but also scale their businesses as a result.
A crucial element is trending products and categories and putting suppliers on the radar of buyers. "We work across different types of sectors from alcohol to various food categories. These can be predominantly across the EU and UK but also we are working with many mid-sized and scaling suppliers in the US and connect them with buyers.
"The buyers might already have relationships with major producers like Nestle, but we create the supply chain disruption where buyers have access to new products from scaling businesses. Some of these companies we're introducing to suppliers never had relationships with suppliers outside their own country.
"We help achieve that internationalisation for suppliers. Whereas it used to take buyers months and a lot of internal resources to get to a shortlist of suitable suppliers, we take that down to two minutes, verify if they are suitable suppliers and we then facilitate that communication and take it from there."
Fitzgerald estimates that there are 50m businesses across the globe that could be using Kwayga to trade internationally.
From wine to chocolate to dairy products, Kwayga is onboarding buyers and suppliers across Europe and reducing the barriers between small companies and big buyers.
For Fitzgerald it's about creating diversity in the supply chain. An example of an early success was connecting a large supermarket chain which had a requirement for a private label ice cream producer. "Within less than an hour we had three Kwayga members who could satisfy that need perfectly.
"It creates greater diversity for the buyer and opens them up to relationships they may never had before. At the very least it allows them to get to build a shortlist quickly."
In some ways Kwayga is one of those businesses that flourished because of the pandemic. Prior to the pandemic relationships were built through travel and tradeshows. "The pandemic really brought a magnifying glass onto problems that existed in the marketplace.
"From the supplier side, if they wanted to internationalise, the majority of them would say they don't know how to find information on foreign markets. This is opposite to the situation in the US where they don't have culture or language barriers for interstate trade. The EU still hasn't achieved that cross-border trade for SME markets.
"With more millennials arriving in management positions, they want to see online solutions and they want to be on the shortlist of potential suppliers to engage with."
Fitzgerald's background is in banking while co-founder Mike McGrath has a background in supply chain procurement and sourcing.
"When Brexit came in we looked to see what solutions were out there. Administrative issues and costs associated with the UK supply chain were a potential headache and the solutions out there were very poor."
Not only that but technologically suppliers were expected to integrate with very expensive SaaS platforms used by the large retail buyers. Other marketplaces were giving poor results and connecting suppliers with inactive buyers.
"We decided to solve these problems that both the buyers and suppliers were facing. And that's how Kwayga was born. We're at the stage now were we have some of the largest food buyers using the platform and they're telling us that they see us as a 24/7 trade show and they use the platform to build relationships on an ongoing basis."
Reflections on entrepreneurship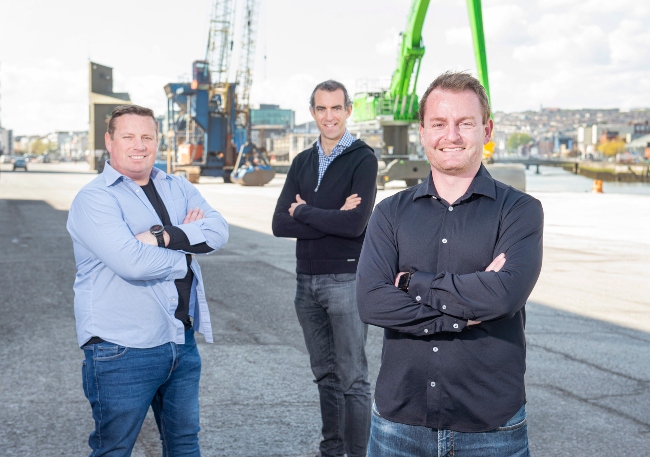 Martin Fitzgerald, Mike McGrath and Chris Kennedy of Kwayga
This is Fitzgerald's first foray into entrepreneurship after decades working in banking with AIB and KBC as well as the consultancy business.
"My reflection on being an entrepreneur for the past year is that hiring good people is the key to it."
He learnt a lot about hiring and training teams during his banking career. "So this time the journey is all about people, whether its people who work at Kwayga or our customers. Focus on that.
"Another learning is that everything is tough and nothing is easy. You've got to look after yourself in the middle of everything and stay healthy. There's a lot of long hours, but they don't feel like that when you're doing it for yourself."
The year ahead will be about building out the platform to accommodate more buyers and suppliers.
"The plan is to close out some funding this year and build out our subscription model.
"It's very important therefore to keep adding value for our members, so part of it will be adding extra services, creating smart contracts and we use artificial intelligence (AI) bots to intelligently link buyers with suppliers.
"We are very focused on the food and beverage sector and our initial beachhead is within that sphere, but yes, there are other sectors that we are interested in and of course expanding to America and Asia is very interesting of course."