Hospitality sector delivers a sharp bounce back to date, writes head of Hospitality Sector at Bank of Ireland Gerardo Larios Rizo.
As we approach the end of the first half of 2022, the hospitality sector has so far defied expectations with a sharp bounce back to date.
Domestic demand remains strong supported by positive employment trends (CSO) and further bolstered by savings accumulated during the pandemic (Table 1).
Air and Sea travel statistics from the CSO for April 2022 showed an 86% recovery when compared to April 2019 (14% negative variance) (CSO); businesses across the various regions are reporting encouraging numbers of visitors and bookings from UK, USA and Continental Europe.
"Hotels, bars and restaurants with a larger 'pre-pandemic' dependency on office and commuter trade are still experiencing soft demand"
There are of course serious concerns about the impact of inflation and the chronic shortage of staff which is impacting service provision in some locations, however the overall balance remains comparatively benign.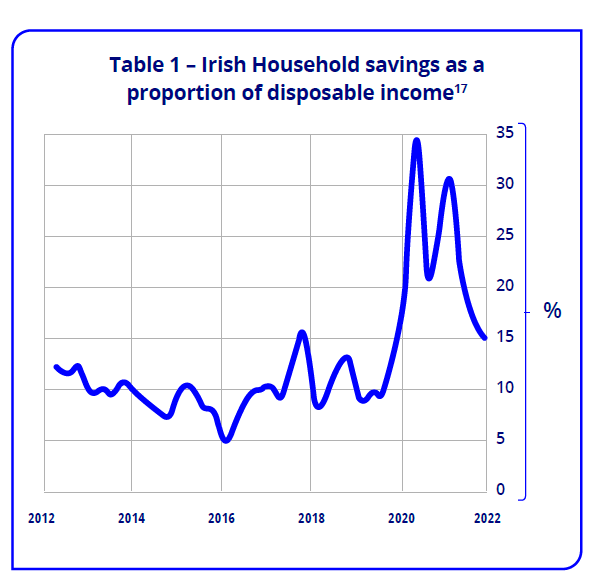 Source: Tradingeconomics.com, Household savings as proportion of disposable income – Ireland
The recovery and the increase in the spending can become quite evident when we compare the Bank of Ireland card spending data for the first quarter of this year against the last quarter of 2021 (Table 2).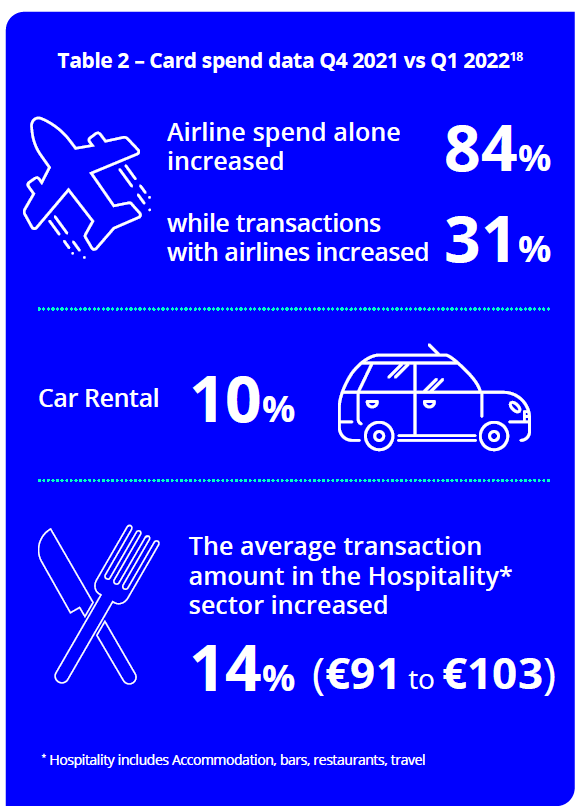 Source: Bank of Ireland
Foodservice
Hotels, bars and restaurants with a larger 'pre-pandemic' dependency on office and commuter trade are still experiencing soft demand; the return to normal, or the plateauing of its rebound is hard to predict because it is being shaped by the working from home trend.
A recent survey in the US showed that "only 4% of respondents are requiring all employees to return to the workplace full time" (Forbes). This period of readjustment will perhaps trigger changes in some service models and menus and could perhaps impact on the rent premiums for some areas in the short to medium term.
Tourism accommodation supply
The number of Fáilte Ireland registered and approved beds in Dublin city currently stands at 24,006 (March 2022) however a sizeable portion of these is currently committed to a number of alternative uses including direct provision, staff housing and HSE contracts.
The Irish Hotels Federation recently told an Oireachtas Committee that its research suggested a total of 3,960 rooms in the capital are currently not available for sale to the public.
Despite a number of new and planned hotel openings (3,352 new rooms were scheduled for delivery in 2022), Dublin city is currently experiencing an undersupply of short term accommodation.
Accommodation sales KPIs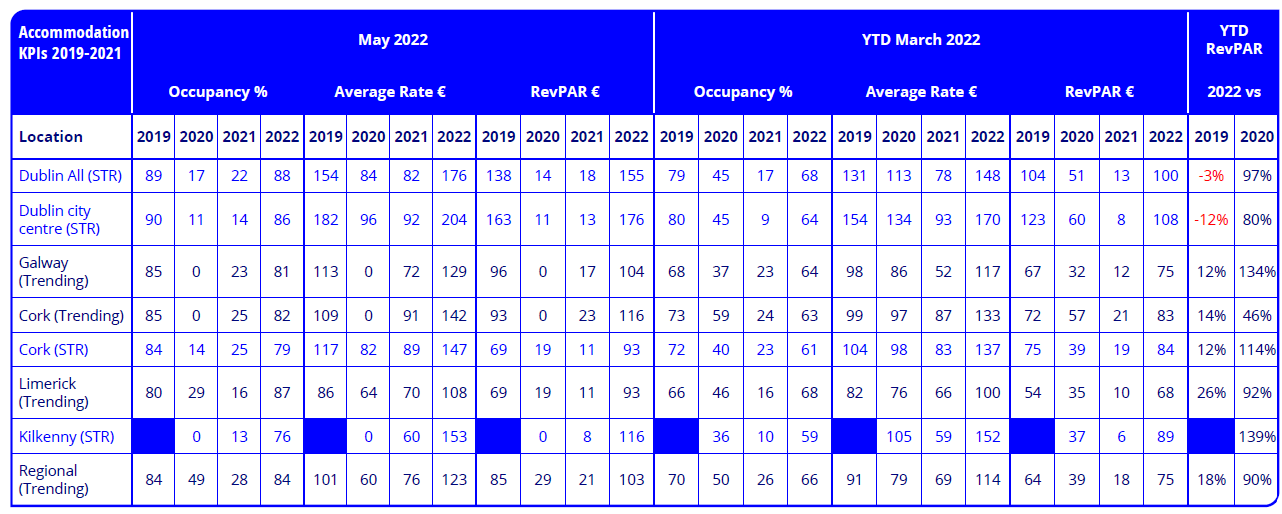 Source: CoStar STR and Trending.ie/BPO stats for May 2022
Strong demand and a somewhat compromised supply have led to a material rebound in hotel bedroom occupancy and rate for Dublin city where a €17.30 increase in RevPAR (13%) was recorded for May 2022 vs May 2019 (May 2022 YTD RevPAR is still 3% behind 2019 for the capital).
Outside Dublin, strong average room rates continue to be reported by all regions driving double digit RevPAR growth against 2019 (5 months to May 2022 vs same period 2019).