Bank of Ireland head of Hospitality Sector Gerardo Larios Rizo looks back on the key events affecting the hotel sector in 2021 and looks at the main trends for 2022.
"Staff recruitment and retention will be a key issue faced by hotel managers in the coming months at the risk of being unable to cater for their clientele as demand slowly builds up to pre-pandemic levels"
Excerpt:
2021 H2 Insights
Irish accommodation providers outside Dublin reported a strong bounce back in demand for the second half of 2021. Healthy occupancy levels and robust room rates were reported by regional operators until mid-November when the government implemented tighter regulations to curb the alarming rise in the number of new Covid-19 cases; the RevPAR recovery was also encouraging in Dublin although limited by softer average room rate trends.
Despite the relative success of the vaccination strategy further restrictions were introduced on Dec 20th which further dampened business sentiment in the tourism and hospitality sector.
Whilst many properties are provisionally reporting record Earnings Before Interest, Tax, Depreciation and Amortization (EBITDA) levels for 2021, some others, including a number of wedding venues and some Dublin hotels are less enthusiastic about last year's outcome.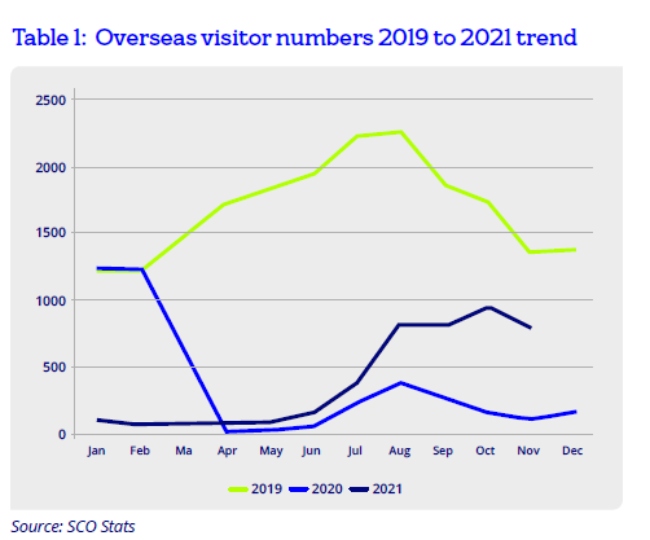 Hotel sector key activity and trends H2 2021
Staffing: Workforce shortages are currently the sector's biggest challenge with operators across the country actively seeking to recruit positions across housekeeping, kitchen, reception and administration. The shortage has forced many hoteliers to review pay scales and look for talent abroad as they prepare for the 2022 season.
Inflation: Rising prices of food, drink, utilities and other expenses continue to escalate putting additional pressure on margins. The CSO reported that prices on average, 'as measured by the CPI', were 5.5% higher in December 2021 compared with December 2020. Food and Non-alcoholic beverages were among the largest contributors to the index. The sector works on tight margins and the combination of increased wages and cost of goods sold could ultimately make some smaller businesses unviable.
Overseas travel showed encouraging recovery although there is still a long way to go to reach the 2019 levels. November 2021 visitor numbers to Ireland were over 40% lower than November 2019 . (Table 1)
Strong average room rate: Shortened lead in time for bookings, a low volume of discounted business (tours, groups) and a drop in hospitality VAT all contributed to record breaking average room rates for regional hotels. However lower average occupancy associated with restrictions and uncertainty diluted the benefits for RevPAR recovery. (Table 2)
Strong cash balances: The combination of strong domestic market performance, government supports and subsidies, warehousing of VAT as well as payment breaks negotiated by some properties with their finance partners supported a sizeable increase in credit and deposit balances for the sector that has been fuelling refurbishment projects across multiple locations.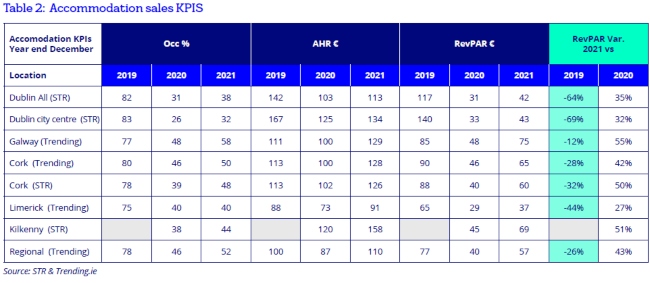 2022 Outlook
Hotel operators are mostly optimistic about 2022, not only has the WHO forecasted that the pandemic will end this year but many countries including Ireland have already lifted most restrictions or are in the process of doing so.
Staff recruitment and retention will be a key issue faced by hotel managers in the coming months at the risk of being unable to cater for their clientele as demand slowly builds up to pre-pandemic levels.
Bord Bia estimates a 75% bounce back in the Hotel and Accommodation foodservice sales during 2022 year bringing the total to about 86% of 2019 levels (Table 3). Positive trends in air capacity, visitor numbers, and corporate demand are expected as COVID-19 fades away, and should support improved business sentiment and renewed investor interest in the sector

2022 trends
The lifting of almost all Covid-19 related restrictions announced by the Government on Jan 21st was a crucially important step in the route to recovery for all economic sectors. Businesses across the hospitality sector can now plan ahead for unfettered trade.
The strong bounce back in average room rate reported for year end Dec 2021 took centre stage in the 2022 budgeting process for hotels across the country. Mangers, owners and operators are keen to maintain the ground gained in terms of average room rate, particularly because some of the gains were associated with product improvement. It is worth noting that pressure from inflation and escalating wage costs will also impact this trend.
The phased removal of government supports (currently expected to be fully phased out by the end of May) will require close attention to be paid to cash flows and deposit balances as normal cash cycles will eventually resume. Over the course of next year it is anticipated that cash balances will also begin to unwind.
The sector was dealing with a chronic shortage of staff before the pandemic. The various lockdowns led to a sizeable amount of hospitality professionals to consider alternative employment, not only in Ireland but across the globe so we can expect overseas recruitment programmes to be slightly less productive that they were before the pandemic. Already last year a number of hotels had to restrict trading hours/capacity and reduce services, these issues may continue to have a negative impact in the medium to short term.
Full EBITDA recovery (to the 2019 level) for the average hotel is not expected until 2024 or 2025. However, the strong performance reported by some hotels in 2021, healthy levels of business on the books and robust voucher sales in December combined with staffing restructures/ redevelopment, property investment/ upgrades has prompted many hotels to budget a very positive outlook for 2022.
Wedding and event venues are reporting record levels of business on the books for 2022 and 2023 driven by postponed/delayed weddings and social events/gatherings. Capacity issues on well-established venues should provide additional opportunities forvenues not traditionally focused on this lucrative market.
Aparthotels and hotels geared for long stay customers maintained slightly stronger demand during the lockdowns, so an increase in 'hybrid' models offering short and long stay accommodation options is expected.
Significant increase is anticipated in transaction activity. In its 2022 Market update CBRE indicated it has "visibility on over €500m of hotel trades that are expected to transact in 2022."
Hotel development
A sizeable amount of hotel refurbishments as well as the development of additional facilities (primarily leisure), are currently underway in hotels across the country as operators look to 'wow' their returning customers and appeal to new ones who are yet to experience their venues. The pandemic has been a catalyst for many hotels to reposition themselves and go after different markets.
Corporate demand
Much has been speculated about the long-term impact of Covid-19 on corporate demand following the wide-spread adoption of remote working, virtual meeting tools like Zoom and MS teams and the escalating emphasis of the carbon footprint associated with air travel. However, a significant portion of commercial/corporate demand is relatively impervious to these changes including project/ construction work, hospital staff and travelling salespeople among others; it is only demand from large corporates for accommodation and large conferences that has remained relatively muted for the last two years.
As companies look to recruit and maintain staff following the 'great resignation' experts agree that this demand will eventually resume, and travellers may further embrace 'working holidays' blurring the line between remote working and work nomads.
Read full report here:
Hotel Sector 2021 Insights/2022 Outlook
View
Print