Quality of life, environmental, social and economic benefits for all as more professionals than ever choose Kilkenny.
Demand for Kilkenny's six rural Connected Hubs and its five established Business Centres has increased as a growing number of professionals are now hot desking while remote working two to three days a week and enjoying a far greater work/life balance, new data shows.
More than four out of ten homes sold in the city and county in recent months were bought by people with addresses outside of Kilkenny. One agent in the city revealed that 46% of buyers of large, detached family homes in a new estate on the edge of Kilkenny city had sold smaller semi-detached properties in the greater Dublin area to fund their investment.
"This, in turn, supports our small local businesses and communities as local spend increases. It gives people more family time and fewer commutes also means lower greenhouse gas emissions. It's a win/win for everyone"
According to the latest Daft.ie House Price Report for Quarter 2, 2023 the average asking price in County Kilkenny for a house is €283,177 – 8.5% lower than the national average and 25% lower than in Dublin City Centre where the average asking price is €377,543.
Free from distractions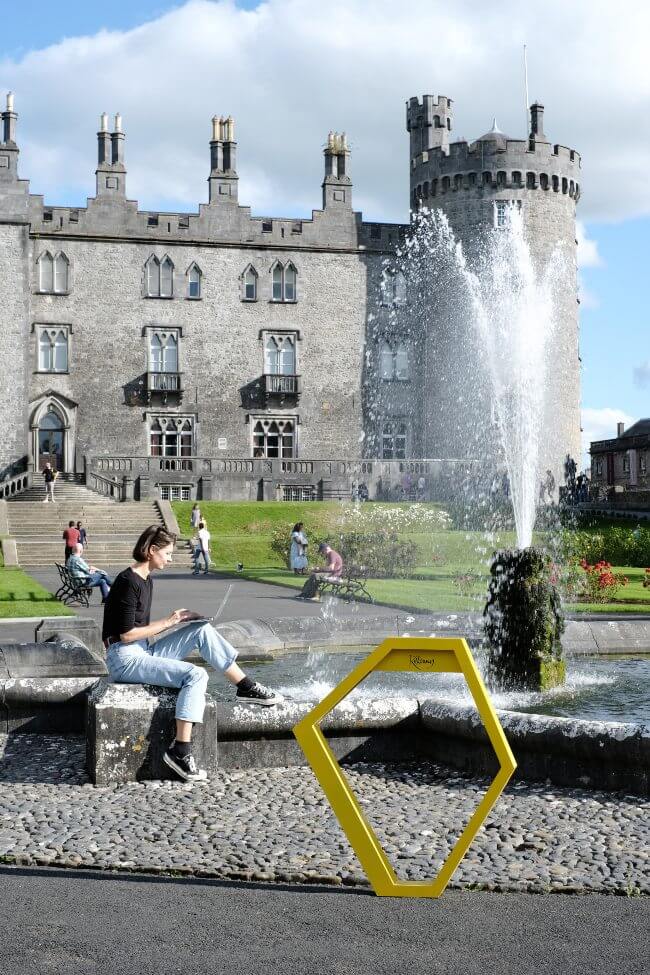 Professionals who previously worked from home on remote working days are now edging back to the fully-serviced remote working bases. They're being lured in by the super-fast broadband connectivity offered, along with a dedicated working space away from distractions in the home.
Data gathered by the community led Grow Remote movement also indicate that the team support provided in a more collaborative and inclusive environment, along with weekly meets ups are factors contributing to the lure of the Connected Hubs and Business Centres across the city and county.
The top-class facilities provided for the up to 150 plus remote working stations in all ten locations also help companies address staff welfare and due diligence in terms of workplace ergonomics, separating work and home environments, while availing of secure broadband infrastructure and more, Sean McKeown, Director of Services at Kilkenny County Council, said at the launch of the "More than just a Desk" campaign:
"More than just a Desk" further promotes Connected Hub and Business Centre working, gets people co-working and networking more again and showcases what a fantastic remote working base Kilkenny city and county has to offer. The variety and quality of remote working hubs in locations across Kilkenny creates fantastic opportunities for people to live and work and hotdesk, where necessary, or even during visits here.
"This, in turn, supports our small local businesses and communities as local spend increases. It gives people more family time and fewer commutes also means lower greenhouse gas emissions. It's a win/win for everyone."
The physical infrastructure provided and positive business environment created is all boosting demand from employees, freelancers and the self-employed for the up to 150 individual working bases/spaces with the added bonus of being signposted to supporting bodies such as the Local Enterprise Office (LEO), Aileen McGrath, Acting Head of Enterprise with Kilkenny LEO said.
"We've seen that such a flexible, on-demand working environment is also a support for employees of companies that are still teasing out their remote working conditions for staff and for firms concerned with issues around staff retention and maintaining a high-level of professionalism in the working environment," she added.
Work-life balance
Experienced plumbing contractor Gerard Ryan and his award-winning artist and photographer partner, Dominika Stoppa, share a co-working space at Castlecomer Enterprise Centre, just outside Kilkenny city.
They relocated from their home in an estate of several hundred houses close to the train station in Athy town to their completely renovated and sustainable 1920's home in Ballinakill on the Kilkenny/Laois border last November. The move was so they could enjoy more family time with their three children in the countryside and achieve a greater work-life balance.
"This co-working space is absolutely perfect for us," Gerard, who specialises in heat pumps and underfloor heating in retrofitted homes and buildings said. "It means we can separate work from home and that one of us can leave for home whenever we need and be there for the children after school.
"We did toy with the idea of adding a home office or a garden room when we were renovating the 1920s home we've moved into. But we knew if we did that, we would never get away from work, never have the discipline to walk away and take the necessary time out, particularly if we had a deadline.
"Dominika moved her computer here straight away. Like many self-employed people, we were inclined to go on the computer once the children were in bed and were constantly looking at emails, finishing bits of work. We now have our work and we have a life. And they are in balance.
"Our unit has four large windows, allowing plenty of natural light flood into Dominika's art and photographic studio. It's great to have a base in a shared space with fantastic broadband and the social benefits of plenty people coming and going. Lots of people got very isolated during the pandemic and it's great to see people going back into shared office scenarios, working together and benefitting from one another.
"The supports here from the Local Enterprise Office are great. We've a brilliant Centre Manager, we have a fantastic work space and a shared canteen. They're introducing seating in the garden area which will serve as a further meeting/communal area when that is complete," Gerard said.
Kilkenny's established Business Centres include:
We Do Work Centre;
Castlecomer Enterprise Centre;
New Work Junction;
Pembroke Business Centre and
Piltown Enterprise Centre.
Connected Hubs are located in:
Galmoy Community Centre;
Glenmore Community Centre;
Ballyouskill Community Centre;
Crosspatrick Community Centre
Connolly's of Dunbell and
Urlingford Exit 4 Remote Networking Hub
For more information on remote working opportunities and services in Kilkenny city and county and how to book such services, go here www.belongkilkenny.ie.
This project is being funded by the Department of Rural and Community Development under Town and Village Renewal Scheme.
Main image at top: Award-winning artist and photographer Dominika Stoppa and her partner plumbing contractor Gerard Ryan