Newbridge Business Centre isn't your typical remote working hub. Led by entrepreneur Martin Cooper it brings a 19th century building into the digital age.
On a sunny Friday morning in Newbridge, the town bustles as people go about their business with an energy that wouldn't have been too different a few centuries back when Charlotte House – a handsome building constructed in 1840 on the town's main street – functioned as both a home and a haberdashery.
Today the building – which was the birthplace in 1903 of renowned Irish scientist Dame Kathleen Lonsdale – is the home of the Newbridge Business Centre, a state-of-the-art remote working hub that promises to be an oasis of calm and productivity for professionals and entrepreneurs. Lonsdale, a renowned biophysicist, crystallographer and peace campaigner, blazed several trails for women in science.
"We've got the building right, we've got the tech right. We've done our research and the number of professionals living in and around Newbridge has grown exponentially"
You get the sense that the Centre's owner and CEO Martin Cooper wants the building to be the place where people also get to do their best life's work too as he proudly points to crystal chandeliers as a nod to the eminent crystallographer.
The tastefully and meticulously renovated building respects and celebrates the building's heritage down to details such as Victorian sash window frames, brass work, wooden floors and fireplaces, while simultaneously it embraces the digital future in terms of secure communications and virtual services. Bright and airy, it bridges past and future in a utilitarian and elegant way.
Back to the future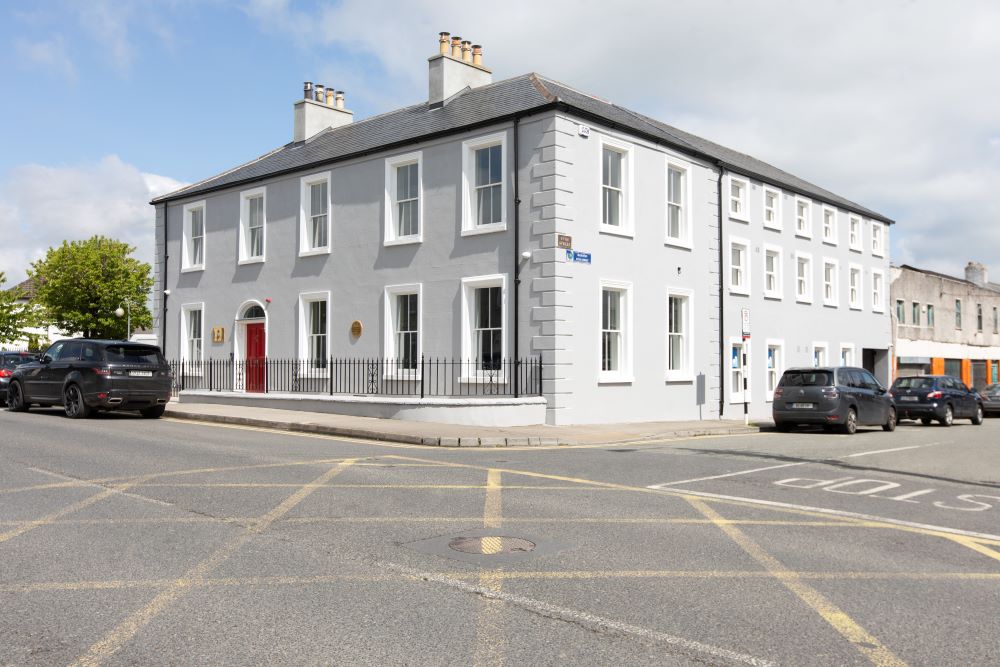 The building is home to 60 desk spaces within 18 private office suites, various meeting rooms and teleconferencing facilities and even boasts its own podcasting studio and roof terrace. The idea is that it could be both a working location for busy professionals who either need a private office or a desk and who don't wish to commute, or entrepreneurs establishing a business premises that would grow as their business grows.
Located a stone's throw from the local Newbridge Train Station, you could be in Dublin within half an hour should you wish.
Cooper, a former electrical engineer and business owner, is as excited about protecting the history and architecture of Charlotte House as he is about how he has engineered the premises' IT systems to be fast and secure. Dotted throughout the various rooms are secure wireless repeaters that all connect with a fibre broadband-connected data centre that is a veritable bastion of cybersecurity.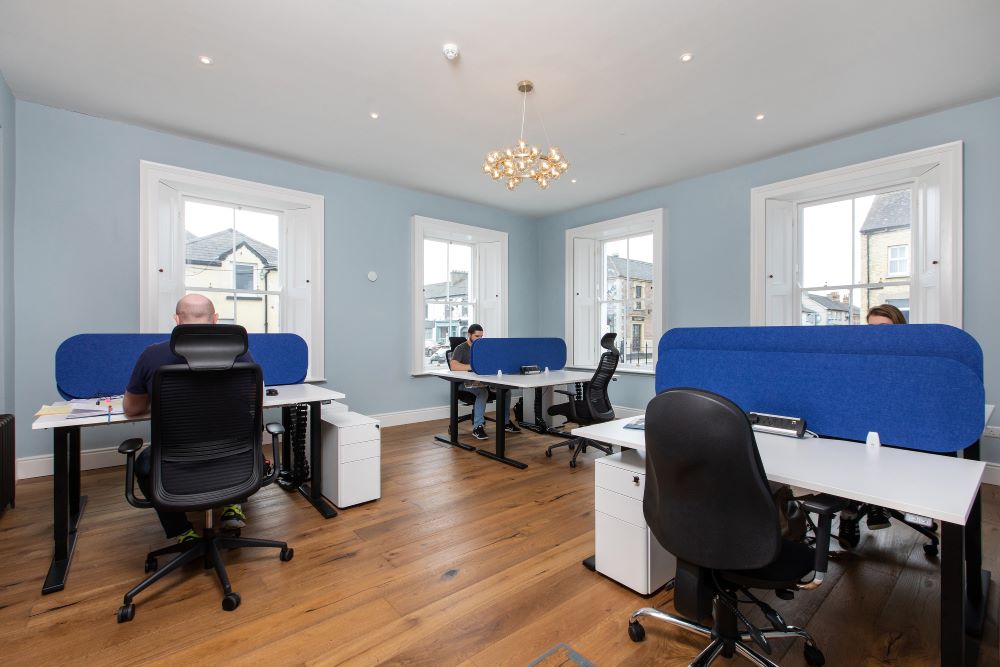 Every suite at Charlotte House is protected behind a corporate firewall and the system has a backup secondary failover internet access line to ensure continuity of service.
The entire project has been a labour of love for Cooper. "I used to bring my kids to the scouts across the road and used to go past this building all the time. It was derelict and covered in ivy. Having worked in business centres across the world from the Middle East to North America as I had set up my own energy consultancy I felt that when this building came on the market it was just calling to me."
Cooper, who had just retired from business, was in his early 50s and felt he was ready for another challenge. "I had retired for about 52 hours and I rang Mrs Cooper and said 'let's do this!' There's no place like this so we bought it and started to design it."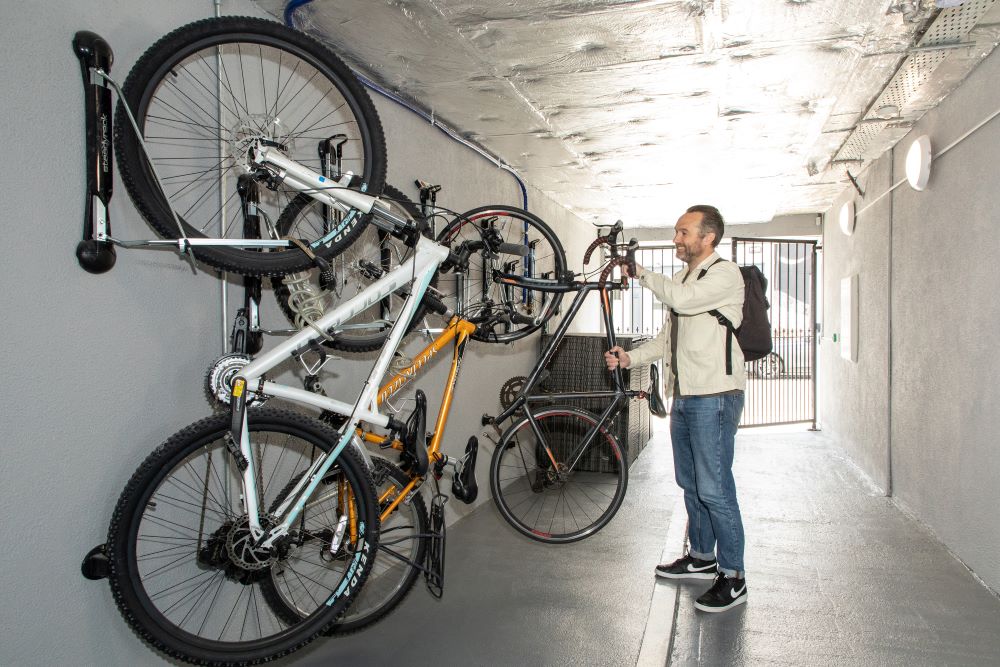 With support from Bank of Ireland and planning permission from Kildare County Council, Cooper got to work in mid-2020. "The bank understood what we were trying to do right away and were supportive. The conservation officers at the county council were over the moon that someone was going to do something with such an important structure in the middle of Newbridge. They liked our business plan because it was different and could see that we intended to keep the character of the building."
Newbridge Business Centre opened its doors in recent months and already approaching 30% capacity with clients including a variety of professionals. Cooper says the intention is not to over-fill the space. "We have 60 desk spaces and could always accommodate more but the idea is we want people to have their space around them."
The 650-metre facility has more than 300 data points connected via CAT6A cabling and backed up by a power supply unit. " A recent power cut in the town was a great test for the system. No one lost as much as a second of internet access. For very little cost each business could have their own dedicated and secured Wi-Fi network and if you wish you could carve 400Mbps dedicated to your company."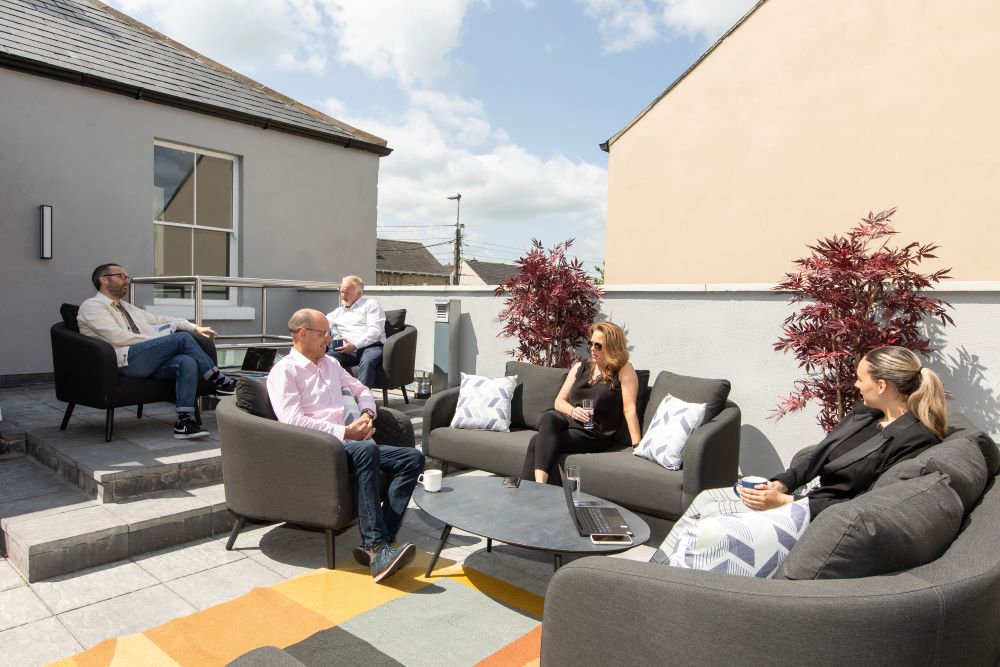 Cooper said the opening of Newbridge Business Centre coincides with the post-pandemic move to hybrid working. "Workers can log in via the NBC app and can see what desks are booked for the day. We've looked at every scenario and cybersecurity and privacy are paramount.
"But what is also critical is flexibility. We've looked at the future of work and we have created a workplace that caters for the busy individual professional right up to teams of people who need to get together to work in a secure environment."
Paul Byrne, business manger with Bank of Ireland, said that Cooper's vision for the future of work will resonate with many businesses in the region who want flexibility and productivity for their teams.
"Martin identified a gap in the market to support the new hybrid way of working for all employees/employers as a result of the pandemic. He also has years of experience in this field from his earlier career. Martin was able to convey this passion to the bank and I was delighted that we are able to support his venture. The transformation of his building into a modern co-working space is exemplary and I am just delighted for him and his business. I am sure it will be a huge success."
Martin Cooper, CEO, Newbridge Business Centre
In conclusion, Cooper said the Newbridge Business Centre gives professionals from entrepreneurs to employers options they need in the hybrid working world. Not only that but post-pandemic work practices set the business up for future growth.
"We've got the building right, we've got the tech right. We've done our research and the number of professionals living in and around Newbridge has grown exponentially. There are close to 9,000 professionals who are commuting predominantly to Dublin from this region daily. That's a huge number and we'd need less than 1% of that to fill this facility."
Main image at top: Sinead Smyth, marketing manager, Newbridge Business Centre; Martin Cooper, CEO, Newbridge Business Centre; and Susan Keogh, operations manager, Newbridge Business Centre