As the drum roll begins for the next generation Apple iPhone 12 with 5G capabilities, it is worth noting how Ireland is in the vanguard of the next generation of mobile.
Analysts and investors can barely contain their excitement as they talk up a 5G "super cycle" – a frenetic cocktail of hope, hype and spending – that will begin with the expected launch of the iPhone 12 by Apple in October.
Even though 5G – fifth generation – has been around a few years now and has already been switched on in many countries, including Ireland, once Apple reveals its new smartphone it will be as if the Californian tech giant invented it. This is despite rivals like Huawei and Samsung already having 5G on their latest devices; the P40 Pro+ and the Galaxy S20 Ultra 5G, respectively.
"Ireland is in a strong position to benefit from the opportunities 5G offers into the future"
Either way, analysts are betting that the next generation iPhone with 5G will be the spark for a massive upgrade cycle among Apple users that will also be the catalyst to drive Apple's valuation beyond $2trn.
In all of this excitement, it is worth noting that Ireland is in the eye of this particular storm. Much of Apple's global supply chain for sales of the iPhone is masterminded from Cork where Apple has been based since 1980.
Ireland is in the vanguard of 5G network rollouts. Both Vodafone and Eir last year launched their 5G network across various Irish towns and cities. Earlier this year Three revealed a €100m-a-year roll-out plan and intends to launch its services later this year.
As well as this Irish tech companies from Druid Software to Taoglas, Alpha Wireless and Benetel are at the cutting-edge when it comes to creating 5G antennae, chips and systems.
Decoding 5G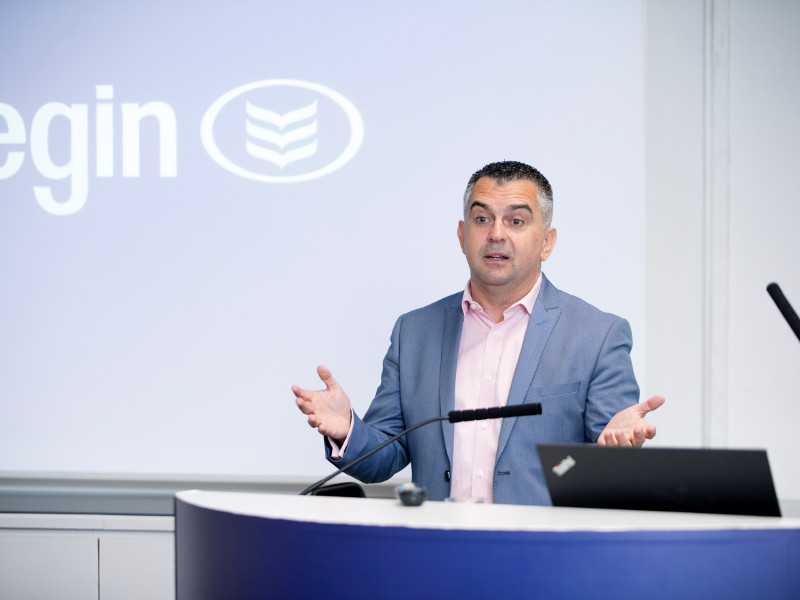 ThinkBusiness spoke to Paul Swift, head of Technology, Media and Telecoms Sector at Bank of Ireland, to see what comes next.
What is 5G, what can it do and why does it matter?
5G is the next generation of mobile technology, coming on the back of earlier 2G (which initially enabled voice calls only, but within a couple of years, saw the start of text/SMS messaging), 3G (brought the beginning of mobile internet) and 4G brought about faster speeds and even more data. So why does 5G matter? To put in context, it has the potential to reach speeds of 100 times faster than 4G which would equate to downloading a two-hour film in under 10 seconds.
Hence, this development will effectively wave goodbye to the days of buffering (delays in downloading data) and more importantly, enable superior connectivity. We are currently seeing a roll out of infrastructure in Ireland and indeed across the globe to enable 5G capability which will underpin the connectivity of devices, cities, vehicles, infrastructure and the growth of the Internet of Things (IoT). Some stats from the IoT industry suggest there will be around 24bn connected devices by 2030, capturing vast amounts of data, that will affect our daily lives and transform how we behave. Everything from food deliveries, medical care and agriculture will be transformed in this new era of IoT; all enabled by 5G.
5G so far has been a damp squib with just a few, albeit expensive handsets, and slow roll-out of networks, not to mention unhelpful conspiracy theories. However, that may change in the coming months as all eyes are on Apple to reveal its 5G iPhone leading to what analysts are terming a 5G super cycle? Do you agree with this sentiment of an upcoming 5G super cycle?
A super cycle in this context refers to the expectation that there are about 350m iPhones due for an upgrade which is leading to predictions that there will be a surge in demand for new 5G-ready models when they are launched; potentially sending sales through the roof. These new phones are due to launch in the Autumn, possibly October or November, which is a little later than later than the traditional later September launch date of the past. The delay comes on the back of the impact that Covid-19 had on its supply chain and manufacturing operations in China earlier in the year.
Various commentators have been forecasting a super cycle suggesting that loyal Apple customers will want to be the first to purchase these new devices; taking advantage of the fast upload and download speeds, low latency and huge bandwidth. Historically a big driver of sales continues to be the design, shape, style and layout for Apple devices, for which they are famous for, which is referred as form factors. There is lots of talk that Apple may well be revamping the design of the new 5G devices. Taking these with all of the aforementioned 5G benefits, the much talked about super cycle may yet come to pass. One thing is for certain, once Apple launches its next iPhone, it will drive consumer expectations in relation to 5G availability and coverage.
What are your thoughts on Ireland's place in the 5G revolution in terms of local companies as well as multinationals engaged in developing platforms and systems for this new information age? Could Ireland be one of the bulwarks of the 5G future?
There are quite a few indigenous companies developing various products and services for the 5G market. Some of the more widely known businesses include Cubic Telecom, Taoglass and Software Radio Systems.
Cubic Telecom, based in Dublin provides connectivity for the automotive, IoT, and mobile devices industries through the deployment of connectivity management software to businesses in over 180 countries.
Taoglas, based in Wexford are leader in the Radio Frequency (RF) market, providing antennas in the IoT space for companies operating in smart cities, utilities, automotive and healthcare sectors, supporting worldwide adoption of 5G technology.
While Software Radio Systems, based in Cork delivers adaptive wireless systems providing custom product solutions for a range of wireless technologies.
Looking at the multinational sector, Huawei, Ericsson, Qualcomm, Intel, Apple, Analog Devices and Amdocs (on its acquisition of Opennet) immediately spring to mind. These businesses are at the cutting edge of 5G technology development.
Huawei is the number one supplier of technological equipment in the world, with offices in Dublin (software), Cork (hardware) and Athlone, where it has a research centre. Ericsson launched the first commercial 5G network in Ireland across Dublin, Cork, Limerick, Galway and Waterford this time last year (August 2019). While Qualcomm provides the chips that will be used in Apple 5G phones.
Looking at all of these companies taken together they continue to contribute to Ireland's global reputation as having a highly skilled workforce and as we embark on the 5G revolution, I think Ireland is in a strong position to benefit from the opportunities 5G offers into the future, both in the indigenous and multinational sectors.
Written by John Kennedy (john.kennedy3@boi.com)
Published: 14 August, 2020