Podcast ep 25: Mayo-based Goldsmith Nigel O'Reilly talks to John Kennedy about how he became a goldsmith with a global market and why he believes all regions of Ireland can shine.
"I did it to impress a woman," explained Castlebar goldsmith Nigel O'Reilly about how his odyssey into making dazzling jewellery pieces began. Originally a precision engineer, he wanted to impress a young artist he met, now his wife Tracy Sweeney, and she encouraged him to keep going.
Since then O'Reilly cultivated a unique style making pieces that advance the potential of the gemstone he is working with, resulting in his works being worn from New York to London and Stockholm and at major entertainment industry awards by Irish actress Saoirse Ronan.
"If you have work that can stand up with anybody else's with the world, people will buy it. It doesn't matter where it is made. And the fact that it is made in the west of Ireland is even more of a selling point"
Because of severe dyslexia O'Reilly opted to apprentice as a toolmaker rather than pursue academic education and while all of his friends were partying and enjoying the student life, he was getting up at the crack of dawn to learn his trade. "What I loved about it was the discipline. When you're working with microns, there's no room for error whatsoever, especially when you are working on medical devices."
And then he met Tracy. "So I met this girl in Galway and I just wanted to impress her. I made her a ring. And she was like, 'this is really cool. Have you thought about making jewellery?' I didn't even know where to start, but it got me thinking. I did a course and I really enjoyed it and applied to the Craft Council who were taking on 12 people every two years and I got in."
To get a foot in the door of the business, a tactic of showing up at goldsmith masters' doors to show him his work paid off when he succeeded in getting apprenticeships with various masters, including the late master goldsmith and gemstone cutter Erwin Springbrunn and the late Kilkenny-based, German-born Rudolf Heltzel.
Shine bright like a diamond
Working with masters from all over Europe, including in Sweden and the Netherlands, O'Reilly discovered from Heltzel that the best masters believed in passing on their skills to others and he maintains this ethos from his studio in Castelebar.
His work can best be defined by the bold use of colour and a passion for ensuring that it holds up to microscopic scrutiny.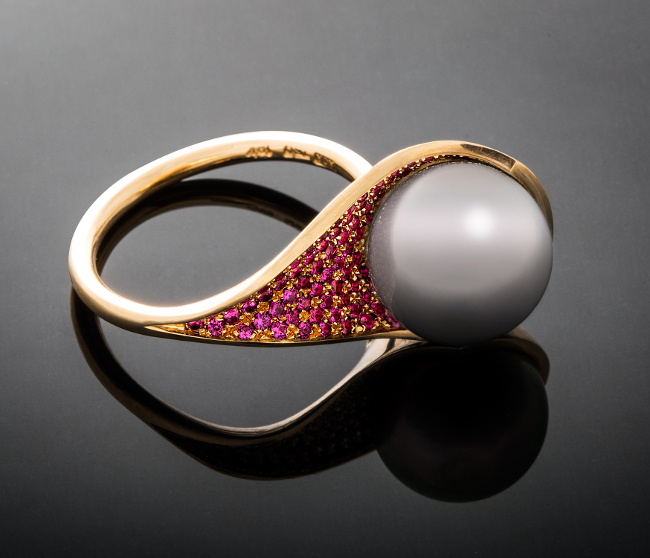 After living in Europe O'Reilly returned to his native Mayo to start his business, beginning at first in his spare bedroom. "I got on a flight to London and within a few weeks I was working with the biggest names on Bond Street. I didn't tell them I was doing this work from my spare bedroom. All they cared about was that I could do the work perfectly and send it back to them on time. And that's how I got started."
O'Reilly finds the west of Ireland the perfect place to be creative and constantly has to brush off questions about whether he should be based in Dublin or London. "When you're doing something creative and you are trying to push the boundaries of design and trying different techniques, if you're under pressure financially then it kills any creativity you have. So when I'm living in the west of Ireland, surrounded by the people that support me and surrounded by the nature that you love, you're recharged."
He believes that Ireland could foster and kindle longstanding traditions of craftsmanship and that the regions should gain from this. Essentially, he believes, geography doesn't matter as long as you create goods that people will want. "I don't think we should put the onus on the customer, I think we should put the onus on ourselves as craftspeople to have the best quality work in the world.
"If you have work that can stand up with anybody else's with the world, people will buy it. It doesn't matter where it is made. And the fact that it is made in the west of Ireland is even more of a selling point."
Following the advice of Heltzel to ensure that he passes his skills on, O'Reilly has trained his brother to be his main diamond-setter and employs several people in his workshop. "It's almost like a family business at this point."
If he has a vision for the future it is to put Mayo on the global map for jewellery-making. "I would love in 20 years' time for a young apprentice to go to Paris and visit a workshop and for he or she to be told 'You trained in Mayo? You must be good."
Another long-term goal would be for the West of Ireland to be known for this elegant, but precise craft. "We've been hit by so many things over the years. It would be nice to change the narrative."
ThinkBusiness launched a new way of sharing business stories featuring a wonderful mix of entrepreneurs and business leaders shaping the future. Our podcast series is available on ThinkBusiness every week but also on our channels and via mobile apps on Spotify, SoundCloud, Stitcher and Apple.
Written by John Kennedy (john.kennedy3@boi.com)
Published: 17 August, 2020