Bank of Ireland head of Food & Drink Sector Roisin O'Shea looks back on the key trends of 2021 and provides an outlook for 2022.
"Exports are performing well and a growing global population continues to value the high quality of product that Ireland supplies"
Excerpt:
2021 Insights
While 2021 was a turbulent period for the food & drink industry with Brexit related adjustments, rolling Covid-19 lockdowns and rising commodity prices, the majority of food and drink businesses coped well and took advantage of the foodservice recovery and the increased opportunities for Brexit related import substitutions to grow both sales and cash margin.
Summary
2021 saw a significant positive change (€1.3bn from Jan -Nov) in the balance of trade in the sector. While exports increased, imports decreased significantly, largely driven by the impact of
Brexit. Retailers and foodservice operators increasingly turned to local Irish producers in order to avoid the significant level of administration and extra costs that food from Britain now attracts.
While Covid-19 continued to provide plenty of challenges – in terms of labour availability, health and safety and forecasting difficulties, the majority of businesses in the sector have adapted well to its challenges. As the year continued, the sector's main focus was around adjustment to supply chain difficulties and commodity increases, as businesses struggled to pass on the full effects of the cost increases to their customers in a timely manner. Although this impacted percentage gross margins, the overall effect was mitigated by growth in top line sales.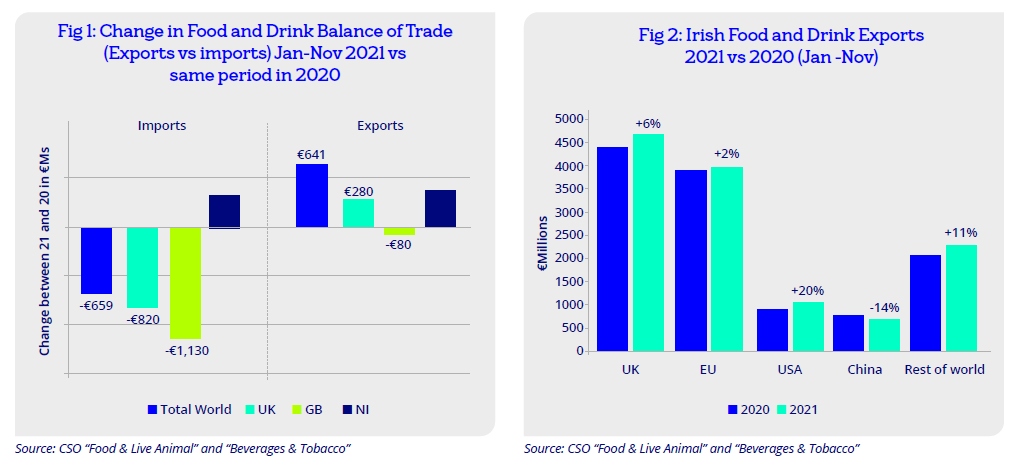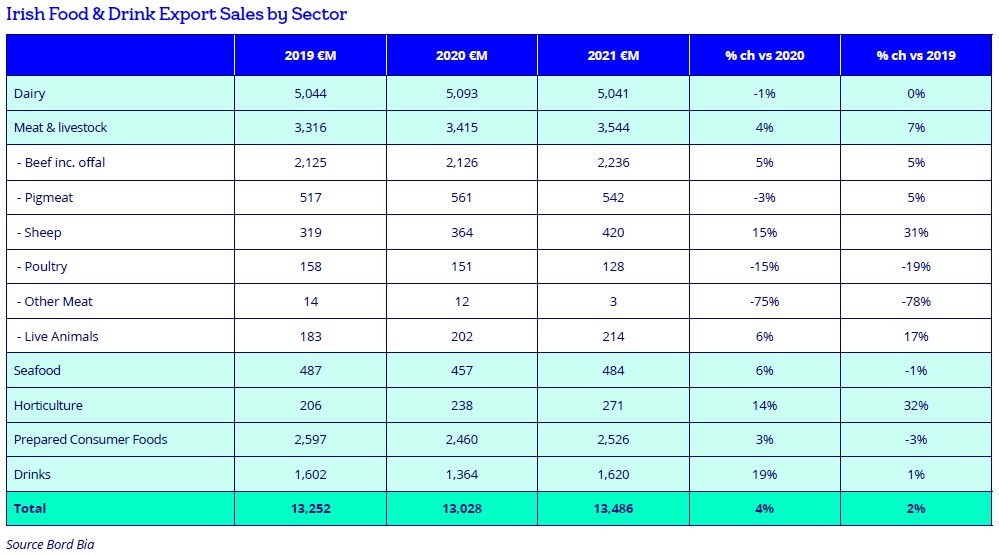 2022 Outlook
The 2022 outlook is broadly positive. Bord Bia research indicates 82% of businesses are optimistic about future trading prospects. Despite initial wariness and increased complexity, in broad terms the initial effects of Brexit have delivered a boost to Irish suppliers. Exports are performing well and a growing global population continues to value the high quality of product that Ireland supplies. The intellectual capital that exists in the Irish food industry and its ability to innovate and take advantage of a strong state supported research and development ecosystem, means that it is well placed to capitalise on opportunities.
Key Trends 2022
Continued Brexit Impacts: Irish exporters are yet to feel the impact of full Brexit controls on exports into Britain, following moves by the UK government to push back deadlines on their implementation. July 2022 is the current deadline for implementation. There are significant efforts in place by state agencies to prepare for this change, through training and increased personnel, however the quantum of documentation due to relative importance of the UK for our market could be challenging. It is also likely to have a significant impact on groupage, which may affect smaller SMEs that rely on mixed loads for frequent delivery.
Sustainability Focus: Carbon reduction budgets are due to be finalised in March 2022. The sector will be watching closely the final decision on the reduction attached to agriculture from the current range of 22% to 30%. The industry is confident that it can reach an 18% reduction in emissions without any negative impact on farm output. Regardless of the final number, what is clear, is the industry focus needs to be on added value and innovation. Added value development is likely to drive significant investment in research and development and ultimately processing facilities. The focus at present is very much around the twin pillars of carbon reduction and reducing packaging waste, however potential impacts of an enhanced green agenda extend to all areas of the supply chain. For example, we have seen recent focus on ensuring animal feed in the meat supply chain is not contributing to Amazon deforestation, this is leading to new innovations, particularly in the area of growing insects for animal feed. Key retail customers have set science-based targets. Increasingly data capture of a company's climate-based impacts by product will be necessary when seeking product listings with major retail customers. The move towards increasing the amount of plant-based food in consumers' diet is set to continue.
Development of Fisheries & Marine Resources: The focus of the Irish food industry has long been on meat and dairy, however Brexit has been a catalyst to review the opportunities presented by our marine based economy. A specific task force was commissioned to look at the impact of the loss of fishing quota (c15% by 2026) due to Brexit and to make recommendations to develop the industry given potential investment from the Brexit Adjustment Reserve. The range of stakeholders involved resulted in a wide ranging and potentially transformative report for the industry. It recommended overall funding of €423m primarily via the Brexit Adjustment Reserve. €145m of this is to be allocated for decommissioning and other short-term measures to allow for adjustment to post Brexit conditions. However, €277m will be allocated to focus on longer term growth initiatives to the sector. It is these initiatives, in particular, that have the potential to transform the sector in 2022 and beyond. The initiatives include support for aquaculture, development of added value processing capabilities, improved coastal infrastructure and marine enterprise development. This development will also be supported by the streamlining of the marine licensing process as part of the recently passed Maritime Planning Bill.
Commodity Prices & Food Inflation: The effect of price increases negotiated by industry suppliers with key customers in 2021 will begin to be seen more significantly in 2022. However, it is likely that producers may have to negotiate additional increases in 2022 as many of 2021's price increases did not capture some of the input increases that occurred towards the back end of the year and there are strong prospects for supply inputs to continue increasing in cost in 2022.
Full report here:
Food & Drink Sector 2021 Insights/2022 Outlook
View
Print