A young design and manufacturing company from Inverin in Galway called ÉireComposites is at the cutting edge of making future innovations in aerospace and marine happen.
In recent months it was reported how high-flying Irish drone company Manna headed by Bobby Healy was developing its own aerospace grade carbon mainframe that would make services like the delivery of food and essential drugs and other items like smartphones possible by aerial drones. Healy's vision is to eradicate road delivery as the last mile and replace it with drones for 1bn across the planet.
At the heart of this development, however, is ÉireComposites, an innovative design, manufacturing and testing company based in Co. Galway. Alongside NUI Galway (NUIG) the two companies also announced that they received €2.44 million for the MI-DRONE project.
"Don't seek perfection but try to get started early with a less-than-perfect idea and refine it later. If you wait for the perfect opportunity, you will probably never run a company"
ÉireComposites role within the venture is to coordinate the project and lead light-weighting of the airframe through the development of structural components from carbon fibre.
Working alongside NUIG, ÉireComposites will develop additive manufacturing and automation technologies for high-volume manufacturing of drones, and for structural testing of the same. It is envisioned that this process of manufacturing will lead to a reduction of the cost per drone by 36pc between 2024 and 2026.
Designing the future of transport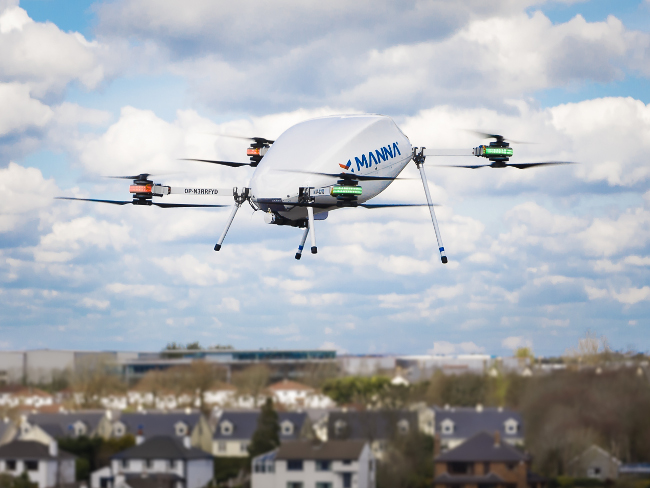 "The total addressable market for last mile delivery for hot-food, pharmacy and grocery is €895bn globally"
From the first Atlantic crossings to the evolution of Duty Free to being the administrative heart of the global aviation business, Ireland has always played an integral role in aviation and young companies like ÉireComposites and Manna will ensure we capture the next wave.
"We are trying to develop and certified drones for food delivery, said Tomás Flanagan, ÉireComposites CEO and co-founder. "The total addressable market for last mile delivery for hot-food, pharmacy and grocery is €895bn globally."
But it isn't just in the air that ÉireComposites is playing a vital role. The company is also making waves in the marine sector too.
In recent months the company signed a contract with Wavefoil a Norwegian supplier of retractable bow foils, to manufacture the composite foils.
The foils are nearly 6 metres in length and weigh over 2 tons each. They utilise wave energy by generating thrust when the vessel moves up and down in the waves, similar to a swimming whale. The foils will be fitted onto passenger ferries, fishing trawlers and yachts, ranging in length between 100m and 200m. The Titanic, in comparison, was 269m.
The retractable foils will help to make the marine sector more sustainable and environmentally friendly with fuel savings, emissions reductions and motion damping of ships to improve the comfort on board for passengers.
The first developed foil module was retrofitted onto a vessel by Wavefoil in September 2019 and delivered an average fuel saving of approximately 8pc during the first year of operation. Following the initial fitting, two smaller vessels have also been equipped with retractable bow foils. In 2020, Wavefoil secured funding to develop and test a prototype of a large foil module, which has the greatest fuel saving potential.
"We're delighted to have signed a contract with Wavefoil to manufacture these innovative bow foils," Flanagan said recently. "They will help shape the future of the marine industry and ÉireComposites is excited to be playing a role in making this technology a commercial reality."
Smart business
Tomás Flanagan, ÉireComposites CEO
Returning to aviation, Flanagan said that the collaboration with Manna and NUIG is an insight into the future of smart service delivery.
"Our core product is the drone airframe. We already manufacture aerospace parts for Airbus and Bombardier. We will use the same lightweight, high-strength, carbon-fibre materials to manufacture drones. Together with advanced manufacturing processes and automation, we will deliver aerospace grade products in high volumes."
Flanagan has a PhD in Engineering from the Engineering Design Centre at the University of Cambridge. He is intrigued by the opportunity to develop new technologies and services. He lived and worked abroad (Germany, USA, UK, Angola, and Norway) for several years before returning to Ireland to take over EireComposites.
He sees composites as the materials of the future and believes that there is a great opportunity to grow a successful company using materials that reduce weight and save cost, and can be used in multiple sectors – aviation, space, automotive, renewable energy and the marine sector.
Reflecting on the Irish start-up ecosystem Flanagan said ÉireComposites is currently not raising funding. "I'm not super-involved in the start-up ecosystem but I think the HBAN (Halo Business Angels Network) network is pretty good and Enterprise Ireland and Udaras na Gaeltachta provide a lot of support (financial, advice, networking). However, there seems to be a lot more money available in the US than in Ireland for start-ups."
His advice for entrepreneurs is to have their eyes firmly on the road ahead. "The biggest mistake was ignoring the the sunk cost fallacy; no matter how much you have invested (time, money, energy), the sunk cost is irrelevant, only the future value/opportunity matters.
"The road from success to failure is shorter than the other way around. Also, you need a certain amount of luck to be successful, but persistence is really important – if you keep trying long enough, opportunities will come along. Finally, our critics are our friends; they help us to improve."
His final piece of advice to founders and innovators: "Don't seek perfection but try to get started early with a less-than-perfect idea and refine it later. If you wait for the perfect opportunity, you will probably never run a company."
Main image at top: Mark McKeigue, CCO at ÉireComposites and Tomás Flanagan, ÉireComposites CEO