If there's one way to describe Luke Mackey it is that he's a 'change agent'. With Bamboo he disrupted how we order food, and as country manager of Bolt he's looking to the app-driven future of multi-modal transport.
We begin our interview with Bolt country manager Luke Mackey expressing his condolences for the amount of scooter-related announcements in my inbox from any number of new providers planning to put wheels on the streets of Irish towns and cities. He's not wrong. As well as Bolt, there are several different companies vying to bring e-scooters and e-bikes and more to Ireland in anticipation of Irish Government legislation. One thing's for certain, transport as we know it could be disrupted forever.
Mobility player Bolt already serves 50m customers in 40 countries across various scooter, taxi-hailing, car and e-bike services. As part of its plans for Ireland it hopes to bring 10,000 scooters to Irish cities and towns and generate 130 new jobs in the process.
"The longer-term vision is to be a pioneer for alternative forms of transport that meet peoples' requirements and needs but, above all, to make it frictionless"
I first encountered Mackey four years ago when he co-founded successful food ordering platform Bamboo which aimed to make queuing for food at lunchtime a thing of the past.
Zoom forward to 2021 and he is in the driving seat to create Ireland's first multi-modal transport platform, where the public can choose between a car, e-scooter or even an e-bike.
"Actually, we're also doing food delivery as well," he says, drawing a line between the past and present. "We started with ride hailing or taxi hailing in Tallinn in Estonia when our founder Markus Villig was in college and set up Taxify. Now called Bolt we are in 53 cities across Europe and the plan is to be in 175 cities with e-bikes and e-scooters by the end of 2021."
The digital future of travel in towns and cities
Earlier this week Bolt signed a deal with Irish start-up Strike to bring cashless, contact-free tipping to Dublin taxies. Bolt launched its taxi-hailing service in Ireland in December 2020.
Bolt this week also opened its Driver Hub in Dublin city centre where drivers can meet with a support team, receive PPE and branded materials. The Irish public can order taxis via the Bolt app, with options including Bolt Shield, where the car has a protective shield, and Bolt Green, for a hybrid or electric taxi. In Ireland, 33pc of cars on the Bolt platform are hybrid or electric, and over 65pc have protective shields between drivers and passengers, with these numbers expected to rise.
While Bolt is clearly not all about e-scooters, I tell Mackey I look forward to the day when part of the experience of visiting or doing business in Irish towns and cities could include e-scooter adventures. Sure why not, it's a great way to get around and see things, right?
"In a lot of European cities this is actually considered quite a normal thing or to have multiple options for getting around."
Looking at the 130 jobs that Bolt is preparing to create, Mackey says they won't all be tech or business support roles. "We'll have to have mechanics for example to rebalance the fleet and make sure they are deployed in the right places, making sure e-scooter and e-bike batteries are full and we'll need operations managers for towns and cities."
Safety first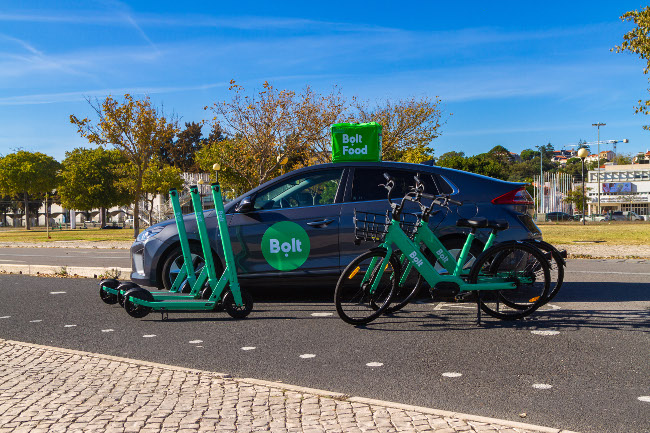 "Making it easier for people to get from A to B is extremely exciting"
And of course, there's the safety aspect. I put it to Mackey that Ireland doesn't exactly have a great reputation for its existing bicycle infrastructure compared with Amsterdam, for example, so how do you ensure that the Irish Joe or Josephine Public won't injure themselves or others?
"Safety is core to everything we do. We actually design and build and manufacture our own scooters and we have complete control over the life cycle of each scooter, inside and out. Because we develop the technology and the apps, we focus a lot on teaching people how to use the machines but also, we can limit the speed of acceleration on scooters based on how much experience we know the passenger has. The first time you use our scooters they will be in beginner mode and we will also put limits based on age as well. But as we gather a history of how you ride the machines and how safely you rode we will increase performance."
Focusing on the upcoming legislation for e-scooters on Irish streets, Mackey estimates there are at least 20 firms vying for licenses.
"I think the Dublin authorities will pay close attention to cities where e-scooters have been deployed and will therefore learn from the successes and failures. E-scooters have successfully been deployed in London and other cities across Europe. There will be specific places where scooters can be docked and locked and because of the technology on board, we will know if a scooter has been docked in the right place.
"The German cities are prime examples of cities that have been able to regulate the use of e-scooters very successfully. If you don't meet their requirements, you're off the road. But it has worked quite well and the process has been collaborative and progressive. Ultimately, the operators all want to serve the public safely. And I think in Ireland the process and trials will be very collaborative and progressive.
"It's never been done in Ireland before so there's a lot riding on it."
Joining the dots
What has Mackey excited is how it could transform Irish towns and cities in terms of people seeing and experiencing more of their urban environment. "My background previously was in how e-commerce could boost the restaurant and café businesses so having this kind of impact is close to my heart.
"When it comes to mobility and the pros and cons of travel, there's a lot of room for improvement and that's where I see the opportunity for multi-modal travel across cars, taxis, e-bikes, e-scooters, food delivery and more.
"There aren't that many times in life where you get to present a unique opportunity in your home market that could make a positive impact on people's lives. Making it easier for people to get from A to B is extremely exciting."
Since launching the Bolt taxi service in December, Mackey says the take-up by taxi drivers has been stronger than expected. "There's pent-up demand among drivers to get on the platform and we only did a small bit of advertising and word-of-mouth.
"The longer-term vision is to be a pioneer for alternative forms of transport that meet peoples' requirements and needs but, above all, to make it frictionless."
By John Kennedy (john.kennedy3@boi.com)
Published: 7 May 2021