After founding Bizquip in 1984, almost 40 years ago, Jim Leyden now has the satisfaction of watching his son James and daughter Michelle take on the reins of the business.
"It's your life's work," I say to assure an apologetic Jim Leyden who can't believe we spent almost three hours talking about the history of Bizquip. I can guarantee you, readers, there were plenty of laughs as Leyden's instinct for an opportunity and the odd bit of mischief held sway.
For example there was the time he painted odd and even numbers on the sides of Bizquip's single van to give the public the impression he had a larger fleet, depending on which way the traffic was going.
"I wanted our children to gain other work experiences before deciding if Bizquip was for them. But I never wanted to build a business just to sell a business"
Or the time he put a "boardroom" sign on what was really a boiler room to make his first premises seem bigger than it was. Or there was the time he arranged for an airplane to fly over Dublin with a massive Bizquip banner just after a competitor had treated customers to pre-Rugby drinks that Jim "accidentally" gate crashed. The list goes on. And let's not mention Jim appearing as James Bond in ads in business magazines.
As we sit in an actual boardroom in Bizquip's impressive Sandyford headquarters, complete with its own walk-in retail shop for office supplies and giftware called The Annex, you get the sense that Leyden is as ambitious and focused today as he had been in 1984. He believes the timing for passing of the guard to a new generation makes sense and that he and his children are doing it at their own pace after steadying the ship after the pandemic.
Leyden, a born salesman, had sold everything from frozen food to encyclopaedias to typewriters but it was at a trade fair in Germany where he met the sales director for Ricoh photocopiers that Bizquip was born. His first office was a basement on Fitzwilliam Street in Dublin and shared a receptionist with a then fledgling business called Ryanair. Expanding both organically and through acquisition, Bizquip soon had premises in Donnybrook, Abbey Street and Sandyford, offering businesses a wide range of products and services from office supplies and equipment to commercial furniture as a single source solution.
The sustainable future of work
Today the business is centred in Sandyford and specialises in commercial interiors, workplace technology and office supplies.
Workplace Technology has expanded to include video conference and collaboration solutions and business process automation, in addition to the more well known solutions including managed print services and document management. Since its inception, Bizquip has partnered with global leading manufacturers, and continues to do so.
The company's commercial interiors business manages fashionable and functional furniture projects for companies nationwide, from SMEs to multinationals.
As we sit in the boardroom along with Jim's son James and daughter Michelle, who currently lead the technology and commercial interiors teams respectively, Jim muses on how the landscape has changed in what Dublin offices are looking for since the pandemic. "We've combined the furniture and the technology to create the perfect working environment. The office as we know it has changed and evolved, combining the core services of technology and interiors is critical."
Not only are businesses seeking cutting edge technologies to enable everything from virtual meetings with perfect audio as well as attractive furnishings to entice hybrid workers back into the office , but the standardisation of things like office desks you would have seen a decade ago has disappeared. This is a challenge and an opportunity for Bizquip.
Leyden said that staying on top of technology trends proved key to how Bizquip navigated the pandemic and how it is performing today in the post-Covid/hybrid working reality.
James Leyden points out: "We are continuously evolving by embracing new technologies. For example, we represent Flowscape in Ireland, providing real-time analytics on office occupancy at desks, meeting rooms, break-out spaces right down to car spaces . This is a valuable tool in adopting a hybrid work policy.
Before joining Bizquip, both Michelle and James had successful careers of their own. Michelle joined the business in 2013 as commercial director following a career in banking and recruitment. James joined the business in 2020, returning from the UK having built up a career in Workplace Technology and managed services, which heavily inform the technology direction he is taking Bizquip in today.
Setting them up for success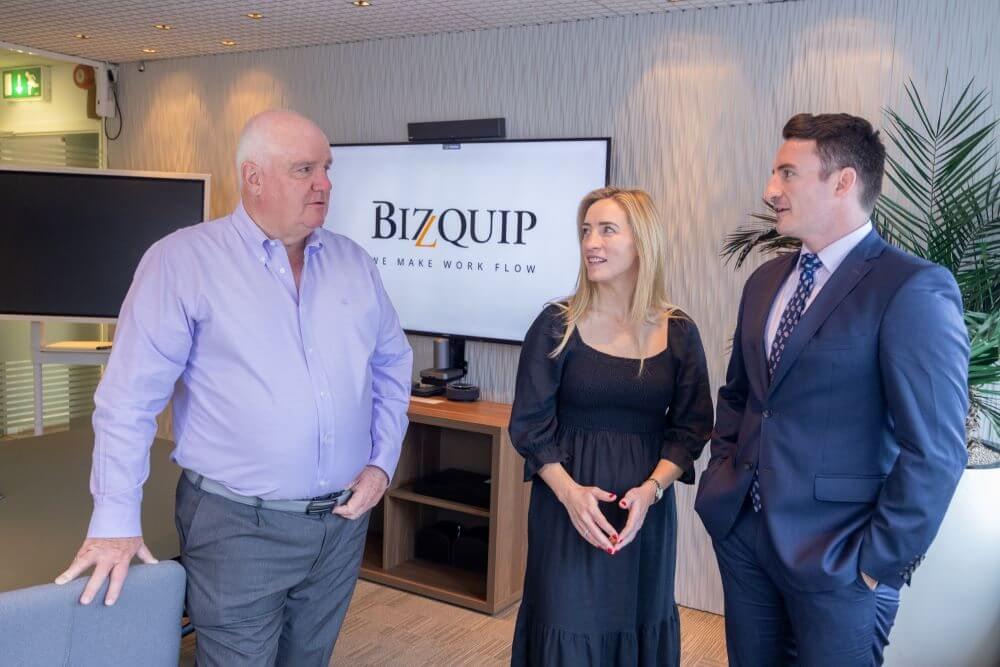 Jim Leyden with his daughter Michelle and son James.
After almost 40 years in business, Bizquip has built up a base in excess of 9,000 customers including Airbnb, Deloitte, Cairn plc and BNP Paribas. The key, Jim Leyden points out, has been the retention of a skilled and experienced team who have a fantastic ability to manage relationships with clients. "A good number of our team have been with us for more than 30 years," Leyden said proudly.
"We have local market knowledge, the expertise and the technical backup to deliver and play to our strengths as a business."
An important string to Bizquip's bow is achieving three ISO accreditations, an initiative spearheaded by Michelle this year, and still in progress. "We are very customer-oriented and felt that the implementation of ISO policies and standards would enhance customer satisfaction and further align ourselves with many of the reputable manufacturers we represent here in Ireland, as they are ISO-accredited themselves. It is also critical for our own sustainability targets, ensuring we are doing all we can from an environmental perspective."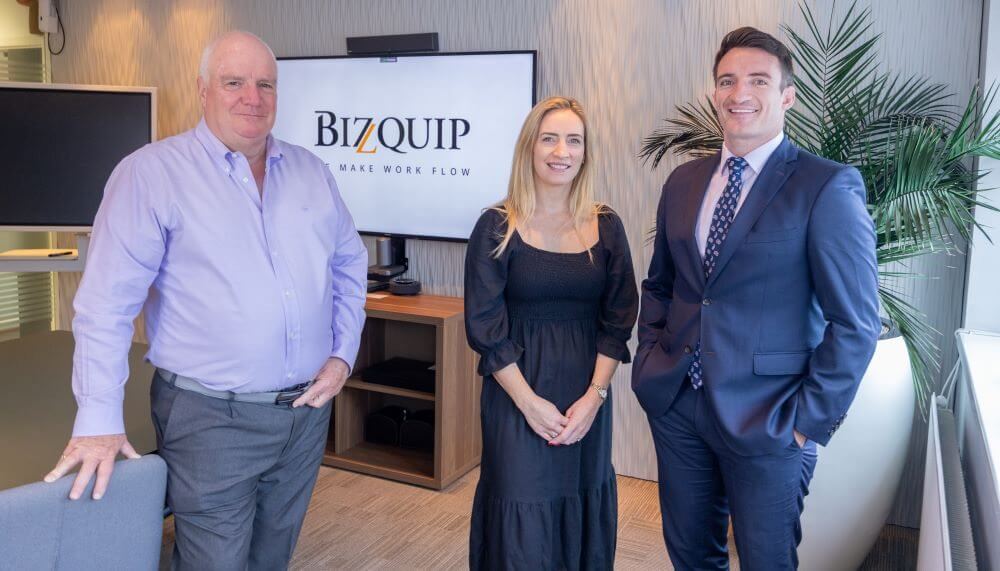 Jim Leyden says an important factor in Bizquip's endurance down through the years has been its relationship with Bank of Ireland.
As well as having a strong banking relationship that covers all of its day-to-day domestic and international needs, it has also enabled the business to structure acquisition and property deals down through the years.
Leyden has also been a fixture of the bank's own advertising, appearing in his iconic traffic-stopping photo in Donnybrook. "The key has been a relationship that is built upon understanding. It has been a partnership at every step. I recently told the CEO of the Bank: 'I wouldn't be where I am today without Bank of Ireland.'"
Looking to the future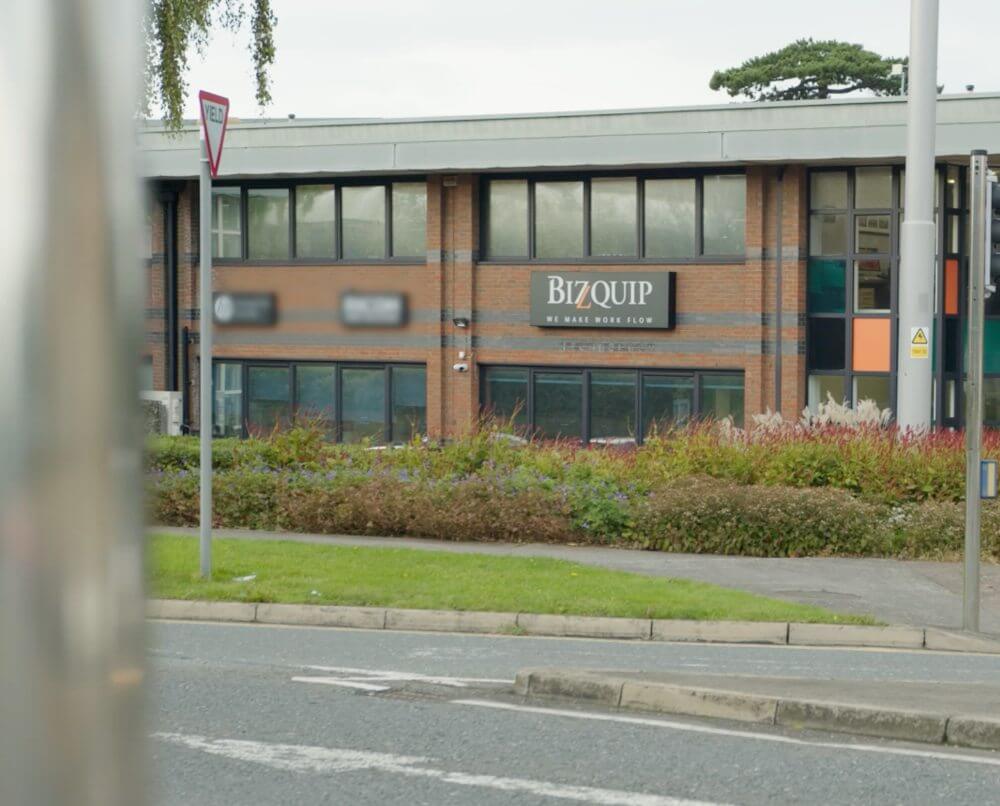 Bizquip's headquarters in Sandyford.
As Bizquip nears its 40th anniversary and Jim ponders eventual retirement, he points out that it is a relief that the succession will be gradual and not chaotic as can be the case for many intergenerational businesses. "We have the advantage of taking our time and I will be on hand to help out where necessary."
Michelle added that both her and James' independent careers prior to joining their dad at Bizquip were important preparation in terms of industry and general experience. "Jim has such a strong team of people who have been here for so long, we wanted to come in with credibility, integrity and experience."
Jim adds: "I wanted our children to gain other work experiences before deciding if Bizquip was for them. But I never wanted to build a business just to sell a business."
Grit is an important aspect. "It's been instilled in us to never, ever, rest on our laurels," notes Michelle.
Jim Leyden wants his successors to be successful in what is a tough and competitive industry.
"We have competitors, some of whom are much bigger than us, some smaller. But we're comfortable in our own skin. It doesn't mean we won't fight tooth and nail to win business. But all we ever expect is the opportunity to put our best foot forward."
Main image at top: Jim Leyden with his daughter Michelle and son James