A family business, an agribusiness, a tourism business: How generations of the Murtagh family embraced diversification to make Causey Farm thrive.
In the late 1980s the Murtagh family's farm, midway between Athboy and Kells in Co Meath, hosted some visits by a few schools for Urban-Rural Week. And the genesis of an idea was born.
Since then the farm – started by Tom and Lily Murtagh – has become an intergenerational business with only son Matt and his sisters Deirdre and Angela and Della along with their families all playing a part in bridging our rural past with our present and future.
"The atmosphere of inclusivity is something that our parents fostered in us and we absolutely love it that people can come here and feel they can do anything"
Causey Farm, a fully working farm that breeds limousin-cross cattle as well as Belclair ewes, is an outlier for what is possible when a farm decides to diversify into agritourism and events.
The 300-acre mixed farm is a destination for teambuilding exercises, educational tours (including ecology, science and geography programmes) for schools, visits by international groups to learn about farming and being Irish for a day, to specific events including the Causey Ice Cream Adventure, summer camps, Pooka Spooka Halloween for children, Farmaphobia for adults, as well as Christmas and Easter events. And, as well as hosting Downton Abbey-themed hen parties, the sprawling farm and visitor centre is also noted for its cultural events and more.
Potential of agritourism
"My father bought the farm in 1964 but it was actually our generation that started the tourism and agritourism end of the business," Deirdre explained.
"From initially hosting a season of primary school tours back in 1998 we've grown to be one of the biggest providers of primary school tours in the country and thousands of youngsters would have come through here.
"In 2005 we started to do our Halloween family event, and in 2010 we started Farmaphobia, which is a scarier event aimed at teens and adults and that has gone on to be our biggest event. In 2007 we began our Causey Christmas experience and that has also become very popular."
Deirdre said that the importance of school tours cannot be overemphasised, especially when it comes to helping urban-based kids connect with their rural past. "For some children they never really get to see places like this anymore, so school touring is important. It's amazing when you see kids who have never been on a farm before respond to the space, freedom and of course the farm animals.
"Equally, overseas visitors who get to learn what it's like to be Irish for a day can enjoy experiences like making brown bread, Irish dancing, playing the bodhran, learning how a bog was formed to seeing sheepdog demonstrations. They are intrigued by what life can be like on an ordinary Irish farm."
Even generations apart, the old experiences of agrarian life in Ireland are very different from the present, which is all the more reason for Causey Farm to preserve these traditions and bring them to life. "Even seeing city teenagers learn how to dance to the Siege of Ennis, it changes their perspective and they enjoy it much more than they thought they could."
Rolling with the changes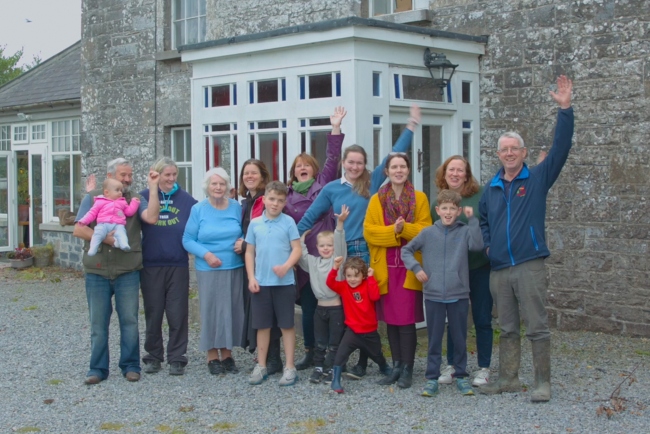 The Murtagh family
It hasn't always been plain sailing for the Murtagh family, with various emergencies from Mad Cow Disease to foot and mouth disease in recent decades making ordinary farming tough.
"The impact of these crises on Irish farming was severe and you had farmers literally reselling cattle for the same price or less of what they paid for them after keeping them for a year. There was no money. So, hosting tours was a way of making a living from the farm. It's not only a money thing of course, because we love welcoming people. It suits our personalities. So, we bring the farm, we bring our personalities to it and it suits us."
The Covid-19 pandemic also hit the farm quite hard with many events last year having to be cancelled and tickets refunded. Deirdre said that business in 2020 fell to around a quarter of what it had been before rebounding during 2021.
However, with characteristic enterprising spirit and support from Bank of Ireland, Causey Farm fought back against the pandemic by developing a new range of experiences from the Causey Ice Cream Adventure to a train ride for little adventurers. "It has been a huge new development for us and something we hope to develop and grow a lot more."
Success and succession
The fact that many of Tom and Lily's grown-up children are involved in the business speaks volumes about what is possible when siblings decide to work together. It certainly changes the narrative on succession.
"We would have our 'discussions', who doesn't? But we work really well together, and we have fun. It's a bit of a family trait. My father and his brother worked well together, and they also had an exit strategy in mind; working as one firm to buy more and better land before splitting that entity. We're conscious of that too and we have made a few firm investments with an eye to the future and looking after each other."
In an era of smartphones and always-on entertainment, Deirdre says the ethos of Causey Farm is about creating a special kind of reset for people of all ages.
And what began as children's education and entertainment has resulted in a year-round flow of people connecting the rural past with their present and future.
"The atmosphere of inclusivity is something that our parents fostered in us and we absolutely love it that people can come here and feel they can do anything – within a busy timetable, of course."
Main image at top: Siblings Deirdre and Matt Murtagh