To meet carbon budget targets, Ireland's agri sector will need to invest in innovation and infrastructure, says head of Agri at Bank of Ireland Eoin Lowry.
There is no doubt that Ireland's farmers are feeling the brunt of the goals set out in Ireland's Climate Action Plan with plans to reduce emissions from agriculture by up to 30pc
While much debate currently centers on the size of the national livestock herd, the Government has stated it aims to have a stable herd rather than a reducing one.
"The stark reality of how we farmed in the past will not be how we farm in the future"
Instead, according to The Sunday Times, Martin Heydon, TD, Minister for Farm Research, said emissions targets in the Climate Action Plan that will be going before Government will be achieved through dozens of new sustainable farming strategies. These could include an earlier slaughter age for beef cattle – from 29 months or 30 months to 22 or 23 months – which it is anticipated will halve the use of winter-feed inputs and cut greenhouse gas emissions because of lower fertiliser use.
Crucial answers and visionary policy will be needed to on the one hand enable Ireland to remain to a large food exporter while at the same time protect livelihoods while expecting farmers to reduce their carbon footprint.
Supporting generations to come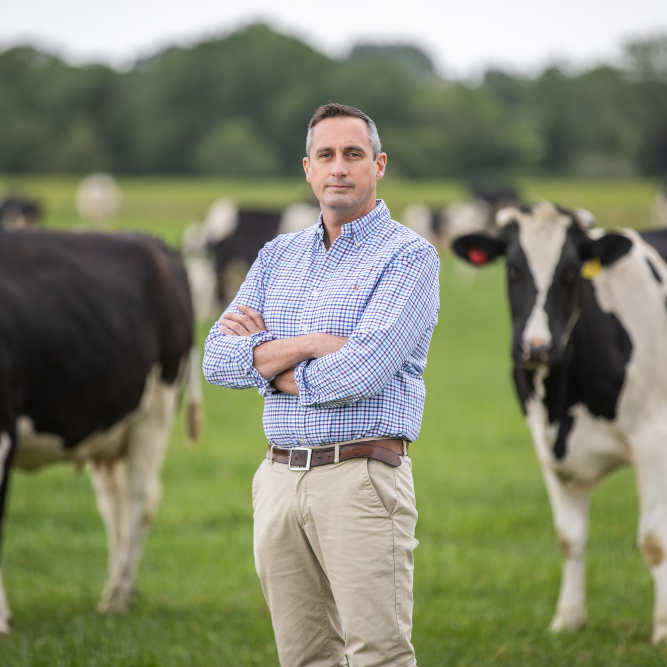 Eoin Lowry, head of Agri Sector at Bank of Ireland
Eoin Lowry, head of Agri Sector at Bank of Ireland said that there is no doubt the sector has a responsibility to improve its environmental impact.
"The stark reality of how we farmed in the past will not be how we farm in the future."
Lowry said that the bank is prepared to work with farmers across Ireland to enable these changes. He said the sector is the largest sector within Business Banking and that the bank has worked with generations of Irish farmers and currently banks more than 40,000 Irish farm families.
"Bank of Ireland has been around for 240 years and agri is our oldest and largest indigenous industry. Every second farmer who borrows money today, does so with Bank of Ireland."
Having engaged with stakeholders in the sector Lowry said the bank is comfortable around its appetite and overall credit policy and risk assessment approach for the sector.
He said that the bank is examining future opportunities for the agri sector, including:
Sustainable Investment: "We would expect to see continued investment in the development of infrastructure that improves the overall environmental sustainability of all farms. Be that slurry storage, Anaerobic Digestion, Low Emmision Slurry equipment, solar panels etc."
Improve productivity and efficiency: "Our belief is that farming will continue to become more efficient as a result of increased environmental regulations. Such as labour-saving devices, use of IT/Data to back up decision making. This will drive productivity and improve cash flows and the economic sustainability of dairy farms."
Investment in renewables: "The aim is to reduce agricultural energy use by at least 20pc and generate at least 20pc deployment of renewable energy technologies by 2030. This will create the need for investment."
Innovation: "Developing technologies likely to come to the market in the years ahead have the potential to deliver further reductions to carbon footprint. We have to put our faith in science to deliver. It has in the past and will do so in the future. For example, there is significant research being conducted at present into methane mitigation measures."
Gov. Supports will fuel investment: "National and EU funded supports to enable the transition to a greener agri economy will likely support investment in the sector in the future."
Lowry said: "This provides us with confidence as to the bank's future outlook and risk appetite for the sector."
He said non-financial metrics (stocking rate, slurry storage, herd genetic potential, fertiliser use etc.) will become more important to lending decisions.
"They have always been a good indicator of financial performance and will remain strong indicators of long term farm sustainability (economic, environmental and financial)."
Through a dedicated team of agri lenders who conduct more than 1,000 farm visits a year, Lowry said the bank will continue to lend with a longer term view and recently partnered with Teagasc on the Signpost Farm Programme to create more profitable and sustainable farms.
"I believe that Irish farmers have a global competitive advantage in producing high quality products that are in increasing demand around the world," said Lowry.
"Irish farmers have faced challenges before and have adapted and overcome them. They will do the same here and we will be there to support them that change.
"While the carbon challenge is real these budgets provide clarity for farmers around the future direction of the sector.
"It allows farmers investing on their farm to consider the impact on their business and provide some certainty as to what is coming down the line and to invest with confidence, Lowry concluded.
Sector Development Insights October 2021 report:
Sector Development Insights October 2021
View
Print