Deloitte Best Managed Companies Award winners 2023 have combined turnover of €17bn and export sales of €3bn and employ more than 53,000 people nationwide.
Eight new businesses have been awarded Ireland's Best Managed Companies accolade at the 15th annual awards programme, led by Deloitte in association with Bank of Ireland.
This year, Deloitte recognised 130 indigenous companies at the awards representing 24 of the 32 counties across the island of Ireland.
"Even though this year's cohort faced into another challenging period, over the past 15 years we've seen how indigenous Irish businesses find opportunities in change"
The network of companies has a combined turnover of €17bn and €3bn worth of exports sales, providing employment for over 53,000 people across Ireland across a range of sectors – from manufacturing and tech to construction and food and beverage.
Strengthening governance
A detailed judging process precedes the recognition, evaluating the entire management team and business strategy. The judges look beyond financial performance at areas such as a company's environmental, social and governance standards, strategic planning and talent strategy, when awarding Ireland's top privately owned businesses.
In addition to the Best Managed Company Award, there are several other award categories with the Family Business Award going to Cork-based food wholesaler and foodservice company Musgrave Group.
"This year we're celebrating 15 years of the BMC programme and the incredible companies that have qualified," said Brian Murphy, lead partner for Ireland's Best Managed Companies Awards Programme at Deloitte.
"Even though this year's cohort faced into another challenging period, over the past 15 years we've seen how indigenous Irish businesses find opportunities in change. Strengthening governance and recognising the value of specialist expert advice on critical areas such as ESG were key discussion points in the coaching sessions. We also saw companies increasingly focused on innovation driving internationalisation. Despite the uncertainties of the past few years, the confidence of Irish businesses is clear as more and more are scaling their market reach internationally."
Resilience at their core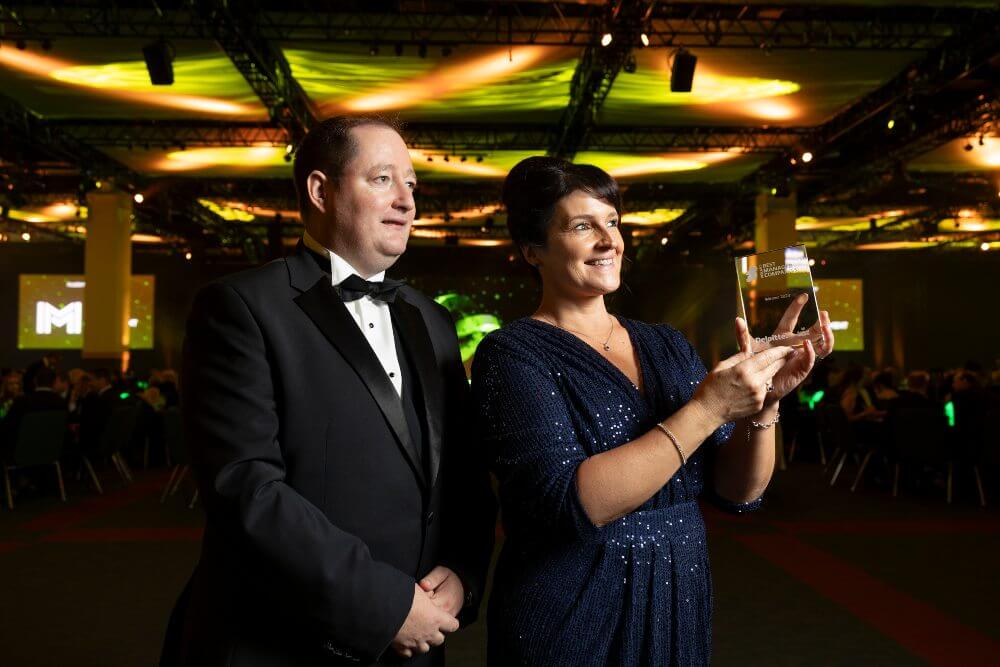 Stephanie Leonard, CEO, Kyte Powertech and Brian Murphy, Partner and Best Managed Companies Lead, Deloitte Ireland. Picture: Jason Clarke
The eight newly qualified companies are: APC Ltd (Dublin), Codex (Dublin), JJ Rhatigan & Company (Galway), Kyte Powertech (Cavan), Lowe Corporation (Antrim), Mail Metrics (Dublin), Production Equipment Europe (Galway), and Topflight Travel Group (Dublin).
"Despite challenging headwinds and uncertainty, the Irish economy continues to perform remarkably well and the contribution that these companies make cannot be understated — providing employment to over 53,000 individuals and contributing €3bn to our export sales," said Minister for Finance, Michael McGrath.
"The businesses showcased here are emblematic of the resilience of our people and the underlying strength of our economic fundamentals."
There were also 112 companies that requalified as a Best Managed Company, five companies achieved Gold Standard, and five companies were awarded Platinum Standard.
"Bank of Ireland is delighted to be the Lead Sponsor of the Deloitte Best Managed Companies Awards for the sixth consecutive year," said Nikki Canavan, senior director and head of Origination & sustainability at Bank of Ireland Corporate Banking.
"Once again this year our judging team has been extremely impressed by the resilience and flexibility displayed by businesses who have successfully navigated the choppy waters of the Irish commercial landscape. These businesses have also integrated sustainable practices into their everyday operations, embracing new challenges and deploying targeted resources as their business models evolve. I want to congratulate every one of this year's winners, especially the 8 new first-time winners, and wish them sustained success into the future."
The members of this year's judging panel were: Frank Ryan (Chair of Judging Panel) and current Chairman of the Board of IDA Ireland; Nikki Canavan, Senior Director at Bank of Ireland Corporate Banking; Feargal Mooney, Non- Executive Director and former CEO of Hostelworld Group; Sarah Murphy, CEO, Business Post; Colm Foster, Director of Executive Education at the Irish Management Institute; Ellvena Graham OBE, Chairman and Non-Executive Director, Ellvena is Chair of the Belfast Waterfront, ICC & Ulster Hall, Chairman of the Economic Advisory Group (EAG) in Northern Ireland, member of Senate & Senior Independent Governor of Queen's University, Non Executive Director Dale Farm, and Chairman Catalyst; Lionel Alexander, Chairman Intact Software, Board Member Fine Grain Property, Board Member at St. James's Hospital Dublin and Chairman Advanced Manufacturing Centre Ireland.
2023 winners
The 9 first-time winners are:
Anthony Nicholas Group
Clarke
Corrib Oil Group
Kefron
Kent Stainless
Kilwaughter Minerals Limited
MTM Engineering
Re-Gen Waste Ltd
RelateCare
The Gold Standard winners are:
Company
Beannchor Group
CMS Distribution
Delmec
Drover Foods Ltd
Gourmet Food Parlour
Insomnia Coffee Company
Northern Hydraulics
SONAS Bathrooms
Walls Construction Limited
WaterWipes
The Platinum Standard winners are:
Company
Combined Facilities Management Ltd
Denroy Limited
Fexco
King & Moffatt Building Services
Learning Pool Limited
Portwest
ROBUS
SalesSense International Ltd
Wisetek
The Requalifier winners are:
Company
2468 Group
Abbey Group
Acacia Facilities Management
Ace Express Freight
Acorn Life
ActionPoint
Around Noon
Barry & Fitzwilliam
BidX1
Burnside Eurocyl
Camile Thai Group
Campion Insurance
Cavanaghs of Charleville
CDE
Clancy Constuction
Cliff House Hotel
Clonakilty Food Co.
CluneTech
Codd Mushrooms Ltd.
Collins McNicholas Recruitment & HR Services Group
Combilift
CR2
Creagh Concrete Products Ltd.
Crest Solutions
CWSI
Dennison Trailers
Digital Marketing Intitute Ltd
Digitalwell
Dowds Group
Eason
EDGE Innovate
Enet
EPS Group
Ergo
Errigal Contracts
ESS Modular
Fitzers Catering Limited
Flynn
Fortus
Frylite Limited
Garveys
GES Group
Glenisk
GSLS
H&MV Engineering Limited
H+K International
Henderson Foodservice
Henry Group (NI) Ltd
Herlihy Supermarket Group Ltd.
Hill Engineering Limited
IITC
Instantor
Irish Dog Food Limited
Joe Duffy Group
Johnson & Perrott Limited
Keltech
Kestrel Foods Limited
KSG Catering Ltd
KTL
Label Tech
LotusWorks
Mac Group
Mainline Group
Mannok
Marco Beverage Systems
McArdle Skeath
McAree Engineering Works Ltd.
McCabes Pharmacy
McCue
Meaghers Pharmacy Group
Modubuild
Modular Automation
Morgan McKinley
MPA Recruitment
Musgrave Group
NCC
NPP Group
Obelisk
Ocuco
Openmind Networks Limited
PEI Surgical
People 1st
PFH Technology Group
Phonovation Ltd
PlanNet21 Communications Ltd
Portview Fit-Out Limited
PRL
ROCHE'S FEEDS
Samco Agricultural Manufacturing Ltd
Seopa
Stafford Lynch
Surecome Network Solutions
TES
The Ard Ri Group
The Braidwater Group
The Brennan & Co Group
The Merrion Hotel
The Mount Charles Group
Toga Group
Totalmobile Limited
Tour America
Triangle
TTM Healthcare Solutions
TVM
Viatel
Wilsons Auctions
Windsor Motor Group
Zeus
Main image at top: Brian Murphy, Partner and Best Managed Companies Lead, Deloitte Ireland with Patrick Murphy, CEO, Codex. Picture: Jason Clarke