Nikki Canavan reflects on six years of Bank of Ireland's sponsorship of the Deloitte Best Managed Companies programme and says the best lies ahead for scaling Irish SMEs.
The hunt is on for Ireland's top businesses as part of the Deloitte Best Managed Companies Awards 2023. The call is for ambitiously-minded Irish and Northern Irish companies across all sectors to apply by Friday 24 February.
The Ireland's Best Managed Companies (BMC) network currently comprises of 136 companies across a variety of sectors, representing 26 of the 32 counties of Ireland. The network of companies has a combined turnover of €13.9bn providing more than 51,000 jobs in Ireland across a range of sectors – from retail and hospitality to manufacturing and construction.
"In our experience, the best management teams have a robust strategy development process which is responsive to changing circumstances – internal and external – and an unrelenting focus on customer and staff"
Applicants to the programme can expect to receive dedicated coaching from Deloitte and the programme's lead sponsor, Bank of Ireland. The application process provides participating companies with the opportunity to analyse their entire business, including performance, management practices and goals, which is a vital exercise for any company.
Hallmarks of winners
Last year's programme saw nine newly-qualified companies including Kefron, Clarke, MTM Engineering, Relatecare, Kilwaughter Minerals, Kent Stainless, Re-gen Waste, Anthony Nicholas Group and Corrib Oil Group. There are also a number of special award categories with Cork-based EPS Group awarded the Family Business Award in association with the Family Business Network and Carlow-based Delmec winning the Best in Innovation Award in association with Salesforce. Ten companies achieved Gold Standard requalifying for their fourth consecutive year while nine were awarded Platinum Standard, requalifying for their seventh consecutive year.
This is the sixth consecutive year that Bank of Ireland has supported the BMC process as lead sponsor, says Nikki Canavan, Senior Director, Bank of Ireland Corporate Banking.
"Given our position as the leading Corporate and Business Bank in Ireland, when asked to come on board by the team at Deloitte it was an easy decision. The BMC process is first and foremost about recognising and supporting the future growth of great Irish businesses and in particular the management teams that build, develop and scale them. The application process promotes many key behaviours that my colleagues and I in Bank of Ireland see in the most successful businesses that we work with in Ireland. For us, BMC is about more than the title of lead sponsor, it provides the opportunity to add value, alongside our Deloitte counterparts. The coaching process is immensely rewarding, with over 40 of our most experienced lending professionals participating each year."
Adaptable strategy and teamwork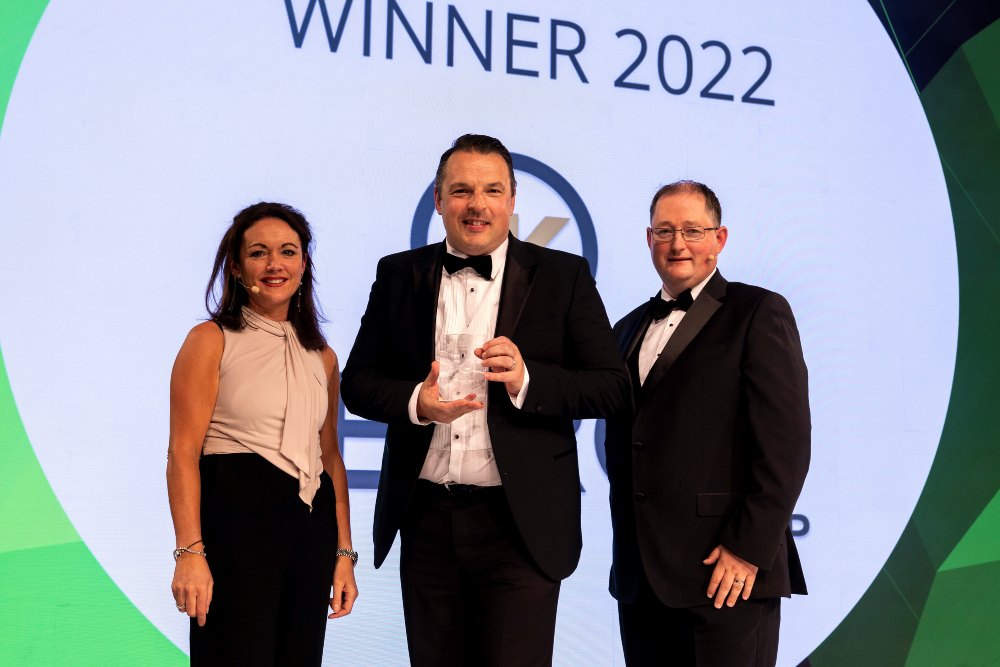 Pictured: Nikki Canavan, Senior Director, Bank of Ireland Corporate Banking; Paul Kearns, CEO, Kefron; and Brian Murphy, Partner, Deloitte
When interviewed for the ThinkBusiness Podcast recently Brian Murphy, the Deloitte partner in charge of the BMC programme, emphasised that successful businesses in the programme are characterised by strong leadership teams who coalesce around a strategy flexible enough to adapt to changing circumstances. "We've seen in the economic crises over the last two-to-three years going from Covid-19 to the Ukrainian War and everything that's coming out of that, the adaptability of a business's strategy is important. Being able to adapt very quickly to ever-changing economic situations," he said.
Canavan agrees: "For me, a best managed company starts with the approach to strategy. In our experience, the best management teams have a robust strategy development process which is responsive to changing circumstances – internal and external – and an unrelenting focus on customer and staff.
"Fundamental to strategy is ensuring that the business has an appropriate financial structure – with the flexibility to support the strategic ambition of the business
"A best managed company must strive to develop a positive, inclusive and supportive culture with appropriate governance. Culture is set and must be exemplified by the management team, who are responsible for ensuring that these values permeate all aspects and levels in the company.
"Finally for me, is of course the ability to innovate, to change with the times, be those innovations in technology or the migration to more flexible work practices, as demanded by the Covid Pandemic, or of course the very required and critical transition to more sustainable business models
"At Bank of Ireland we are hugely committed to the green transition, increasing the value of our Sustainable Finance Fund to €5bn by 2024 and having aligned our lending practices with the Paris Agreement by setting science based targets across portfolios and operations."
Canavan said that through the programme she and her team have been consistently amazed at the resilience and flexibility of best managed companies to adapt to the changing landscape over the last three years in particular.
"From the rapid pivot to remote working way required for many sectors during Covid, ongoing Brexit concerns and the disrupted supply chains and cost inflation in the wake of the terrible war in Ukraine, the drive, determination and resilience shown by business leaders across all sectors has been incredible to see up close. Whilst much has been done to successfully navigate these choppy waters thus far, uncertain times remain and Bank of Ireland remains ready and willing to support Irish SMEs in whatever way we can as we move into 2023 and beyond."
Sustainable business
Canavan said that the key to any business growing and scaling successfully in the current climate is doing so in a sustainable way.
"This is done by ensuring that teams are appropriately resourced and supported as they take on new and expanded challenges, by promoting diversity of approach and background, particularly at senior leadership level, and most importantly that the business has sufficient resources and flexibility in their operational and financial models to meet whatever challenges they may face. We remain committed to the SME and Corporate community, willing to support businesses with a full range of supports, from term and working capital facilities, asset finance and invoice discounting, treasury risk management solutions and much more."
In conclusion, she said that she and her team are looking forward to collaborating with businesses that qualify for this prestigious programme.
"I am very excited about the opportunity to participate in the judging panel for the 2023 process, the quality of applicants is always uplifting. I know the Bank of Ireland coaches are similarly getting revved up to engage with both requalifying companies and to support new applicants in the application process.
"I wish everyone success in the programme and encourage those of you thinking about applying to do so – there is a great Deloitte and Bank of Ireland team ready to support."
For further information and details on how to enter the awards, visit www.deloitte.ie/bestmanaged. The closing date for Phase 1 entries is Friday, 24th of February. Companies that progress to Phase 2 of the application process will be notified in March, with the winners to be officially announced at the annual Gala Awards September 2023.