Podcast Ep 154: Ireland's primarily SME economy has a prerogative to scale up, but it can only do so through excellence in teamwork, strategy and execution says Deloitte partner Brian Murphy.
The hunt is on for Ireland's top businesses as part of the Deloitte Best Managed Companies Awards 2023. The call is for ambitiously-minded Irish and Northern Irish companies across all sectors to apply by Friday 24 February.
Now in its fifteenth year, the programme which is sponsored by Bank of Ireland, celebrates the hard work, passion and tenacity of indigenous businesses and their management teams.
"We've seen in the economic crises over the last two-to-three years going from Covid-19 to the Ukrainian War and everything that's coming out of that, the adaptability of a business's strategy is important. Being able to adapt very quickly to ever-changing economic situation"
The Ireland's Best Managed Companies network currently comprises of 136 companies across a variety of sectors, representing 26 of the 32 counties of Ireland. The network of companies has a combined turnover of €13.9bn providing over 51,000 jobs in Ireland across a range of sectors – from retail and hospitality to manufacturing and construction.
The hallmark of a Best Managed Company
Spearheading the programme is Brian Murphy, Deloitte's partner in charge of the Best Managed Companies programme who talks to the ThinkBusiness Podcast about what it takes to be a Best Managed Company. He also talks about the economic outlook for 2023, the war for talent and how successful businesses adapt strategies based on their external environment.
I begin by asking Brian what is the hallmark of a Best Managed Company. "It's a company that has firstly an extremely capable senior leadership team and I emphasise 'team' as opposed to a person. It's a really strong leadership team who are then driving a well-developed but adaptable strategy.
"We've seen in the economic crises over the last two-to-three years going from Covid-19 to the Ukrainian War and everything that's coming out of that, the adaptability of a business's strategy is important. Being able to adapt very quickly to ever-changing economic situations.
"And then there are the companies that are constantly innovating. What distinguishes companies in the programme is that they may be doing something that from the outside looking in seems very straightforward but it's how they are innovating what they do, how they produce their products and set up their services. Or maybe it's how to innovate in and around how they're running their businesses.
"And I think underlining all of that is really the people. And it's about the capabilities and the commitment to the people within the organisation."
Murphy joined Deloitte five years ago and has more than 14 years of experience providing audit and advisory services to a wide range of business sectors, including retail, manufacturing, construction/real estate, engineering, hospitality and technology sectors. His portfolio consists primarily of large privately owned businesses, both family and private equity backed. Brian also lectures and presents extensively on a range of topics including audit, financial accounting/reporting and finance on behalf of Chartered Accountants Ireland. He is past Chair of Chartered Accountants Ireland Leinster Society and is the current Chair of CA Support.
I put it to Murphy that business publications and magazine covers have a tendency to propagate the 'myth of the CEO' that successful companies are all about visionary Steve Jobs-like visionaries at the helm.
When it comes to Best Managed Companies, he emphasises it is about the management team.
"The majority of businesses in the programme are family-run businesses. So the starting point might have been a CEO. But I think it's wider than that, it's about the collective of senior leaders across the company who all share in that vision and share in the development of that strategy. And what we certainly have seen is the businesses where everyone has committed and is involved in the strategy-setting and everyone takes ownership of that are the companies who perform extremely strongly.
"We have four pillars of how we measure and evaluate companies, and certainly under that particular pillar we see extremely strong businesses where the collective of the group is coming together and formulating the strategy. Most importantly for us is how they are monitoring that strategy, how they're assessing it and how they're making sure that there are measurable points there."
The four pillars of the Best Managed Company programme are: Strategy, Culture and Commitment, Capabilities and Innovation and Governance and Financials.
That scaling imperative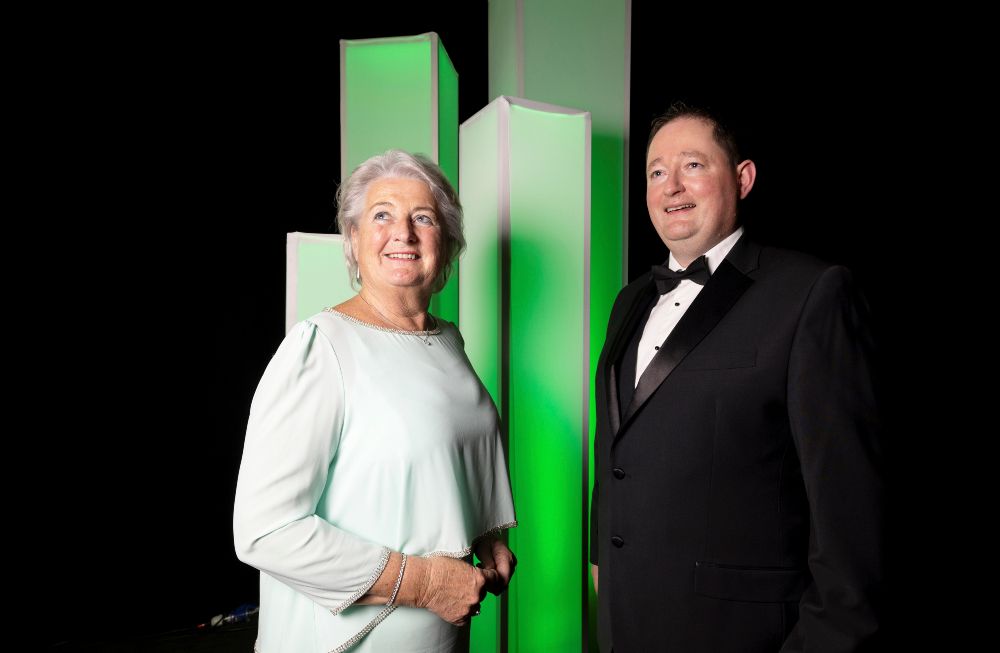 Colette Twomey, Managing Director, Clonakilty Food Company and Brian Murphy, Partner, Deloitte pictured at Ireland's Best Managed Companies awards ceremony last year. Picture Jason Clarke
The scaling imperative is close to the hearts of businesses that undergo the Best Managed Companies programme. "Companies we've talked to and that are interested in the programme are probably at a place where they've done as much as they can in the Irish market and want to embark on that journey of internationalisation.
"They certainly see the benefits of the programme in terms of the support they get through the coaching process. Because, as you become a Best Managed Company, or become one of the new entrants to the programme, we assess you, we assign a coach from Deloitte, but also the brand of having Best Managed Company linked to your company, it has certainly aided and helped when companies have gone international. It helps when they are talking to suppliers or potential customers because of the recognition.
"When we look at the strategy pillar of the programme, we are certainly looking for companies who are thinking of scaling or who have already started to scale. Because they tend to definitely be the companies that under the other pillars, for example around governance, around culture, around innovative, they all tend to fit in with a company who is on that journey."
Murphy emphasises that joining the programme isn't a box-ticking exercise. The idea is that companies continue to requalify for the hallmark.
"Our experience has been over the past 15 years that companies have seen the benefits of being part of the programme and have continued to requalify. Interestingly, last year was probably the first year we had a large cohort of companies who didn't actually meet the qualification criteria only for the reason that they've actually been bought out by multinational companies.
"This is extremely positive for the programme because investors are actually looking at companies within the programme. In one year we had 11 companies who were bought out or invested in internationally. Which is an accolade in itself."
For further information and details on how to enter the awards, visit www.deloitte.ie/bestmanaged. The closing date for Phase 1 entries is Friday, 24th of February. Companies that progress to Phase 2 of the application process will be notified in March, with the winners to be officially announced at the annual Gala Awards September 2023.
Our podcast series is available on ThinkBusiness every week but also on our channels and via mobile apps on Spotify, SoundCloud, Stitcher and Apple.