Podcast Ep 96: Huckletree co-founder Andrew Lynch on growing the Irish start-up ecosystem and Dublin's future as a European capital of tech.
Andrew Lynch co-founded the Huckletree empire with Gabriela Hersham in the UK in 2014, building it into a major hub for scaling tech companies in hyper growth sectors. It has grown to support more than 3,000 members in more than 300 organisations across Ireland and the UK., including 75 in Dublin.
Lynch had graduated with a degree in quantity surveying from Waterford Institute of Technology in 2009 just as Ireland's property crash was gathering momentum. He moved to London to work for a while in private equity and venture capital investment before he and Hersham saw the opportunity to create co-working spaces ahead of an explosion in tech start-ups and entrepreneurship.
"One of the easiest solutions is to ensure that the capital being raised early on is Irish capital. Some of the bigger funds in Ireland are now looking at the seed capital stage and looking at how they can vet, incubate and mentor founders"
Huckletree has emerged as a vibrant hub for scaling tech companies in hyper-growth industries including fintech, SaaS and AI. The business now has five locations. As well as Dublin, it has a space in Manchester and four spaces in London (Soho, White City, Westminster and Shoreditch).
Lynch talks about Dublin's future as a European Capital of tech, Huckletree's development plans for the year ahead and the role of co-working spaces as we move towards a hybrid work future.
He reveals how Huckletree's business has reached a pivotal point as of late. In less than two months, Huckletree has had 20 companies join its shared workspace in Dublin including Tines, Kinzen, CircleRock Capital, SegmentStream, Yapstone and CaliberAI to mention a few – bringing their total number of fast growth tech companies to 75.
Keep scaling
Huckletree's coworking enterprise has plans to grow its footprint in the capital city over the next three years as the global trend towards shared workspaces continues.
The company's growth ambitions have accelerated in the past 24 months. Because of this trend Huckletree is seeing across its markets toward a flexible approach to workspace and the growth rate of 35% from September to December.
Lynch credits this to the growing tech scene in Dublin, having recently been named the second most innovative city in the EU's European Capital of Innovation Awards.
"The genesis behind Huckletree was this boom in late 2014 of the entrepreneurial ecosystem in London. Our CEO (Gabriela) had just come back from New York where she had worked out of a co-working space. She said 'there's probably a better way to do this. I wonder how we could do it.'"
He said that the business has gone from strength to strength. "The genesis really was about trying to help entrepreneurs and founders scratch that itch and get out of the corporate world and have a place and community for them to do that."
Lynch describes the foray into Dublin as a big success story for Huckletree since opening in the Academy Building on Pearse Street in 2018.
"We typically try to focus our member base on specific themes or sectors where we think there are lots of synergies and ensuring there's the right kind of curation fit. Our hub in Westminster has lots of govtech businesses, White City is beside the BBC headquarters so its very much focused on media and fashion. Dublin is very much focused on the innovation ecosystem."
He explained that as well as entrepreneurs, the Huckletree building on Academy Street is also a hub for large global enterprises entering Ireland, including Silicon Valley Bank, Starling Bank and other businesses growing their footprint in Europe such as global tech recruiter Nine Dots.
A practical MBA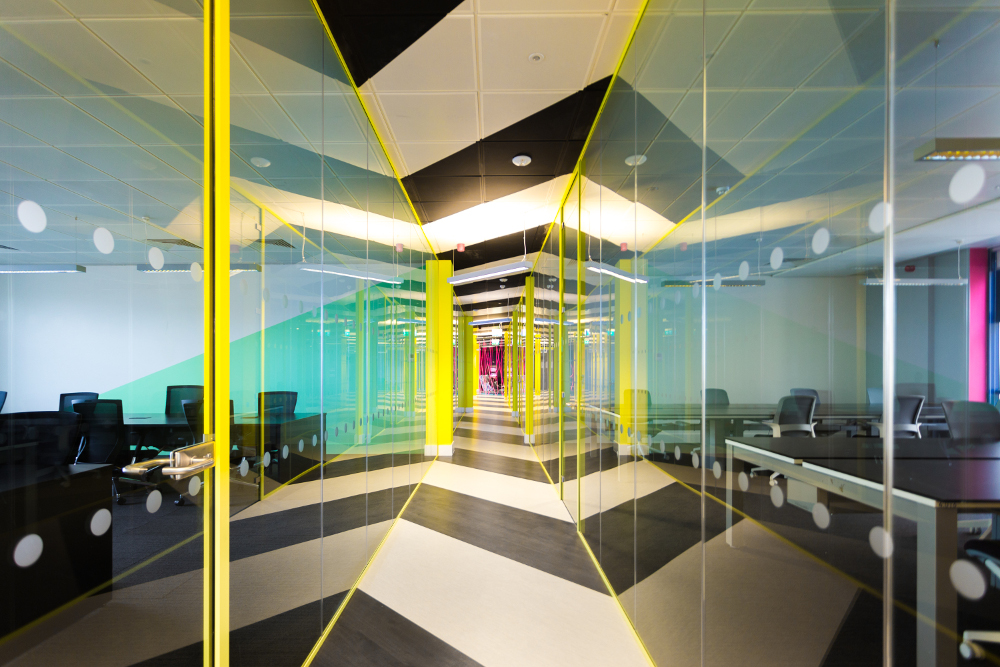 Huckletree offices in Dublin
No doubt the chilling effect of the Covid-19 pandemic in March 2020 gave Huckletree's founders some pause for thought. "In the very early stages of the pandemic sentiment was incredibly negative around travelling and the guidance was to just work from home, full stop. During that period it was like selling ice in a snowstorm, it was incredibly difficult.
"But then again we learned a huge amount in the last two years, a practical MBA if you will."
Lynch pointed out that despite the pandemic, Ireland's tech industry has been growing and raising venture capital along with global headwinds, which meant that there were still plenty of opportunities for Huckletree.
"Our biggest thing was to batten down the hatches early on and really spend the time looking at our business model, looking at our product and our member base. Our biggest ambition was to remain open, remain as accessible as we possibly could, especially for the people who could not work at home.
"We have had quite a decent amount of footfall because people just had to get out of the house and they needed to go somewhere. There are customers who work at large tech companies who, out of their own pockets, took flexible space during the pandemic because they fundamentally were not allowed into their own buildings and they had to go somewhere."
Huckletree residents like Tines and Kinzen are among Ireland's latest generation of digital scale-ups. Across Ireland there is a growing coterie of digital-first indigenous businesses and Dublin city itself is home to six unicorns now – Fenergo, Intercom, LetsGetChecked, Flipdish, Workhuman and most recently Wayflyer – not to mention the Collison brothers' $95bn business Stripe which is creating 1,000 jobs in the city.
As well as this global multinationals from Facebook to LinkedIn, Microsoft, Airbnb and Twitter have their European headquarters in the city.
A capital issue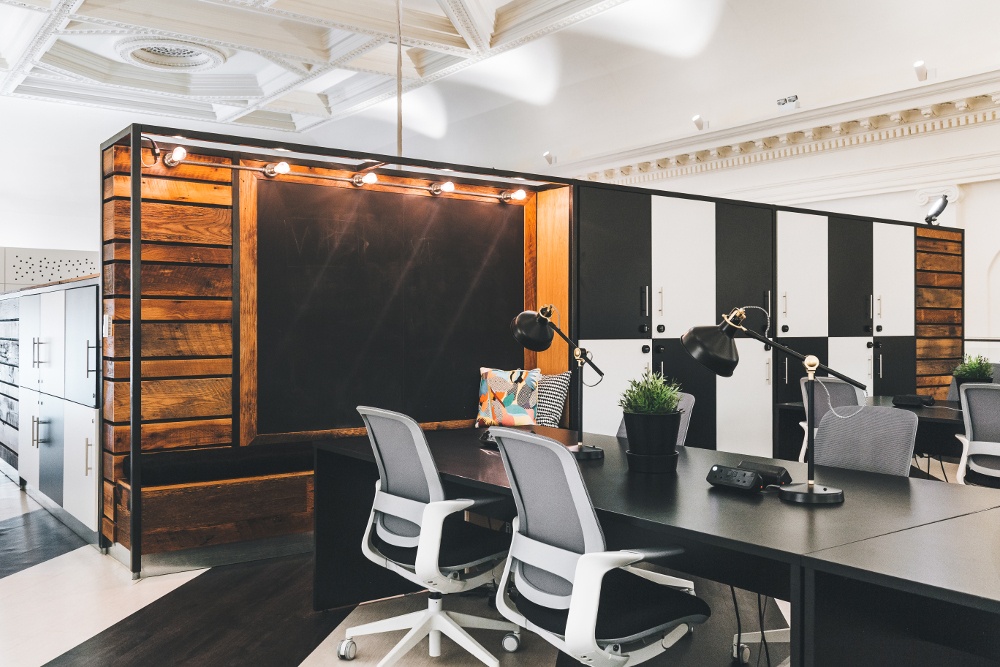 Huckletree offices in Dublin
Lynch says that all of these add up to Dublin having the credentials of being one of Europe's tech capitals, despite its diminutive size compared with Berlin, London or Paris. So, what's stopping us from reaching the pinnacle?
Lynch believes the seed funding issue needs to be tackled. He is on the advisory committee of the new €75m early-stage fund being established by Elkstone, an early investor in Flipdish and LetsGetChecked.
"One of the easiest solutions is to ensure that the capital being raised early on is Irish capital. Some of the bigger funds in Ireland are now looking at the seed capital stage and looking at how they can vet, incubate and mentor founders."
He says a key turning point is possible with the "great resignation" as people who are in long-held positions crave change, challenge and opportunity.
"I personally know a lot of people who work in big tech companies in Ireland who are looking to scratch that entrepreneurial itch and have used that time where they were not commuting to find solutions."
He believes Ireland from a policy perspective needs to make it easier for people to establish businesses. "We consider ourselves the glue to the infrastructure behind those elements of the start-up ecosystem, bringing people together who empower that. The likes of Republic of Work in Cork, Porterhouse in Galway and our friends over at Dogpatch, we're all doing our best to make it easier, putting together the connections and the funding and the technology and the resources to make things easier for people to set up and stay, but it really takes the founders and entrepreneurs to take the leap."
Looking to the future Huckletree is in expansion mode and Lynch says he is looking at other buildings around Dublin. A recent partnership with NoCo gives Huckletree members access to other co-working spaces around Dublin and across the country.
"From our own space perspective there's a huge amount of digital innovation in security, SaaS, fintech and AI (artificial intelligence). These are not speculative businesses that might pan out after a number of years. These are really solid, sturdy businesses founded by people who know what they're doing and have experience. These are not 18 or 19-year-olds who are rolling the dice after raising millions. They are actually cash-generative businesses that deserve the status and everything they get.
"From our perspective it's always about making sure that our member are getting as much out of us as they can and we're giving as much back to them."