Monaghan solar business Activ8 Energies has grown to 200 staff and is on target to reach a €50m a year turnover. A finalist in the EY Entrepreneur of the Year 2023 awards, founder and CEO Ciaran Marron talks about how the Carrickmacross business has gone from strength to strength.
Between them the 29 people representing 24 companies who are on the shortlist for the 2023 EY Entrepreneur of the Year awards employ 5,000 people and generate revenues of more than €700m per annum. The overall winners will represent Ireland at the World Entrepreneur of the Year Awards in June 2024.
A finalist in the established category of the awards, CEO and founder Ciaran Marron built the business from the ground up as a young electrical engineer at a time when Ireland was in the depths of a recession.
"We realised that in the residential market there was no one in Ireland doing this. There were few incentives and I was wondering why aren't we exploiting this?"
The company has grown to become the largest supplier of solar PV units in Ireland and last year announced 200 "green" jobs as SSE Airtricity came on board as a 40% shareholder, with an option to buy another 10% after two years. Activ8 has moved into a new 20,000 sq ft facility in Carrickmacross, which is understood to be the most energy-efficient commercial premises in Monaghan and the first NZEB standard (almost zero energy) building to obtain planning permission in the county.
Shining bright
Activ8 Energies is a pioneering solar energy company that has been leading the nation's transition to sustainable energy since 2007. With thousands of installations across the country, they are renowned as Ireland's solar experts.
The business provides comprehensive solar solutions, including site assessment, system design, installation, and ongoing support. By harnessing the power of the sun, their solar panels enable customers to minimize reliance on fossil fuels and contribute to a greener future. With a focus on innovation and research, Activ8 Energies stays at the forefront of solar technology.
It is understood that more than 56-gigawatt hours of energy are produced each year from Activ8 Solar systems; this is equivalent t to the energy required to power over 13,400 homes. The business has 5-megawatt hours of battery storage fitted across Ireland and more than 115,000 solar panels installed. Commercial customers include the HSE, Irish Water, Glanbia, Intel, Microsoft, Veolia and several large-scale pharmaceutical plants.
Speaking with ThinkBusiness and fresh from the company's staff sports day, Marron explained that the mission is to empower homeowners and businesses to generate renewable electricity and reduce their carbon footprint.
Asked about being a finalist for the Entrepreneur of the Year awards, Marron appears to wonder where it all went right. "We're all winners. It's fantastic to get nominated and it was a big surprise. Becoming a finalist is winning in itself. Everything has to be right, especially your finances. So just to be in the mix with the best entrepreneurs in Ireland and the world is winning already."
When the business began in 2006 from a small bedroom office, solar panel technology was rudimentary and sufficient for heating water compared to now with panels yielding up to 600 watts of energy that can stored or sold back to the grid. "What has really advanced is the technology and the energy you are getting per square meter is phenomenal."
Spark of genius
Marron came out of college in 2000 just as the dot-com bubble had burst and despite being qualified as an electronic engineer, jobs were scarce. He managed to sign on with an electrical contractor and was exposed to the nascent field of solar which at the time had a business case of getting a house at most its hot water for free.
"We realised that in the residential market there was no one in Ireland doing this. There were few incentives and I was wondering why aren't we exploiting this?
The technology was also improving and Marron hammered out a deal with an OEM (original equipment manufacturer) in the UK. As the recession and housing downturn took hold, he took on electricians and plumbers and had them put flyers in the doors of newly built homes, mostly in the north-east. While at first it appeared to be a bleak time to be starting in a business, Marron and his colleagues were almost instantly in high demand.
Within four years the team had expanded into the solar PV market in Northern Ireland and by 2017 its largest commercial deployment was the SSE Arena in Belfast.
Marron explained that when the business was getting going the financial downturn was in full swing and despite this people were willing to take a chance on solar technology and word spread. This coincided with greater awareness of the climate crisis and a curiosity about generating electricity and selling it back to the grid. It was a perfect storm.
"The initial products we used to install were known as a wet system, with water and antifreeze within, and it was for heating hot water only.
"But if you take photovoltaic (PV) technology we can be more efficient and do more with the electricity. When we started you could get 14% efficiency per square meter, today it is up to 22%."
Activ8 employs 200 people today and Marron predicts that this will reach 300 by the end of next year. In terms of revenues, the business is on target to generate a €50m turnover this year.
Entrepreneurship is in the blood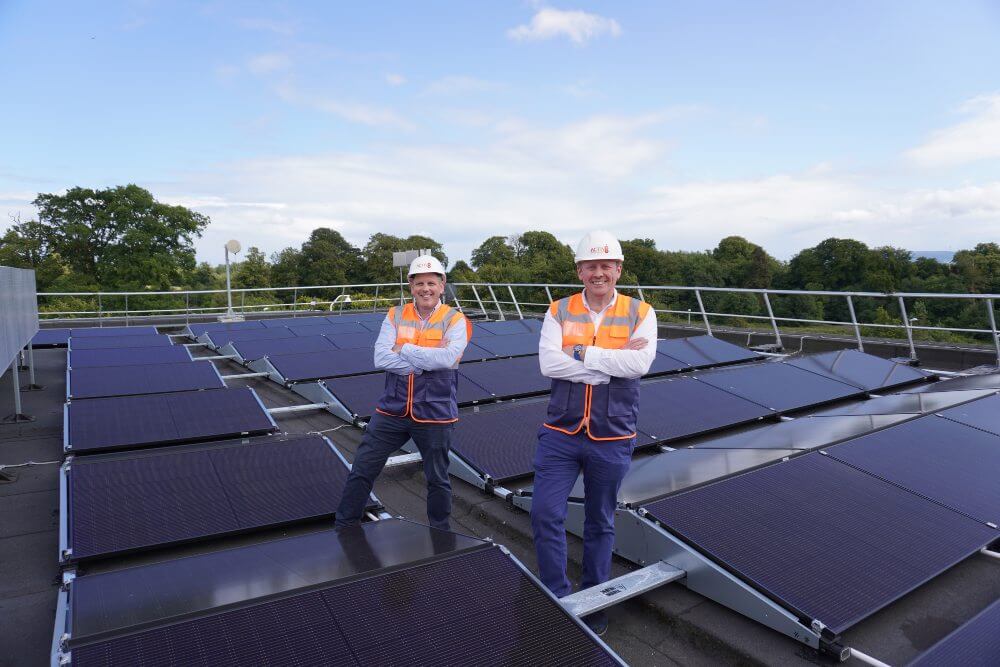 Ciaran Marron (right) CEO Activ8 Energies, with Senior Project Manager, Paul McCabe, conducting a recent site handover at Connolly Hospital, Dublin
Entrepreneurship and engineering runs in the family. His father is still in business after 50 years making metal machines and is only thinking about retiring. "I learned everything from him since I was 12 when I'd be drilling and installing metal machines while I was in secondary school.
"I wasn't brilliant in school, I didn't love it, and I actually wanted to go into my father's business. But he wasn't having any of that. He said, 'you know what, the business will still be there, hopefully forever, but I want you to go to college, even for just one year. And if you don't like it you can come back and work in the business and take it over one day. And if you like college, well then you found something different.'"
Marron's academic stars shone strong enough for him to secure a university place in Limerick studying electronic engineering. It also shone bright enough for him to win a bursary that required him attending a further two or three years. "By year three you could say I was very happy and I was focused a lot on product development."
Entrepreneurship came naturally to him when it came to establishing Activ8. "You could say it's in the blood. My brother is very entrepreneurial too. We've always been very business-oriented. We are hard workers and we get things done."
As the largest solar panel player on the island and with the support of SSE Airtricity, Marron says the business has enough wind behind its sails to expand and grow. "We've won a number of contracts in the UK, particularly in Scotland and England. So that's a big step for us. A few small meetings around a single project has resulted in more than 160 projects over four years.
"Our plan is to partner with local businesses in the UK market and grow our footprint there."
But it won't just stop at the UK. "Our strategy now includes Europe. We want to be in Europe in 2027. The UK is growing and Ireland is an ever-evolving market, it grows substantially year-on-year and will continue to grow. The energy crisis has probably done us a lot of favours where people who had been on the fence about investing in solar believe it is worth investing in. We will probably do five times the amount of commercial we did last year."
Setting standards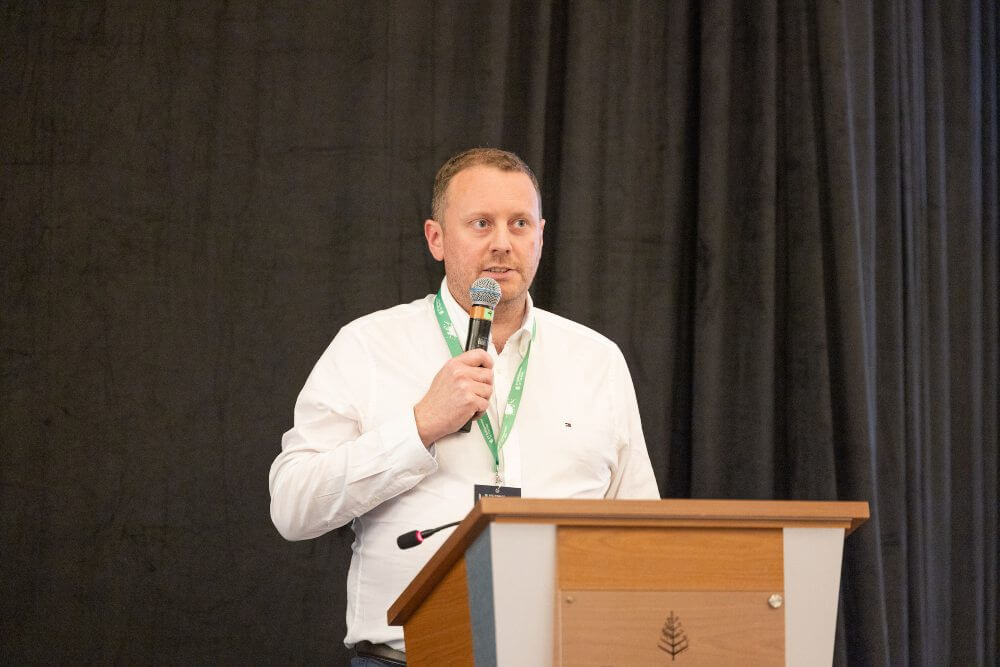 If there are challenges to the business it is ensuring sufficient numbers of electricians, roofers and plumbers can be recruited. The answer, Marron says, is training. "We have developed our own in-house academy where we train specialists and once they pass the required exams we put them on the road."
But standards have to be kept high. "We don't just meet standards, we set them. You have to have high standards because getting someone to put something on their house – the biggest investment of their lives – has to be done right."
Marron illustrates this by pointing out that almost a quarter of all business comes from referrals.
"Every thing we do is concentrated on customers. We have to bring customers on that journey from the education piece to the install and to be there for the service and warranty work afterwards," he concludes.
"We monitor this closely and keep our customers at the heart of what we are doing. They are key to the journey and for everything else that follows."