Podcast Ep 38: Barry Kennedy from Irish Manufacturing Research reveals how Ireland is in pole position to drive the future of manufacturing. But only if it stays on top of technology; otherwise it is a ticking time-bomb as other nations endeavour to overtake.
One of the unsung heroes of Ireland's transformation from the once 'sick man of Europe' to one of the wealthiest small countries on Earth is its manufacturing sector. The country missed out on the industrial revolution of the 19th century, was an economic backwater for much of the 20th century but thanks to key policy changes around economics and education the results speak for themselves. Ireland's prowess at winning at FDI is extraordinary – 9 out of the world's top 10 pharma firms, the top 7 global tech firms and the top 5 global software companies, not to mention various data centres and fintech operations. This is not to mention a strong and focused indigenous export sector that punches above its weight in areas like food, software, medtech and more.
Ireland is also home to a growing, globally focused tier-1 manufacturing sector Barry Kennedy of Irish Manufacturing Research (IMR) reminds me as I rattle off the various plaudits. From offices in Rathcoole, Co Dublin, and a repurposed 35,000 sq ft Imperial Tobacco site in Mullingar, Westmeath, IMR is inventing the future of manufacturing in Ireland. The latter site is festooned with 3D printers, robots and even cameras that whir along the length of an entire jet airplane wing. As I studied this concoction of tech I learn that yes it is possible to 3D print metal.
"I think manufacturing has a very bright future in this country"
Funded by the Irish Government, locally-based manufacturers and various funding streams including EU grants, IMR took a seed investment of around €25m and has already delivered a return on investment of €50m forecast to rise to €200m by 2023. IMR works with at least 63 companies of which around half are multinational and the other half indigenous manufacturers.
Made in Ireland
"Our role is on behalf of manufacturers here on the island of Ireland and to try and do what we can to help them become the most productive, most efficient manufacturing facilities in the world and make Ireland a continually attractive place to set up and keep these advanced, highly-skilled manufacturing jobs," says Kennedy, a former manager at Intel
"Our motto is to 'demystify risk and deliver emerging technologies for manufacturers'."
Kennedy and his team of highly-skilled researchers accomplish this by future-proofing new methods and systems and ensuring Ireland can stay one step ahead of rival locations like Shenzhen in China or South Korea or Malaysia whose vast workforces dwarf that of Ireland, cost less and are always pushing the boundaries of technology.
So how can a location like Ireland with a smaller population base and higher salaries compete? The answer is technology.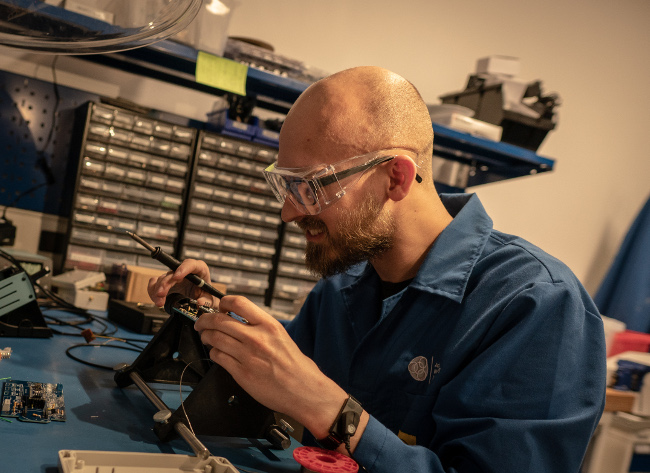 "There will always be a battle. We simply don't have the numbers or cost base that [South] Korea would have."
Leaders of Ireland's manufacturing enterprises are all too aware of this tension and competitive threat and IMR owes its origins to senior leaders from leading tech and pharma firms meeting one day at a hotel in Portlaoise to get behind the idea of creating a technology centre aimed at keeping Ireland at the forefront of manufacturing.
"The passion of these companies that came to the table. They really did want to wear the green jersey."
Kennedy believes Ireland holds some ace cards. "They [Asian countries] do have an advantage over Ireland in that they do have scale, the size of these countries is enormous. However, they also have problems in that their labour costs are rising fast because they have higher skilled workforces. However, we [Ireland] have a significant advantage in our science. And being small isn't necessarily a bad thing."
Kennedy cites companies like Intel that are leading the vanguard in terms of 14-nanometre chips and making Ireland the leading producer globally of these systems as well as medtech players like Johnson & Johnson as well as Regeneron and Pfizer that are doubling in size in response to the Covid-19 challenge.
IMR, which currently employs 70 people and plans to increase this to 120 in the coming years, also played its part in rising to the pandemic challenge by manufacturing its own low-cost ventilators in collaboration with MIT that can be used in third world countries as well as PPE equipment like masks, face shields and bands for hospitals in Mullingar, Kerry and Dublin.
The Industry 4.0 revolution will be localised
Kennedy and his team have their eyes on the post-Covid-19 world, a world where manufacturing supply chains are going to be shorter as brands respond online and in real-time to higher customer expectations. If anything this could serve Ireland well in terms of its proximity to Europe and its position as the only English-speaking nation left in the EU after Brexit.
"Products that would have traditionally been manufactured in Asia are being manufactured on the island of Ireland since Covid-19 kicked in." Kennedy cites future fashion and sports industries as an example of this change where consumers will require bespoke trainers based on their gait analysis that will be produced via 3D printers and delivered within days rather than weeks.
"The same will be true of the medical device industry. If you need a hip replacement, a part should be produced via a 3D metal printer specifically to your measurements after being scanned rather than rough sizes as they are today.
"In the future, the likelihood is manufacturing will become localised to where it is needed."
And you can be damned sure if Kennedy has his way, Ireland will lead this charge.
"I have absolute confidence. It starts with the people. Genuinely the skillset and the talent that we have here and the whole manufacturing base is phenomenal."
The whole ethos and perception of what manufacturing is about has changed in Ireland, according to Kennedy.
"People used to say 'who would want to work in manufacturing, it is a sweat shop. But if you look at manufacturing facilities in Ireland today many are like something from a James Bond movie with advanced robots and people walking around in cleanroom gear. I think manufacturing has a very bright future in this country."
ThinkBusiness launched a new way of sharing business stories featuring a wonderful mix of entrepreneurs and business leaders shaping the future. Our podcast series is available on ThinkBusiness every week but also on our channels and via mobile apps on Spotify, SoundCloud, Stitcher and Apple.
By John Kennedy (john.kennedy3@boi.com)
Published: 27 November, 2020