As sentiment to 'buy Irish' and 'shop local' this Christmas accelerates, you could not do better than to check out a natural cream liqueur called Coole Swan.
Mary Sadlier, who with her husband Philip Brady, manages the Coole Swan business, hails from Navan in County Meath. They have assiduously remained faithful to the original Coole Swan recipe, maintaining it exactly as its original creator Adrian Walker made it back in 2007.
This dedication to quality in a changing world has been a hallmark of Coole Swan's progression.
"We are the only Irish cream liqueur that would use full Irish natural cream. Natural cream is only 4pc of the cow's output"
Today they have a growing export business, highlighted by Coole Swan's achievement as a top seller in the UK's prestigious John Lewis chain of stores. And in addition to progress in the UK, the brand has been added to the shelves at Dunne's and Tesco in Ireland. They are only getting started
Coole Swan's excellence lies in its ingredients: pure, natural Irish cream, single malt Irish whiskey and Belgian chocolate. Unlike other creams, it proudly parades these ingredients on the bottle.
In November 2020, 'Made only in Ireland' Coole Swan achieved a major international accolade. It was endorsed in the influential Wine Enthusiast's taste panel in New York, where it was voted the best cream liqueur in the US. It was thus described: "A milky appearance and bold white chocolate aroma mark this luxe sipper. The light, frothy palate layers vanilla buttercream, cocoa butter and white chocolate, exiting with a pleasing minty exhale and a warming alcohol kick. Made with Belgian white chocolate and single malt Irish whiskey."
The pinnacle of quality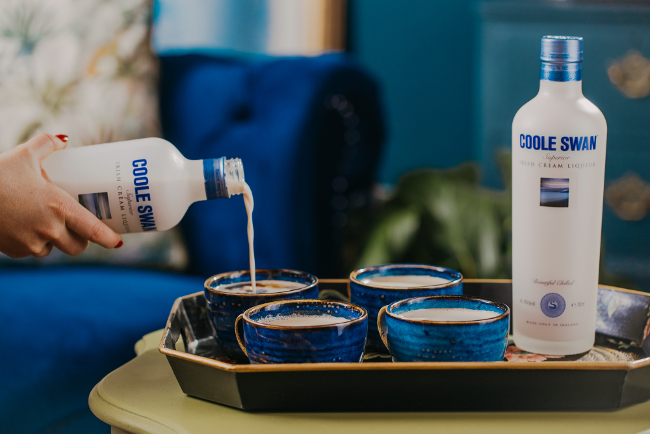 "We envisage Coole Swan as the future of Irish cream liqueurs"
Soon after its launch in 2007, Coole Swan was winning awards on the international stage. It won the 'Best of Show Liqueur award at the 2009 San Francisco World Spirits Competition. It was the first ever cream liqueur to receive this coveted award and was also bestowed a Double Gold medal for excellence.
Distilling excellence
Asked how Coole Swan managed to offer a point of difference in an established category, Sadlier says the secret is in quality and natural process. "Making the cream is a complicated process. It's taken from the farm and pasteurised and then mixed with white chocolate. To this point nothing is added. Coole Swan is the only Irish cream liqueur that uses full Irish natural cream – that precious finest 4pc of the cow's output." The process involves mixing the cream up to 500 times with melted white Belgian chocolate, and as a final touch the single malt whiskey is added.
Sadlier emphasised that the pure nature of the cream is what sets Coole Swan apart from its competitors. "We call it the science or the magic of cream. If you drop even a slight percentage of butterfat, then it is not proper Irish cream and the whiskey won't bind."
And Coole Swan's uniqueness is signalled by its natural cream colour, another element that sets it apart from other cream liqueurs. That makes it the perfect foundation for cream-based cocktails.
Product excellence was the essential first step. But the same meticulous care was given to the development of the brand.
The name Coole Swan, comes from true Irish heritage; from the poem 'The Wild Swans at Coole' by William Butler Yeats.
Sadlier sees Coole Swan as setting new standards for Irish cream liqueurs. "The upright white bottle sets it apart from the traditional dark brown Irish cream style and the white paint contains a UV blocker to protect the cream if exposed to light. We wanted our packaging to be distinctive."
"It's a complicated process building a brad and building brand equity. To do that you have to make sure you're holding your story, holding your messaging. It's down to the quality of the product but equally the quality of the team we have built. And I have to say, working with Bank of Ireland's team in Meath has been fantastic. They listen, they navigate us on the steps we need to take, and they make our time count. Time is the one thing we're always short on, you'll always find money but you'll never find time."
The head of the Bank of Ireland in Co Meath, Gary Holligan, said that Coole Swan's achievements are a source of immense local pride. "On behalf of Bank of Ireland Meath, we would like to congratulate Mary, Philip and the team at Coole Swan on their fantastic achievement recently in picking up the 'pinnacle of quality' rating in Wine Enthusiast. We understand that Coole Swan is the only Irish cream to achieve this No. 1 position.
At Bank of Ireland Co Meath, we are committed to our purpose of enabling our communities to thrive. Successful local companies like Coole Swan are a great inspiration for Irish business and we wish them congratulations and continued success. We wish all businesses in Meath the very best and encourage you to shop local for your gifts this Christmas," Holligan said.
To learn more about the origins of Coole Swan and many other famous drinks brands (Baileys and Sheridan's among others), check out "That S*it Will Never Sell!" by David Gluckman, one of the original founders of Coole Swan along with Adrian Walker and David Phelan
By John Kennedy (john.kennedy3@boi.com)
Published: 27 November, 2020