On International Women's Day 2022, Barry Walsh highlights some of the talented women who have moved to Ireland and are enriching our society.
According to the CSO in 2016 there were 535,475 or 10% of the population who are non-Irish nationals living in Ireland. There are many misconceptions and stereotypes and lots of misinformation within our society.
The following are just a selection of some of the talented migrants to Ireland and the contribution to improving our society that they are making:
Suad Aldarra, author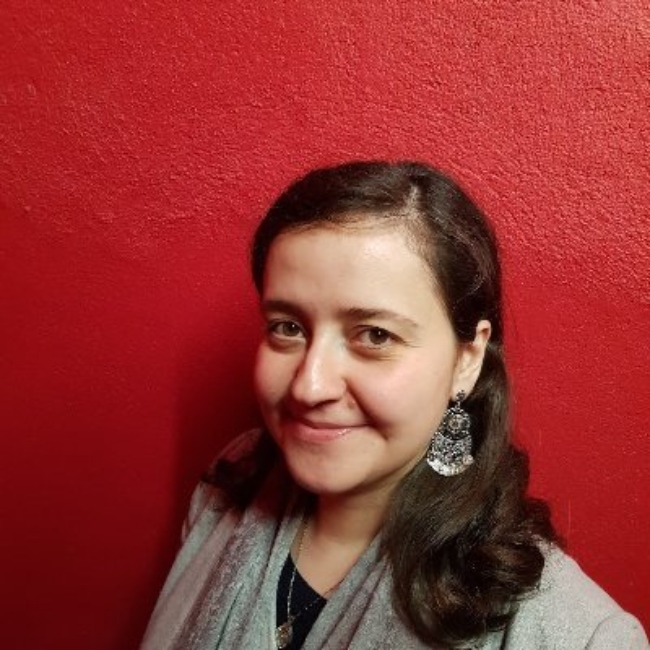 Suad grew up in Saudi Arabia before moving to Syria for her education, until the Syrian civil war forced her and her family to leave home. In her upcoming book 'I Don't Want To Talk About Home' is a memoir about the immigrants story, about her talking to a Dublin taxi driver who said "all Syrians are terrorists", forcing her to act and how assimilating into a new society forces immigrants to leave some of themselves behind. According to The Irish Times: 'I Don't Want to Talk About Home' reframes the Syrian migrant narrative and forces us to re-examine how we perceive these stories. Though it is in part a book about fleeing a war, it is also a story of womanhood, of identity, and of complex relationships with religion and with family. Passionate, eye-opening and deeply moving, Suad Aldarra is an exciting new writer to watch" The book will be out in July 2022
Zainab Boladale, and Jess and Ola Majekodunmi, Beyond Representation
Beyond Representation was founded in 2019 by three Irish women of Nigerian heritage to champion women of colour who are breaking new grounds in Irish media, arts and business. Jess Majekodunmi is a design historian and an innovation designer at Accenture. Ola Majekodunmi is an Irish language broadcaster, public speaker and film-maker. Zainab Boladale is an RTÉ journalist and TV presenter. Their event in 2019 in DCU to launch the initiative asked: "What lies beyond representation? For women of colour in Ireland, what is our collective narrative in the Irish cultural landscape?" As a platform for expression, celebration and connection, 'Beyond Representation' is an event championing women of colour who are breaking new grounds in Irish media, arts and business."
Angelica Brunacci, communications consultant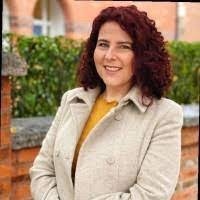 Having moved to Ireland in 2019 with her family, Angelica's professional background is journalism, specialised in strategic communications. For over 10 years, she ran her own IT and comms company, and wanted to transfer that knowledge and expertise in exchange working experience in a multicultural, cooperative environment. Speaking fluent English, Portuguese, Italian and Spanish and holding a postgraduate degree in Communications Strategy, Angelica thought finding employment wouldn't be an issue. With Covid arriving shortly afterward she began working at Accenture, an Ireland-based multinational professional services company that specialises in information, technology services and consulting. She is currently working as a digital rights operations agent, dealing with Intellectual Property.
Emma Dabiri, author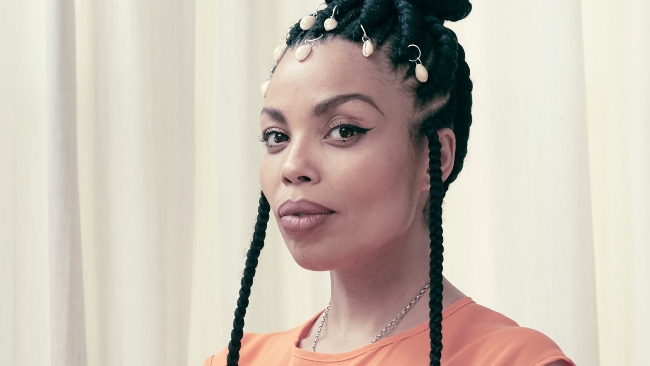 Born in Dublin, then moved to Atlanta Georgia and then to London, but has now returned to Dublin, Emma Dabiri's early life was diverse to say the least. Having become a respected academic and broadcaster for the likes of BBC, Channel 4 and The Guardian, In 2019 Emma wrote the book 'Don't Touch My Hair' and according to The Guardian: "She explores black hair history relating to her own Nigerian ancestry as well as in the US, the UK and other parts of Africa and Latin America. The way black people have been conditioned to think about their hair, as a tiresome, time-consuming burden, shifts under her pen." Her second book "What White People Can Do Next" was published in 2021.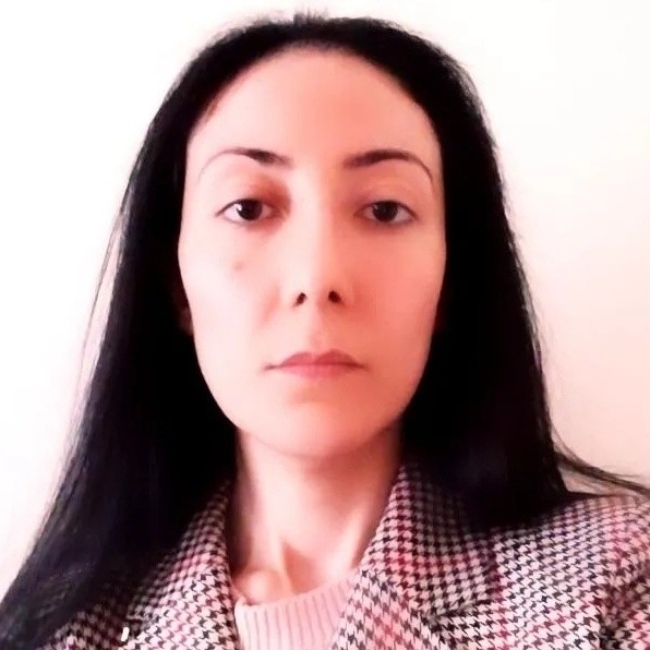 Born in the French Alps to Kurdish parents Nesime spent time in Kurdistan before moving to Ireland in 2013. After obtaining a degree in International Business, Nesime worked in the likes of Microsoft, Google, Oracle and Facebook Meta before creating her own business iPostBox. iPostBox is a SaaS virtual post box allowing to send and receive letters and any correspondences in a click. By registering to iPostBox, you help to reduce carbon footprint, to save trees, to save water and to save thousands of oil barrels.
Adaku Okafor (formerly Ezeudo), PhoenixRize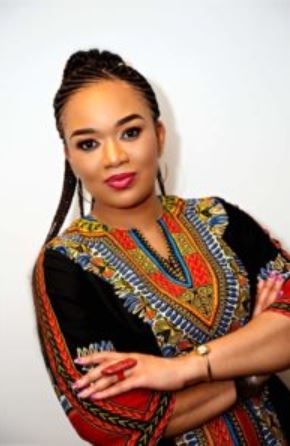 Adaku Okafor is originally from Nigeria and moved to Ireland over 15 years ago. She is the founder and CEO of PhoenixRize People Development Solutions, a diversity, equity, and inclusion (DEI) company with the mission to help organisations create and sustain diverse, equitable and inclusive workplaces and turn diversity into a strategic business advantage. She is an authority and fearless advocate for DEI and has worked passionately in the DEI space for over 10 years. As an award-winning leadership and people development consultant, keynote speaker and executive practitioner for DEI efforts across business, government, non-profit and education, Adaku helps organisations overcome DEI barriers, leverage workplace differences, and embed DEI into their business frameworks on strategic diversity, intentional inclusion, and organisational effectiveness. Adaku is currently a doctoral student at University College Dublin. She holds a BSc in Accounting from the University of Nigeria, MBA from the University of Lagos; an MA from Kimmage Development Studies Centre, Dublin, and a Postgraduate Certificate from both University College Dublin (Women, Gender and Social Justice) and Trinity College, Dublin (Race & Ethnicity).
Born in Brazil Talita graduated in Manufacturing Engineering from Federal Universal of São Carlos, and specialised in Engineering with Management at Trinity College Dublin. Passionate about Diversity and Inclusion, empowering people with disability, and the LGBTQ+ community as well getting more girls in STEM and supporting migrants to Ireland. Talita first co-founded WaytoB- waytoB is a smartphone and smartwatch solution to enable people with higher support needs to navigate outdoor environments completely independently and then founded GoingFar. According to their website "By celebrating the diverse contributions of migrants and providing support to advance their careers, we can improve our ability to tap into the unexplored skills that help the global economy thrive". In September 2020 they held their first mentoring programme, where migrants to Ireland were matched with mentors to increase their knowledge and networking within the business community in Ireland.
Having grown up in Tanzania and moved to Dublin, Ireland when she was a teenager Leyla had a child in her late teens before completing her degree. Having briefly worked in accounting she went back to college to study international relations and it was here that Leyla was introduced to social entrepreneurship. After years of activism "YourY Network to create an inclusive space for global social entrepreneurs and changemakers to connect and collaborate." Leyla hosts monthly networking events with those interested in social entrepreneurship and activism throughout the world.
Born in Turkey Furkan began her career in Ireland by studying in IT Athlone, before working as a software engineer. Having often been the only woman in the room in 2013 Furkan began her entrepreneurial journey in 2016 before creating DiverseIn in 2018. According to her.ie "The organisation offers consulting, workshops and events to help companies build inclusive workplaces. Just over a year into the business she now has 20 team members across five countries, each with an expertise in areas ranging from LGBT and gender equality to disabilities and ethnic diversity". Having become a lecturer in Diversity and Inclusion in 2020 in IADT Furkan wrote the award winning book Inclusive Intelligence that lays out how businesses can become more inclusive, happier and create better leaders in the workforce today.
Their team includes Dr Francesca La Morgia, a lecturer in Bilingual Studies. Elena Cristofanon a specialist in the area of Marketing, Management and Web Design and Soraya Sobrevía a specialist in diversity and inclusion through grassroots advocacy, community outreach, and education. According to their website "Mother Tongues is a social enterprise working to promote multilingualism and intercultural dialogue in Ireland. Since our foundation in 2017 we have inspired many schools, libraries and community organisations to embrace multilingualism and act as catalysts for change, showing that Ireland welcomes all linguistic and cultural identities, and inspiring future generations of bilingual and multilingual children." Through their talks, webinars, educational information and they also organise the Mother Tongues Festival "The Mother Tongues Festival is the largest festival celebrating linguistic diversity through the arts in Ireland. Its mission is to showcase the country's rich artistic and cultural tapestry and connect people through the power of language."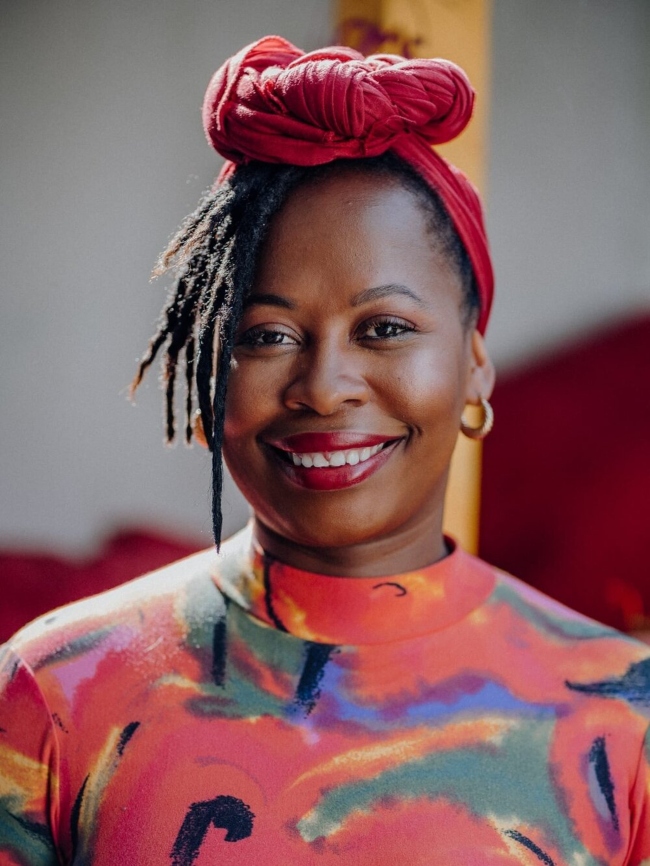 Born in the Caribbean, Santis moved to Ireland when she was 10. After going to school in Dublin Santis became a mum to two boys. However, she then started falling into debt and eventually ended up paying €77,000 to various institutions and friends. Santis then began budgeting and in the space of three years she cleared all of her debt. Santis then created The Budget Mindset Club. They sell everything you need to get your financial services in order from planners to stationary. Together with a highly active social media service, particularly Instagram, where Santis gives her personal tips and creates a community of people wanting to break free from their debt.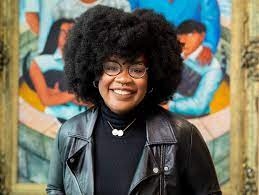 Born in Nigeria, Mamobo moved to Ireland with her family when she was three. Mambo began studying social psychology in college, obtaining a degree and a masters in the subject and she is currently pursuing a PHd in the area specifically researching multicultural identities and racism. At the same time Mamobo "Gorm Media's mission is to curate common ground through innovative digital media that captures the stories, nuances, and experiences of those in our community." Mamobo is the co-chair of the ethnic diversity forum at the university of Limerick and is on the board of directors in the Lime Tree | Belltable Theatre
Fig O'Reilly, consultant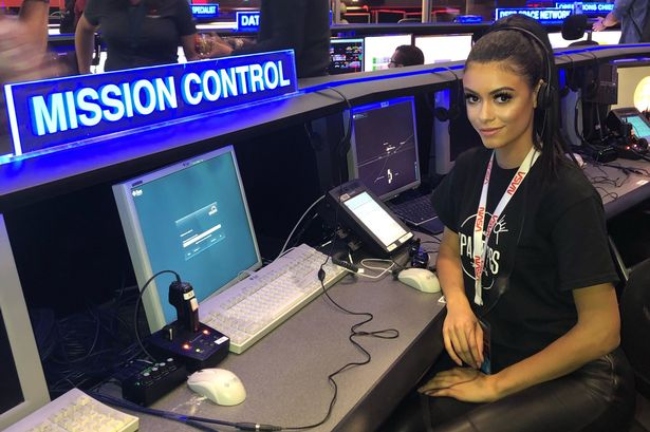 Born in Kentucky USA, Fig studied for a Bachelor of Science in Systems Engineering from The George Washington University in Washington, D.C. With an Irish father Fig entered Miss Ireland in 2019. Becoming the first person of colour to win the competition in Ireland. Fig used her platform spotlighted the need for diversity and women in STEM. Fig then began working for NASA as a Datanaught and as one of the hosts of Mission Unstoppable, a TV science show on CBS.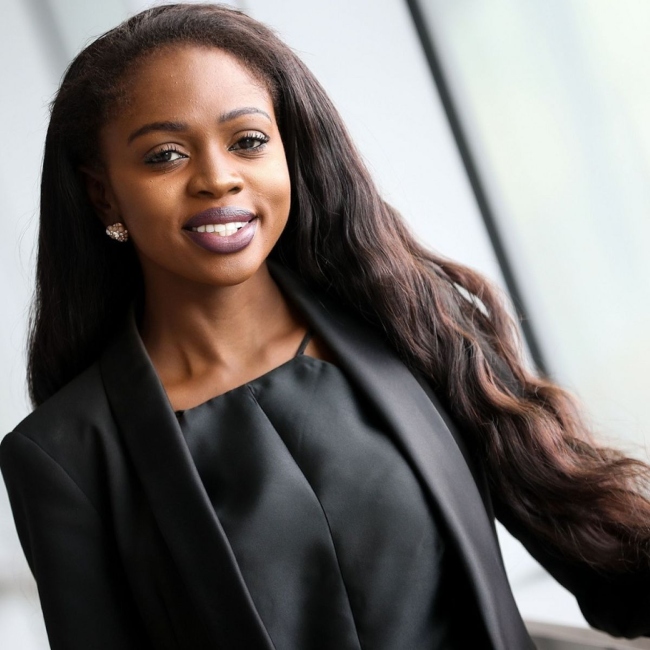 Having moved to Ireland with her mum at an early age, Deborah was homeless at 13 and pregnant aged 14. Having sat her Junior Cert, Deborah's mum then die when she was 17. Throughout all of this she kept going with her education and with support of her carers she completed her leaving cert with a four-year-old. She was supported throughout this by the DCU Access Programme so DCU was the natural choice for college. According to her speaker profile "Deborah completed a degree in Accounting and Finance at DCU in 2014. She then went on to complete a Masters in Accounting in DCU in 2015 which helped earn her a place at PwCIn 2018, Deborah founded a not for profit called Empower the Family (ETF). ETF plan to open student accommodation, in Dublin, with onsite quality childcare for single parents between 18-23 attending university. This social enterprise will support Ireland's commitment to accomplishing 10 of the 17 United Nations Sustainable Development Goals"
Melatu Uche Okorie, author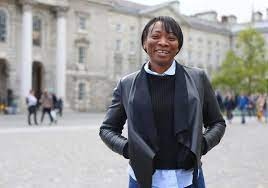 Born in Nigeria Melatu moved to Ireland when she was 31, with her infant daughter. They entered the Direct Provision System in 2006 and Melatu began writing to cope with her circumstances.Having obtained an M. Phil. in Creative Writing from Trinity College, In 2009, Melatu first book, This Hostel Life, was published by Skein Press in Ireland in May 2018. The book was then optioned and turned into a musical that was performed at The National Opera House. Melatu has contributed to many books and magazine articles and is a board member of the National Network of Migrant Women in Ireland, as well as being a creative writing workshop facilitator for children and young people
Vessy Tasheva, founder and CEO of Vessy.com
Vessy Tasheva was born in Bulgaria. "My team and I work with fast growthing tech clients, such as in FinTech, gaming, cybersecurity and eCommerce. What sets us apart is that we have a holistic approach that is tailored to our client's needs. We don't look at D&I in isolation, but holistically – through the client's business objectives, people KPIs, and cultural challenges". Having received awards and recognitions from, the likes of LeadersHum, HR Magazine, Onalytica and Hive Learning Vessy is also an author on D&I writing white papers around leadership and Diversity and Inclusion, reports from 10 companies in 10 industries and workplace reports in 10 companies from different countries. Having gone back to education Vessy is now studying in Trinity College Dublin to complete a Masters of Science in Psychoanalytic Psychotherapy.