Stryve enters into a joint venture with South African business MikroCloud in bid to access €5bn wireless internet service provider market.
Carlow-headquartered cybersecurity business Stryve has signed a joint venture deal with a South African business called MikroCloud.
MikroCloud helps businesses across the globe securely manage MikroTik, a popular router and wireless ISP (Internet Service Provider) system with a €5bn global market share.
"Stryve is a well-known name in cybersecurity, and the synergy between us is palpable. This next chapter excites me"
Having spotted a gap in the market for secure private cloud, Stryve was established in 2018. It has quickly scaled to a team of over 100 people, with offices in Carlow, Galway, Warsaw, Marrakesh and London.
Global cloud ambition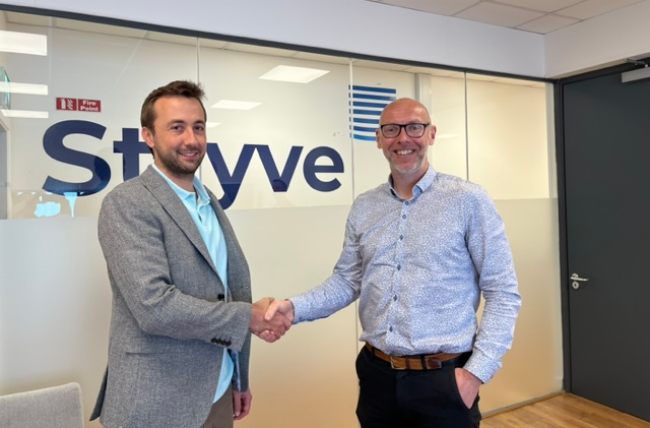 MikroCloud founder Hannes Kruger with Stryve founder Andrew Tobin
Its ambition is to become Europe's largest cloud service provider. The company is on track to turnover more than €10m in 2023.
MikroCloud has created a low-cost SD-WAN (software-driven – wide area network) tool for MikroTik. MikroCloud is developing a cost-effective, security-centric infrastructure management system for businesses that build networks using MikroTik devices. It offers service enhancements to MikroTik users in more than 170 countries.
"The offering is a superb fit for our portfolio as a valuable security-based IP product with worldwide potential," explained Stryve CEO Andrew Tobin.
"Hannes Kruger and his team have developed an excellent user-focused interface for managing MikroTik. MikroCloud is a highly sought-after alternative to the well-known brands dominating the SD-WAN space. We see tremendous potential in assisting MikroCloud to gain significant international market share."
The MikroCloud interface allows millions of MikroTik users to securely and seamlessly manage and configure tasks such as creating Wi-Fi hotspots, connecting multiple servers, and creating firewalls and virtual networks (VPNs) to distribute bandwidth.
"Our aim is to become the largest contributor to the MikroTik user community in the world, next to MikroTik themselves," Kruger said.
"This partnership with Stryve is a crucial enabler of that journey. We are enthusiasts of MikroTik products and have an exciting roadmap for the next 18 months, a significant part of which leads to an AI-driven security offering. Stryve is a well-known name in cybersecurity, and the synergy between us is palpable. This next chapter excites me."