Podcast Ep 95: Founded by three dentists, Spotlight Oral Care is now one of Ireland's fastest-growing companies. We talk to one of its co-founders Dr Vanessa Creaven about how the Galway business is going from strength to strength.
Ireland's attitudes to dentists and dental care at times seems like a generational thing. If you were, say, a child of the 70s or 80s, thoughts of a visit to the dentist are sometimes accompanied by dread and an icy feeling in your belly. Thankfully subsequent generations have a more progressive and healthy relationship with their dentists and view the transaction as an investment in their wellbeing and their future, not just a necessity.
At the heart of this generational shift is a young Galway business called Spotlight Oral Care, which was founded in 2016 by three dentists Dr Vanessa Creaven, Dr Lisa Creaven, and Dr Barry Buckley.
"This is one of the real strengths of Spotlight. Lisa and I are sisters and while we've never had professional business training, we've had a huge amount of medical and scientific training and that really helps us in terms of new product development and innovation"
Spotlight Oral Care develops, markets, and sells a comprehensive range of products for specific consumer oral care needs both online and through blue-chip retailers in Europe, the UK, and the United States.
The company currently has 17 products in its range, all of which are clinically formulated and tailored to target specific oral health needs using clean, active ingredients
Spotlight Oral Care has experienced significant demand and growth over the past 18 months, with turnover trebling to €19m in the last financial year.
In recent months Spotlight Oral Care raised €12m in a funding round led by Development Capital that will enable the company to drive its international expansion into Europe and the US.
Both the product range and distribution channels have expanded significantly, with high profile US retailers including Ulta Beauty, CVS and Target. Currently, Spotlight Oral Care boasts a large presence in Ireland across pharmacy partners and retailers including Dunnes Stores, Tesco, Arnotts and Brown Thomas, while premium stockists in the UK include Cult Beauty, Boots and Look Fantastic. The company also hosts direct-to-consumer sales via their dedicated region-based websites.
The €12m investment by Development Capital will help to continue the company's international expansion throughout Europe, the UK and the US, with turnover of €19 million projected to treble in the next three years. While Spotlight Oral Care already has 52 highly skilled employees in Ireland, the UK and the US, this new investment will help attract and secure new talent for the company's growing international senior management team, as well as support new product development, product innovation, and will help grow both the online and retail channels.
Spotlight founders are beaming
"We actually come from a family of four siblings and we're all dentists, believe it or not," says Vanessa Creaven. "It's normal for us, but can be odd to a lot of people.
"When we set up Spotlight at the time, we were working together in our practice. Galway is a college town and a lot of students would come to us. What I loved about being a dentist was the variety of people that we would see. When we set up the company we were looking at a way to help whiten people's teeth that they could do at home without having to come to a dentist to do. And a way that would be relatively inexpensive."
The Creaven sisters and their co-founder Barry Buckley were on to something. Especially when you consider that professional whitening treatments would set a customer back anywhere between €300 and €500.
"And that's a huge investment, whether you're working or in college or whatever your circumstances might be. So we wanted to provide a treatment that was a little more inexpensive and that they could use at home. And that was specifically designed for anyone with sensitivity. And that gave really effective results."
The founders started with a two-week whitening treatment aimed at patients of their practice. "It evolved from there. We launched directly to the consumer online and the momentum built from there."
Very quickly the founders realised there was a "whitespace" in Ireland and Europe for products that could effectively whiten teeth effectively at home that could be bought in a pharmacy or online.
"We were really able to capitalise on that and launch ourselves in Ireland. Very soon we were in the UK and parts of Scandinavia. 18 months ago, just as Covid-19 was hitting, we launched in the US in more than 12,000 Ulta stores, which is the biggest health and beauty retailer in the US as well as 3,000 CVS stores and we launched on Target.com. I think that was probably the biggest launch or expansion that we had done to date. It meant setting up a US office and employing a US team and having people on the ground over there.
"When we look back, the reason we made that jump was through meeting with the retailers and the retailers really believing in us to bring our product to the US. We wouldn't have gone if we didn't have that really strong US retailer partnership that we managed to build."
The reassuring aspect of a dental business build by dentists is a game-changer for Spotlight's target market. For Creaven and her co-founders, the real key is new product development.
"This is one of the real strengths of Spotlight. Lisa and I are sisters and while we've never had professional business training, we've had a huge amount of medical and scientific training and that really helps us in terms of new product development and innovation. When we first launched our teeth whitening strips, we knew the active ingredients we were looking for in our products that really help to whiten teeth without the sensitivity."
Creaven also said that the traditional dental products business globally hasn't really modernised in 50 years and with some players there are issues over animal testing, packaging that is virtually unrecyclable as well as the use of palm oil which is linked to child slave labour.
"And that's where we take the approach when it comes to innovation and product development to have clinically-proven active ingredients with a sustainable footprint. All of our toothpaste tubes are made from sugarcane and are all 100pc recyclable."
She said that much of the progress the company has made is down to consumers trying to make the right choices. She pointed out that while there has been innovation in food choices as well as hair and beauty, "we almost need to drag oral care to innovate and become more sustainable, to become more ethically-minded a use active ingredients that we know the consumer or patient will in the long run thank us for. I think that change is very slowly happening because of disrupters like ourselves or other incumbent brands in the oral care space that will really force the big players to make those changes."
A Spotlight on scaling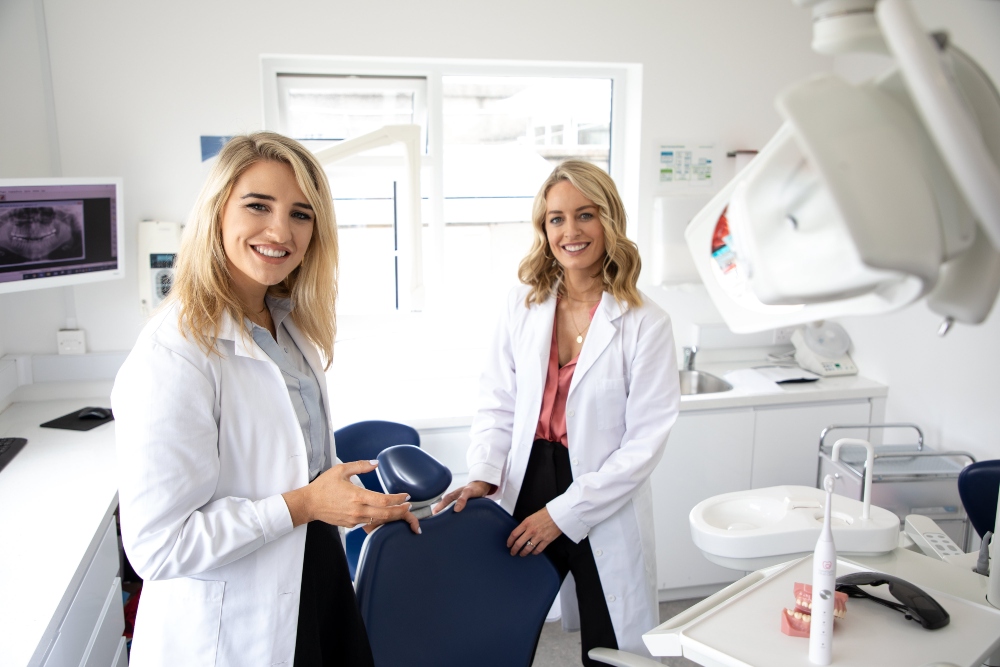 Vanessa and Lisa Creaven, co-founders of Spotlight Oral Care
Since launching into the US market, Spotlight has grown to more than 60 people across Ireland, the UK and the US and products are now available in more than 7,000 retail outlets.
As a result of the acceleration of their business, the founders spend less time in their private practice but dabble where they can, with their other siblings keeping the private practice up and running.
I ask Vanessa if running a business with her sister is an advantage. "It's all I've ever known. I've never not worked with a sibling or by myself. We're very good friends, confidants. We're best friends outside of work and in work as well. But when we think about the business we actually run different aspects of the company.
"I'm heavily involved in new product development and the retail aspect. Lista would be very heavily involved in the marketing aspect. Barry is really focused on the finance aspect and accounts. Structuring the business in a way that where each of us are responsible for a sub-section of the business makes a lot of sense because we're not getting in each other's' way. So for me I only see a positive to working with siblings and there's a huge trust element that comes with it.
"When your business is going through various ups and downs it's good to have that sibling support and you can actually be your authentic self, because they know you better than you know yourself. Having co-founders like Lisa and Barry is fantastic in terms of really leaning on each other and picking each other up when the going gets a little exasperating."
Creaven accepts there has been a generational shift in how people view oral care and dentistry in particular. "It really stems from the training that dentists have received in the past 20 years versus previously. It's definitely a generational thing. I know that when I speak to my parents or the generation before they speak of the visit to the dentist like it was an horrific experience and that still lives with them.
"The difference is today dentists are well-trained and are proactive and interactive with their patients. I think it's a testament to how much passion they have for their own patients, their own practices and career that they're really engaging with their patients and customers.
"The new generation of customers are engaging with their own treatments, they're going for ortho treatments if they need it and the barriers between dentist and patient are being broken down and becoming more interactive."
In effect, the relationship between dentist and patient is collaborative. "Dentists now discuss treatments in a through-out and methodical way. Why do you need those three fillings? What's causing it? Having that education and those chatting points with your dentist makes such a difference and a difference to dentistry as a whole."
In conclusion, Creaven said that operating as dentists in the west of Ireland and outside of the Irish entrepreneurial merry-go-round gave them the clarity and focus to achieve what they have achieved so far in building a global, scaling business.
"I think ignorance is bliss. I'm not from a tech background. I'm also a believer in try it, why not, what's the worst that can happen? We didn't have any professional business training, but we had a huge understanding of what our patients wanted, and I think that's really important in this day and age."
Main image at top: Vanessa and Lisa Creaven, co-founders of Spotlight Oral Care
Our podcast series is available on ThinkBusiness every week but also on our channels and via mobile apps on Spotify, SoundCloud, Stitcher and Apple.